How to Make Pottery – 8 Step Pottery Making Process
I've been making pottery for years now, and I love it. It's a great way to relax, get creative, and even make some money! Did you know that making pottery from start to finish can take several weeks or more? It is not hard, but it does take time and patience. With each project being different, not only is it fun, but there's always something new that can be learned along the way, too, so it never gets boring!
There are several ways to shape and decorate your clay. I will go step by step through everything it takes to make a pot, starting with clay until the piece is complete, and learn more about what goes into creating your favorite mug or bowl. Let's get started!
Affiliate Disclaimer: We are ambassadors or affiliates for many of the brands we reference on the website. As an Amazon Associate, I earn from qualifying purchases.
Learning how to make pottery is fun and easy. You can choose the clay and glaze you want to create whatever you want. We'll start with choosing your clay.
Step #1: Choose your Clay
Choosing the right clay is an important decision. There are many different clays, but there are three main types that most potters choose from, each with its own benefits and firing temperatures.
Earthenware
For those who want a lower-firing clay, Earthenware may be your best choice. These clays tend to be, not as durable, more porous, and plastic (easier to mold).
Stoneware
Stoneware has a high heat tolerance and can be versatile in its uses because it's dense and more durable than other clays. This clay is a great choice for beginners when first starting out because it is also plastic (easier to mold).
Porcelain
Porcelain is smooth and has a high heat tolerance but is more elastic (it does not mold as easily), which makes it a bit more difficult for beginners to work with.
There are many options when it comes to selecting your pottery clay, but don't worry. For more detailed information, check out Choosing Your Pottery Clay.
Step #2: Wedging the Clay
Wedging your clay is an important step you shouldn't skip for several reasons. Most importantly, it eliminates any air bubbles that may be in the clay. Getting rid of the bubbles will make the clay easier to work with.
Wedging also improves its workability giving the clay a more uniform consistency and the same moisture level throughout. To learn more about wedging, check out How To Wedge Clay where I show you 5 different ways you can wedge your clay.
Step #3: Choose a Pottery making Technique
After you have decided on the Clay and how to Wedge it, now it's time to make your pot. There are several different ways to mold clay. These are the three main techniques that beginner potters usually choose from.
Throwing
Coiling
Pinch Pot
Throwing
Throwing clay happens at The Pottery Wheel. The Potter uses the wheel to shape the clay. Many beginners like to start out on the wheel, and I was one of them. I was instantly hooked.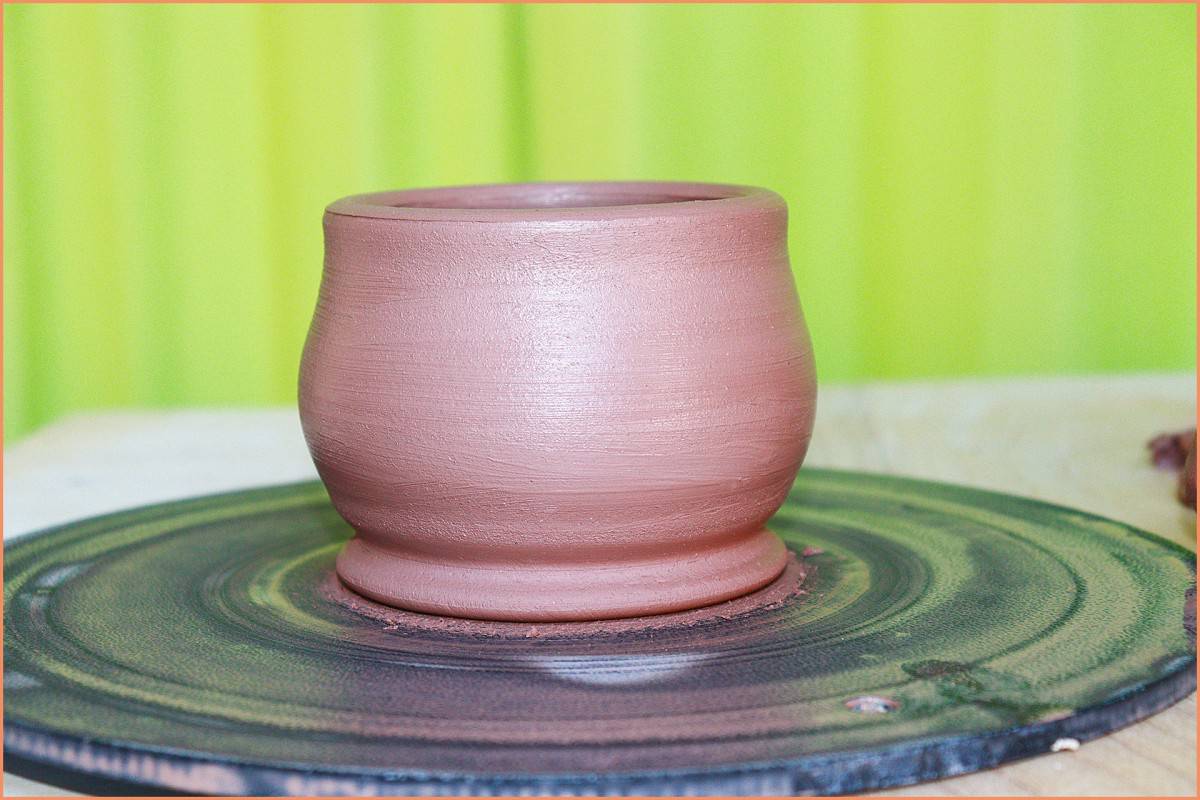 While you have many advantages of clay throwing, the difficulty in this technique comes from Centering your clay and bringing up the walls without having your clay collapse. It takes a little time to learn how to coordinate your hands with the wheel and center your clay. You can grasp the basics in a few hours, but acquiring proficiency can take several months or more.
Besides a pottery wheel, you will need a few basic pottery tools to get started. This 8-piece Tool Set is a good starter kit. It has, a Wooden Modeling Tool, Wooden Rib, Loop Tool, Ribbon Tool, Needle Tool, Sponge, Metal Scraper, and Wire Clay Cutter. To see more tools check out my Pottery Tool Guide List.
Throwing – Pros and Cons
Pros
It looks the best coming off the wheel
Can make pots faster than Handbuilding
Calming and stress relieving as you work at the wheel
Cons
It can cost more to get started
Takes a little more time to learn to throw
Coiling
The coiling technique in pottery means that Potters will form coils and place one coil on top of the next and continue shaping them until you begin to make the shape of a pot with it.  You can make the shape of your coil pot any way you want. A larger base to a smaller rim, a smaller base to a larger rim, or a smaller base and rim with the middle area larger.
This technique lets you build the walls of your pot without the immediate threat of it collapsing. You can build ceramics in several ways using the coiling technique. Most potters consider coiling the most versatile technique for hand-building pottery.
You will need soft, moist, and pliable clay to carry out the coiling technique. Hard and dry clay won't allow the coils to roll as easily and will crack when you bend them.
The coils should be attached together by scoring and slipping each coil for a proper seal. Scoring is marking your coil with a needle tool, applying slip with a brush, and attaching the coils together. If they are not sealed properly, the pot will be open to leaking liquid. This 8-piece Tool Set is also a good starter kit for hand building.
Coiling – Pros and Cons
Pros
Good pottery choice for beginners
No immediate threat of the pot collapsing
Several ways to hand build pots with the coiling techniques
Most versatile of the hand-building techniques in pottery
Doesn't require many tools to start making pottery
Cons
Takes longer to make
Must seal the coils for the pot to hold liquid
Pinch Pot
Perhaps one of the simplest ways to make pottery is the pinch pot technique. Simply take a ball of clay and form it into the shape you want.
Pinch pots have limitations in that they will usually be smaller because of the technique. Most pinch pots will be less than 6 inches in diameter, but you can make them larger. You don't see this technique used often for larger pots.
One advantage comes from how you have more control over the clay, which also makes it a good choice for beginners. You can graduate to wheel throwing after you develop your skills.
The technique does exactly as it says—you pinch the clay into a pot by thinning out the walls with your fingers. This technique will teach you sensitivity to the clay as you develop an awareness of the thickness of the walls. Be careful not to accidentally make the walls too thin, rendering the pot useless.
Pinch Pot – Pros and Cons
Pros
Good choice for beginner potters
Develop good awareness for the wall thickness of pots
You get better control over the pot than other techniques
A simple technique to start with
Doesn't require any tools to start making pottery
Cons
You can accidentally make the walls too thin
The pinch pot technique mainly works well for smaller pots
Step #4: Making the Pottery
After choosing one of the techniques, there are a few tools you will want to start crafting your pottery. A Basic Tool Set is all you need to get started. A Wooden Modeling Tool, Wooden Rib, Loop Tool, Ribbon Tool, Needle Tool, Sponge, Metal Scraper, and Clay Cutter (Wire Tool). For more tools, Check out this Pottery Tool Guide List.
When making your pot, if you mess up as most beginners do, just grab another piece and start over. Remember, there are no mistakes. You can Recycle your Clay many times.
That's the fun part of pottery making. If you do make a mistake and don't like what you're making, you can just start over.
The thickness of the clay pot should be a quarter of an inch. This helps to prevent the pot from becoming too heavy and helps lower the chance of cracking during the drying stage and firing in the kiln. As much as possible, you want the pot to have a uniform thickness because it can crack if the walls are uneven and too thin also.
Step #5: Trimming and Decorating your Pottery
After you finish making your piece, you have some options. You can Decorate it with Underglazes and slips in the greenware state (wet, leather hard, or bone dry). It's important to know what you can do in the Different Stages of Clay.
The leather hard stage is when the clay has hardened enough so you can trim, add handles, and make other alterations before the clay gets too hard. The clay is called leather hard because some say it feels like soft leather. You are now able to handle it without marking it up with your fingers, and trim the extra clay off the bottom to make a nice foot.
This is also the stage when you can have some fun with Sculpting tools. Sgraffito, layered Sgraffito, and Inlay (also known as Mishima). For more decorating ideas, check out Underglazing Pottery.
Step #6: Bisque fire the clay
To bisque fire your clay, you will need a Kiln. The good news is there are many Kilns to Choose From.
Once your clay is Bone Dry, you can Load the Kiln for a bisque firing (Video). The main reason behind pottery cracking or even exploding in the kiln is that your piece was not left out to dry long enough. While it may appear dry, moisture is still in the clay.
As the temperature rises above 212 degrees Fahrenheit, the water evaporates into steam, and without a place for the steam to escape, it expands too fast, and the clay cracks to accommodate it.
Now the time it will take for your pottery to dry depends greatly on the climate you live in. It could take up to a week or more. Bone-dry clay will appear lighter in color, and it won't feel cold to the touch. For more detailed information, read How long pottery should dry before firing.
TIP: Keep in mind that electric kiln elements, when affected by moisture, don't last as long and will need replacing. Ensuring pottery pieces are bone dry will save you time and money…
Temperatures for bisque firing normally range from Cone 06 to 04. You don't want to fire hotter than 1945 degrees Fahrenheit or 1063 degrees Celsius. For more detailed information, check out What is the purpose of Bisque firing.
Step #7: Glazing your pottery
Once the clay is bisqued, it turns into a ceramic material, and it's time to apply the Glaze or Underglaze to your bisque pottery. There are so many ways you can apply the glaze. The main ways you can apply your glaze are Dipping, Spraying, Brushing, and Pouring. For more ideas on glazing, check out How to Glaze Pottery – 9 Pottery Glazing Techniques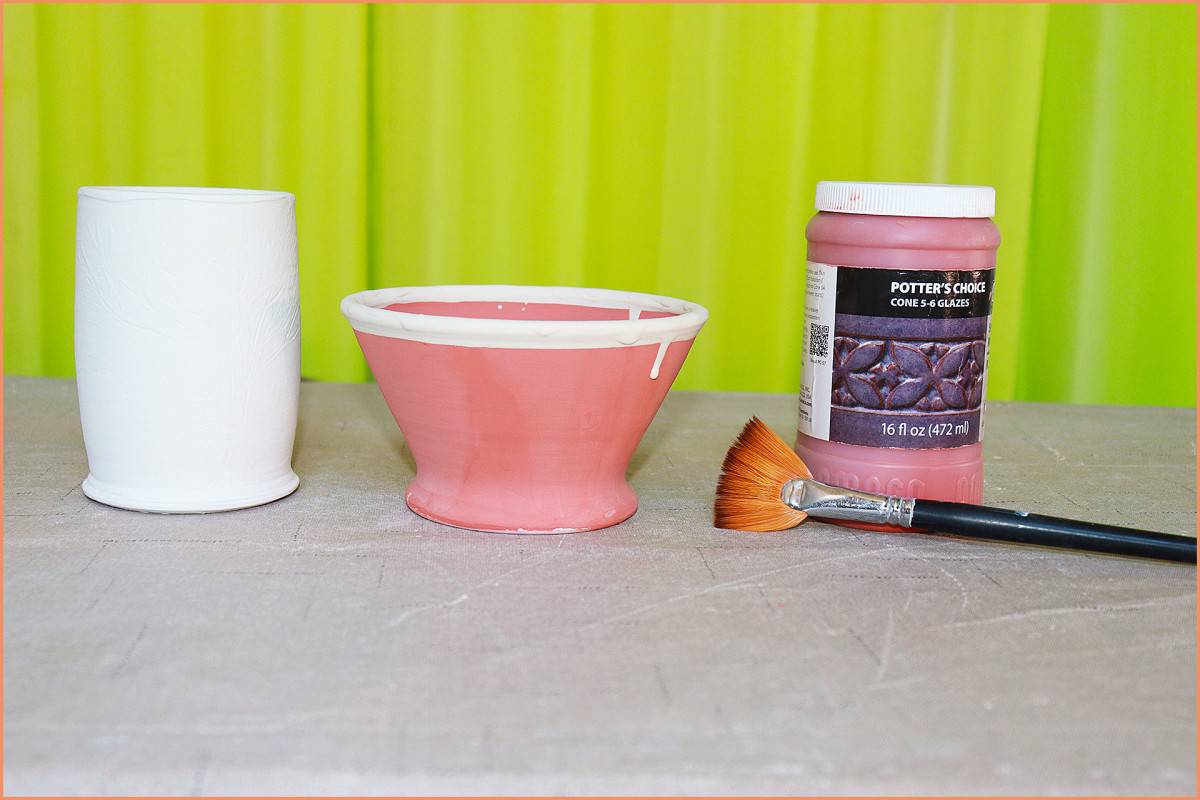 To ensure success (especially as a beginner), your glaze should be the same firing temperature or Cone size as your Clay. For more helpful information, check out 27 Glazing tips.
Step #8 Put your Pottery in the kiln for a glaze fire
After you have let the glazed pottery dry, Load it in the Kiln for the final fire (Video). Temperatures in the pottery kiln range from 1828 degrees Fahrenheit (998 C) to 2345 degrees Fahrenheit (1285 C).
Low-Firing Temperatures
Low-fire lists as the most commonly used firing range. Low-fire clays can handle temperatures around 1828 degrees Fahrenheit or 998 Celsius. Cone 06.
Potters most commonly use earthenware for low-fire temperatures. It has a highly plastic body, and it won't warp or sag in the kiln. Earthenware is a more porous substance, and things made from earthenware may not last as long as other clays and can be more fragile.
Mid-Range Temperatures
Mid-range temperatures refer to temperatures between 2167 degrees Fahrenheit or 1186 Celsius and 2262 degrees Fahrenheit or 1238 Celsius. Cone 5 to Cone 7.
While low-fire ranks as the most commonly used, mid-range temperatures have caught on with potters. Usually, you fire stoneware in a mid-range kiln. With mid-range firing, pots like this will have more durability.
High-Fire Stoneware
Finally, we will look at how you might use the higher temperatures in a kiln. The average temperature for high-fire is right around 2345 degrees Fahrenheit or 1285 Celsius.
If you intend to fire at higher temperatures, be aware that you will need to buy a glaze that can handle the higher temperature. After using a high-fire clay and glaze, your pottery will be exceptionally durable. The surface characteristics become hard, nonabsorbent, and vitrified.
Now you have the final piece that you have made by hand. It's amazing how you use the 4 earth elements (Clay, Water, Air, and Fire) to create a beautiful piece of pottery.
To learn more about the cost of making pottery, go to: Is Pottery An Expensive Hobby?
Conclusion
After reading this article, you should have a better understanding of the process that goes into making pottery. Hopefully, you're excited to try your hand at it and Set Up a Home Pottery Studio. All you'll need is some Clay, Glaze, and Tools to get started.
The process can be as easy or challenging as you want it to be and is a great way for beginners to learn the basics of pottery making. You can choose from any of these 30 Pottery Wheel Project videos to see the process from beginning to end.
It does take a while to make a piece, but it's all worth it though because you get something that is uniquely yours! As a beginner potter, don't be afraid to start Selling your Pieces even if you feel like you still have a lot to learn.