How to Dispose of Pottery Clay Water | 3 Proven Methods
Clay water is a byproduct of working with clay, especially when using the pottery wheel, since you will have throwing water left in your pail. When working with clay in your home studio, it's important to know how to dispose of pottery clay water properly.
You will need to know how to handle and dispose of pottery clay water without causing damage to your plumbing system or wasting your clay. I have used three proven methods: a sink trap, throwing the clay water outside, and drying out the clay. Let's take a closer look at all three methods.
Affiliate Disclaimer: We are ambassadors or affiliates for many of the brands we reference on the website. As an Amazon Associate, I earn from qualifying purchases.
3 Methods of Proper Clay Water Disposal
You will have clay slurry left from your splash pan or pail while throwing on the wheel or from hand building. Keeping the plumbing in your home or studio clean is very important. You should never ever, ever, ever put clay through the pipes. Did I say enough, Evers?
The clay particles are very sticky, which is what gives the clay the ability to stick to the pipes and clog them. Of course, not right away. It will take time for the Fine Clay Particles to build up inside the pipes. The good news is there are several things you can do with your clay water.
Get a Sink Trap
Getting a sink trap is an effective way to prevent clay from going down your pipes. They cost much less than a plumber to unclog your pipes. I know Potters who have been using sink traps for years, and they say it works well. They're easy to change, and there are a few sizes to choose from.
This Gleco Trap System keeps the glaze and clay from clogging your pipes. The Gleco Trap is great for home studios and easy to install. The Gleco Trap strains the clay particles into a bottle underneath the sink. You will be able to see through the bottle to show the waste level and know when to change the bottle.
Changing the bottle will only take a few minutes. When changing the bottle, mold from the clay will grow in the bottle and have a terrible odor. This is normal. However, you can decrease the smell by pouring a little bleach down the drain from time to time. Using a sink trap will save your pipes and give you peace of mind while enjoying your pottery journey.
Throwing the Clay Water Outside
Alternatively, you can dispose of your clay water outside, ideally in a spot where it can naturally return to the earth. If you're concerned about the environmental impact of your pottery hobby, throwing the clay water outside can be a great solution.
Because Pottery Clay is made up of Various Minerals and Organic Materials, the natural, nontoxic clay can easily be returned to the earth without harming the environment. Although some types of clay may contain small amounts of lead, it poses no threat to the environment.
Whether you're an experienced potter or just starting, taking care to dispose of your clay water in an eco-friendly way is a simple and effective way to reduce your environmental impact and pursue your passion for pottery.
Drying The Clay Out
If neither of the options above is viable for you, you can try this simple method of drying out your clay. This method is one of the best ways to recycle clay in multiple ways. I found that recycling can save money, and you don't waste as much clay.
First, run the clay slurry through a Strainer into a bucket and cover it.
Allow the clay to settle at the bottom of the bucket. Typically, the clay will settle overnight to the bottom of the bucket.
If you are using different clays, it is best to keep them separate.
Risk of Mold in Clay Slurry
Keep in mind that allowing clay water to evaporate without removing extra water may lead to mold growth and unpleasant odors. It's essential not to let your clay water sit in buckets around your studio, as it takes a long time to evaporate and can become a breeding ground for mold, which could affect those with allergies.
A small amount of mold is naturally present in clay, but larger concentrations can produce an unpleasant smell and make your studio environment unhealthy unless you add bleach.
The presence of bleach in the slurry does not impact the qualities of the clay, as the unstable chlorine in bleach dissipates within a few days. When it's time to dry out or reuse the clay, simply discontinue adding bleach. I typically recycle and change the water every few weeks.
In case you want to avoid using bleach due to its harsh and abrasive nature, there are alternative methods to deal with moldy clay.
Some potters have reported success by adding a small amount of vinegar to the affected clay slurry. Although this may result in a distinct vinegar odor, it won't require a significant amount.
Another approach is to use Epsom salts, which have the ability to attract clay platelets in a moist state, causing the clay to flocculate (flock together). However, diluting the Epsom salts before use is important to prevent the clay from blistering.
Get Rid of the Extra Water
You can carefully pour the water out of the bucket, but the fine particles will easily get stirred up.
The same can happen if you use a sponge or turkey baster. I found the sponge and a turkey baster tend to disturb the water too much when trying to remove the clear water.
The most effective way is by using a Giant Syringe. I found this Large Plastic 500ml/cc Syringe removes the clean water best without disturbing the fine particles.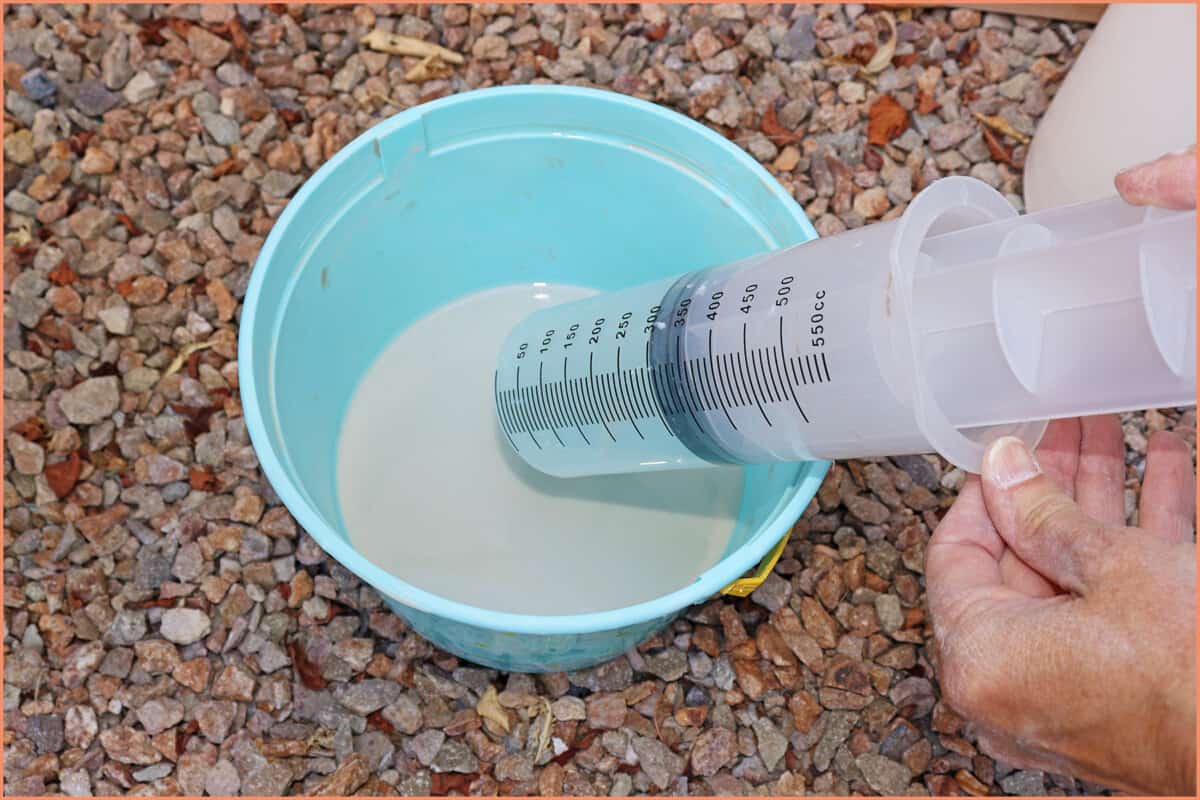 This approach allows you to extract a considerable amount of water before disturbing the clay sediment.
Drying Clay in a Bucket
Set the clay sediment aside and let the rest of the water evaporate in the bucket or pail. Make sure you provide adequate ventilation and keep pets away from the drying bucket. I place a pillowcase over the bucket.
The remaining clay may take some time to dry. The exact drying time depends on factors such as the humidity and temperature of the surrounding environment and the amount of clay and water present.
Depending on these factors, it can take anywhere from one to several weeks for the clay to dry completely.
Drying Clay in a Bisque or Plaster Bowl
Another way I dry out my clay is to use a bisqued or plaster bowl. This method is commonly used by potters and ceramic artists who want to dry their clay faster. The bisqued or Plaster bowl promotes faster evaporation.
By pouring the clay into a bisque or plaster bowl, the moisture from the clay is absorbed by the bowl, allowing the clay to dry more quickly.
You will also need to provide adequate ventilation and keep pets away from the drying bowl. I also place a pillowcase over the bowl.
Using the Pottery Clay at Different Stages of Drying
As the water from your clay is drying out, there are different stages in which you can reuse your clay.
Slip Stage of Clay
If you need slip for various projects, you can monitor the clay until it reaches the Slip Stage of Clay. Once it is the consistency of slip, you can scoop it out.
Place it in a container or freezer bag for future use. The Freezer Bag works best for me. This is because freezer plastic bags are made of thicker plastic than regular plastic bags. I make sure the air is out and seal it. My slip has lasted for years and has not grown mold. I will only add a bit of water if needed.
To learn more about Slip, read this article on 21 Pottery Clay Slip Questions Answered.
Plastic (Workable) Stage of Clay
You can also monitor the clay and continue to let the water evaporate until it reaches the Plastic (Workable) Stage of Clay.
In this stage, you can Wedge The Clay and create something on the pottery wheel or hand build.
Bone Dry Stage of Clay
Most potters will let the clay reach the Bone Dry Stage. It is most popular because you don't have to monitor the clay. Once the clay is dry in the bucket or bowl, it can easily be removed and recycled.
I place the dry clay scraps in a larger container until I am ready to recycle the clay. The best part about this storage method is that you can leave the clay for as long as you want until you're ready to recycle it.
Who said clay doesn't grow on trees
For more detailed information, check out Recycle Bone Dry Clay In 6 Easy Steps – With A Guided Video
Can You Flush Clay Water Down The Toilet
No. Putting clay water down the toilet will eventually clog your sewer line. While the pipes are bigger and it may seem harmless, clay water can still cause serious problems if it is flushed down the toilet. Over time, this can lead to serious plumbing issues and may require costly repairs.
It's important to dispose of clay and other materials properly, such as by placing them in the trash or recycling bin rather than flushing them down the toilet. By taking these precautions, you can help prevent plumbing problems and keep your sewer lines running smoothly.
How to Dispose of Pottery Clay Water that is Unusable
When working with clay, we always have unusable clay, such as water mixed with clay that's been mopped off the floor. I personally do not want to reuse this clay.
If you don't have a sink trap or can't dispose of it outside, you can dry it out. Start by removing the extra water from the surface.
If you have pets, cover the container with a pillowcase, taking care not to use a plastic cover because it'll prevent evaporation.
Once the unusable clay has dried, it'll easily come out of the container, and you can safely throw it away.
By following this method, you can effectively manage clay water with minimal wasting or causing any harm to your drainage system.
In conclusion
There you have it. There are several ways that you can take care of your clay water. It's good to know you have options. Being mindful of how you handle clay water in your home studio is important for both the environment and the functionality of your drainage system. By implementing the tips provided, you can successfully manage your clay water and create a sustainable and efficient pottery experience.