Pottery Wheel Buyers Guide
Affiliate Disclaimer: We are ambassadors or affiliates for many of the brands we reference on the website. As an Amazon Associate, I earn from qualifying purchases.
Before you rush in and buy the first Wheel you see, think about your purchase and how it will keep you happy and comfortable while spinning your beautiful creations for years to come.
Pottery making has become your new-found passion or hobby, and now it's time to purchase your first pottery wheel.
Buying a pottery wheel may seem easy. After all, it's just a round piece of machinery that you sit at and make pottery on. Right?
I am here to tell you there is more to choosing the right pottery wheel than you may have thought. It's worth some of your time to read on and see what's available before making your choice. There are several important factors to consider when choosing a pottery wheel.
What to Look for in a Pottery Wheel
Durability
Good Speed Control
Nice Wheel Head
Good Motor
Warranty
Cost
Note: All Pottery Wheel Weights Listed Below Are Averages
8 Different Electric Wheels I Have Used Over The Years.
Skytou Pottery Wheel Pottery Forming Machine
Speedball Artista Portable Wheel
The Brent CXC
Shimpo RK Whisper
Speedball Clay Boss
The Bailey PRO-XL
Bailey ST-100
Brent C
Shimpo VL Whisper
Let's take a look at my 5 recommended tools, Pottery Wheels.
Speedball Artista Is My Portable Pottery Wheel Choice
As a Speedball Artista tabletop pottery wheel owner, I can say without a doubt that this is a good purchase for beginners, professionals, and hobbyists alike. Speedball became the Artista portable pottery wheel manufacturer when it was acquired by Creative Industries back in 2009.
With its easy-to-use features and portable size, it's no wonder why this product is liked by so many potters.
Durability:
This Pottery is built well. It is a sturdy portable wheel. Sturdiness matters because as your hands shape the clay, you don't want to fumble around and make mistakes because of a wobbling pottery wheel.
Speed Control:
The Artista has a speed dial on the side of the wheel. This dial actually has excellent speed control. It stays at the speed you dial it to. For someone who can't do without a foot pedal, you can buy it separately.
The foot pedal is great for those who need their hands free while working on their project. You can incorporate this Foot Pedal to convert the Artista Potter's Wheel from hand-operated to foot-powered. The foot pedal plugs directly onto the side of their pottery wheel. The speed dial on the other side will not work while the foot pedal is plugged in.
The Wheel Head:
The 11-inch wheel head is made of hard, durable plastic. It's not the largest wheel head, but it isn't the smallest either. It has 10-inch bat holes, which is a big plus. Two bat pins are included, as well as one 12-inch bat and one 7and a half-inch square bat.
---
This portable pottery wheel doesn't have a reverse switch. Not to worry, though. Speedball has you covered if you are Left Handed. The Speedball Artista does offer a model for left-handed throwers.
Cost:
It's essential that beginners purchase a good quality potter's wheel when starting out in this art form. I would consider the Speedball Artista cost to be in the mid-range. A beginner, a hobbyist, or a potter that may want a second wheel would find the lower cost advantageous. The Speedball Artista is a great value for a portable pottery wheel that won't break your budget.
This pottery wheel comes with a Two-Year Warranty,
Other Features:
The Speedball Artista Pottery Wheel offers the big advantage of portability. This Pottery Wheel weighing only 26 pounds, makes it easy to carry around. You can set it on a table or a stand of some kind, for the right height. The 12 rubber feet on the bottom keep this portable wheel securely in place.
Being that this is a portable wheel, it won't take up much studio space. The dimensions of the Speedball Artista are 25 inches long, 18 wide, and 9 inches high. When finished with your pottery, you can safely store the wheel away.
---
Because this portable pottery wheel is fully functional, many experienced potters would use it as a demonstration wheel at programs that they take on the road. You can also easily take it outside or to a friend's house without a hassle.
I use this portable wheel mainly when I have friends over and need an extra wheel and when I go to functions or a friends house. If you would like to read my detailed review, please click here The Speedball Artista Pottery Wheel Owners Review.
The Brent CXC Is My Top Choice Pottery Wheel
After using seven different pottery wheels, The Brent CXC is the pottery wheel I decided to purchase and have been extremely happy with for over 4 years. For me, it's the perfect balance of value and quality. It has many features of the best pottery wheels that are sold today. I've been very impressed with it.
These Are A Few Things That Sold Me on The Brent CXC
Durability:
Brent is one of, if not the best-known pottery wheel brands out there. Every Brent model is known for dependable reliability.
Brent's motto is "Built for life."
The Brent CXC model is very solid but not too heavy. It's around 120 pounds and has heavy powder-coated steel beneath a plastic top deck which is a good size.
Speed Control:
Brent has a smooth foot pedal that responds well. When you press your foot down on the pedal, the wheel speeds up nicely and smoothly. When you take your foot off the pedal, the speed of the wheel continues to stay at that speed, giving you more precise control over the speed of your wheel.

The pedal is not attached to the side of the wheel, so you can use your left or right foot to control the speed. Brent even has a very easy-to-follow video about fine-tuning your foot pedal.
(I am not mechanically inclined, but I followed the directions on the 2:22-minute video and had the foot pedal fine-tuned and ready to use within minutes.)
Wheel Head:
While smaller wheel heads are fine, after using both, I like the extra surface of the 14-inch wheel head. The bat pins have standard 10-inch holes.
The wheel head also spins in both directions. With a flip of the switch, you can go from clockwise to counterclockwise. The switch goes from forward then to neutral, then reverse, making sure the wheel stops completely before changing directions.
Motor:
The Brent CXC is a powerhouse with a 1 HP Motor and a centering capacity of 300 pounds. The Wheel rotates at 240 revolutions per minute, which does make a difference when you want that extra speed for controlling your clay while centering. When you're pressing down on the clay, the wheel does not bog down.

This motor is not entirely silent but has a pleasant-sounding hum as the wheel speeds up. It's called the Brent hum.
Warranty:
Brent was the first in the industry to offer a Ten-Year Warranty. The average warranty for other pottery wheels if offered, is around five years.
Cost:
While the Brent CXC is not inexpensive, check out the current price, I felt it was an excellent price for what I was getting. I also knew this was a long-term investment. Like almost anything that is quality made, you're going to pay a premium.
Other Features:
I fit comfortably around the wheel and still have a good amount of space to put clay, tools, and water. The CXC is 20 inches high, 21 inches wide, and 27 inches long.
There Is NO Assembly Required. Just take her out of the box, plug her in, and she is ready to go.
The Splash Pan noticeably stops the water and clay from dripping over the edge while throwing and comes apart for easy cleanup.
If you are looking for one of the best pottery wheels out there, then the Brent CXC is the one. It's the one I use every day. The CXC is a real workhorse. Formy full review, go to Brent CXC Pottery Wheel Owners Review.
For the Current Price on the Brent Model CXC Pottery Wheel
---
Here are two other Brent Wheels that are worth taking a look at
👇 Check the current price on these other Popular Brent Models 👇
Brent B Pottery Wheel ½ HP – Brent C Pottery Wheel ¾ HP
Few Brent Add-Ons to Consider
Brent also offers leg extensions and work table options:
The Brent 16×10-inch Work Table
This single work table (no cup holder) is great for keeping your clay, modeling tools, and other supplies within arm's reach. It's made from the very same material as the Amaco Plasti-Bat. It's 1/3 inch thick and easy to clean.
This work table attaches to the front of the wheel leg and is adjustable. You raise or lower it and move it closer or further away from you.
The Brent 18×10 inch Work Table
This single work table gives you an extra two inches of workspace and a 4 ¼ inch cup holder for your tools. It has the same adjustable options as Brent's smaller work table. Having all your supplies at arm's length is great. When you're in the middle of creating a piece of pottery, the last thing you want to do is get up for anything you may need.
Brent Booties – Leg Extensions
Brent also offers leg extensions to raise your wheel off the floor a little bit. They are called Brent Booties, and they adjust your wheel height by 2" (5cm) or 4 inches (10cm).
Runner Up Is the Shimpo RK-Whisper Pottery Wheel
UPDATE: Shimpo is Rebranding – Read Here
The Shimpo RK – Whisper is a good solid pottery wheel. I think it is a good pottery Wheel for beginners and seasoned throwers. At first, it was the go-to wheel whenever I went to the studio.
Here Are A Few Good Reasons Why RK-Whisper Is My Number Two Choice.
Durability:
The Shimpo RK-Whisper might look a little different compared to other pottery wheels, but this little powerhouse is super quiet and very dependable.
For a smaller pottery wheel, she's nice and sturdy. Weighing in at 135 pounds, some might need a little help when moving it around.
Speed Control:
A nice feature is the fixed foot pedal with a hand lever option.
Having the option to control the wheel speed with your hand can come in handy, especially when you're a beginner and not quite used to the pedal yet. Or if you are having a hard time coordinating your foot with the speed of the wheel.
Wheel Head:
The wheel head is 12 inches, and the bat head is 10 inches. Accommodates both left and right-handed users, the wheel goes clockwise and counter-clockwise.
Motor:
Shimpo RX Whisper is number one when it comes to quiet. You don't know it's on unless you see the wheel spinning. Its brushless DC motor with direct drive (no belt) keeps the Wheel running smoothly. The motor is also completely enclosed.
The wheel rotates at 250 revolutions per minute, which is pretty nice for a wheel with only ½ HP motor. Centering capacity is good at 100 pounds, which is fine if you are not planning to throw with large amounts of clay and apply a lot of weight on a contestant basis. The Simpo Pottery Wheel Lasts for many many years.
Warranty:
All Shimpo models now come with a Five-year Warranty that will repair and replace under normal use. This warranty covers anyone who owns the wheel within the 5-year time frame (warranty starts the day the wheel was purchased up until 5 years from that date), not just the original owner.
Cost:
This Shimpo has a good price point, and they last a long time. The one in the studio is 8 years old and still runs great. Check the current price here.
Other Features:
The Shimpo is 20 inches wide, 21 inches long, and 20 inches high and doesn't have a shelf to set your supplies on. More about shelves below.
Another Good Choice Is the Speedball Clay Boss
You'll really like this little powerhouse; if you prefer something on the lighter side (100 lbs.) with the same power as the Shimpo RK -Whisper, the Speedball Clay Boss may be just the right fit for you.
Here are a few Reasons I Recommend the Speedball Clay Boss
Durability:
Suppose you want a slightly smaller size but still powerful with a sturdy feel, at 18 inches high with a table size of 25 inches deep and 21 inches wide.
Weighing only 90 pounds, the Clay Boss is still strong, with the wheel mounted on a steel frame.
Speed Control:
This model has a good size foot pedal that holds the speed consistently. Has not sped up or slowed down on its own.
Wheel Head:
The clay Boss has a larger 14-inch wheel for throwing, which many potters favor.
While you can still reverse the direction of the wheel head on this model, you must unplug the power cord to do so.
Motor:
The Clay Boss also has a ½ HP motor that has a centering capacity of 100 pounds. You can hear the motor, but it is not loud.
Warranty:
Updated in November of 2017, the Clay Boss now comes with a complete Ten-Year Warranty, which I consider a great plus.
Cost:
The Speedball Clay boss is a good price for what you get.
Check out the current price HERE.
You can also check the Speedball Big Boss with one full horsepower, which is another good wheel.
Check out the current price HERE.

Other Features:
The Clay Boss is easy to put together. All you have to do is place it on its side and attach the legs. Then put the splash pan, and you're ready to throw.
A Good Choice for Beginners Is the Skytou Pottery Wheel Machine
If you just started throwing on the pottery wheel and you are sure if you want to or are not ready to invest in a pottery wheel, then this Pottery Wheel Machine may be just the right fit for you.
Here are a few Reasons I Recommend the Skytou Pottery Wheel Machine for beginner Potters.
Durability:
Right out of the gate, you can tell that the Skytou isn't the most expensively made pottery wheel. The advantage of the Skytou Pottery Wheel Machine comes from its lightweight and compact size. It stands 14 inches high, 20 inches long, and 15 inches across, including the foot pedal. Weighing in at only 25 pounds, you can easily move it around your studio and even travel with it to do demos on the road or throw at a friend's house. For the cost and size th
Speed Control:
You can adjust the wheel speed easily: It spins fast enough to where it can easily handle up to 8 pounds of clay. This wheel can reach up to 300 RPMs, which is a good speed for pottery wheels.
Wheel Head:
The Skytou comes with a 9.8-inch wheel head. That doesn't make it the smallest wheel head, but you don't have the largest one either. Pottery wheel heads range from 8 to 14 inches across. This wheel does not have bat holes, but there are ways to Attach a Bat.
They made the wheel head with aluminum alloy. The aluminum alloy doesn't rust like a steel-wheel head would. However, you can still get pitting over time, so it's best to clean your wheel head after each session.
Motor:
This Pottery wheel machine is not as powerful. It can not handle a large amount of clay: Although it doesn't give an exact number of how much clay it can center, I have successfully centered and thrown 8 pounds. Judging by that, I would estimate it at between 8 to 10 pounds as the maximum, which is just fine for beginner potters.
Another thing that many potters have commented on is how this wheel operates quietly. That's surprising compared to many electric wheels that can make more noise when you use them.
Cost:
As far as cost goes, the Skytou offers you a good value for the price and gives you a decent starting point.
Let's say that you want to learn how to throw on the wheel, but you're not sure if it's something you will enjoy doing all the time. You don't want to spend a lot until you know for sure that you will stick with the hobby. In that case, you would be hard-pressed to find a better budget wheel.
This Skytou Pottery Wheel Machine is one of three pottery wheels I own and use often.
If you would like to read my detailed review, please click here go to Skytou Pottery Wheel Machine Owners Review
Pottery Wheel Guide Quick View
Affiliate Disclaimer: We are ambassadors or affiliates for many of the brands we reference on the website. As an Amazon Associate, I earn from qualifying purchases.
Supplies To Get Throwing Quickly
You can't start throwing without some necessary supplies to go with your new pottery wheel.
For starters, unless you're going to be using a kick wheel, you will need a Stool to sit on, some Clay, Hand Tools, and at least one Bat.
Check out my Recommended Tools Page, where you will find a lot more information to help you pick the correct pottery tools.
Potter Stools are essential when you are throwing. You want to have a comfortable Potters Stool to sit at the correct height and angle. If you're not in the right position, your back may pay the price.
Bats are one of the most used tools that a potter will use on the wheel. Being able to quickly set your fresh wet piece of art to the side is such a convenience.

Then think of trimming and decorating and not having to center your leather hard piece because it's just as you left it, perfectly centered.
Believe me. You will need some Bats – and more than one.
You will also need a BatMate.
After some extended use, the holes on your bat will loosen up. A BatMate is like a security blanket for your bat to keep it safely snug to the wheel.
Tip: a BatMate can also be used without a bat for trimming pieces you have already cut off the wheel.
Choosing your Clay
And, of course, you will need some clay. Cone temps, colors, coarse or smooth, there's a lot to think about when Choosing Clay.

You can also head on over to my Best Clay Page, where I help you in choosing the right clay to get started on your new wheel.
Some Needed Pottery Tools
Over time you're going to buy a lot of Pottery Tools. That's just the way it is in a potter's world.
You can start out buying all your Tools individually, and we've got you covered. Or, if you want just to plug your new pottery wheel in and get started right away, we have found some tools to get you up and throwing really fast.
Glazed and Confused
Let's face it pottery would not look too good without some glazing. Plus, glazing can be relaxing. Glazes have come a long way. They are safer and more beautiful than ever before.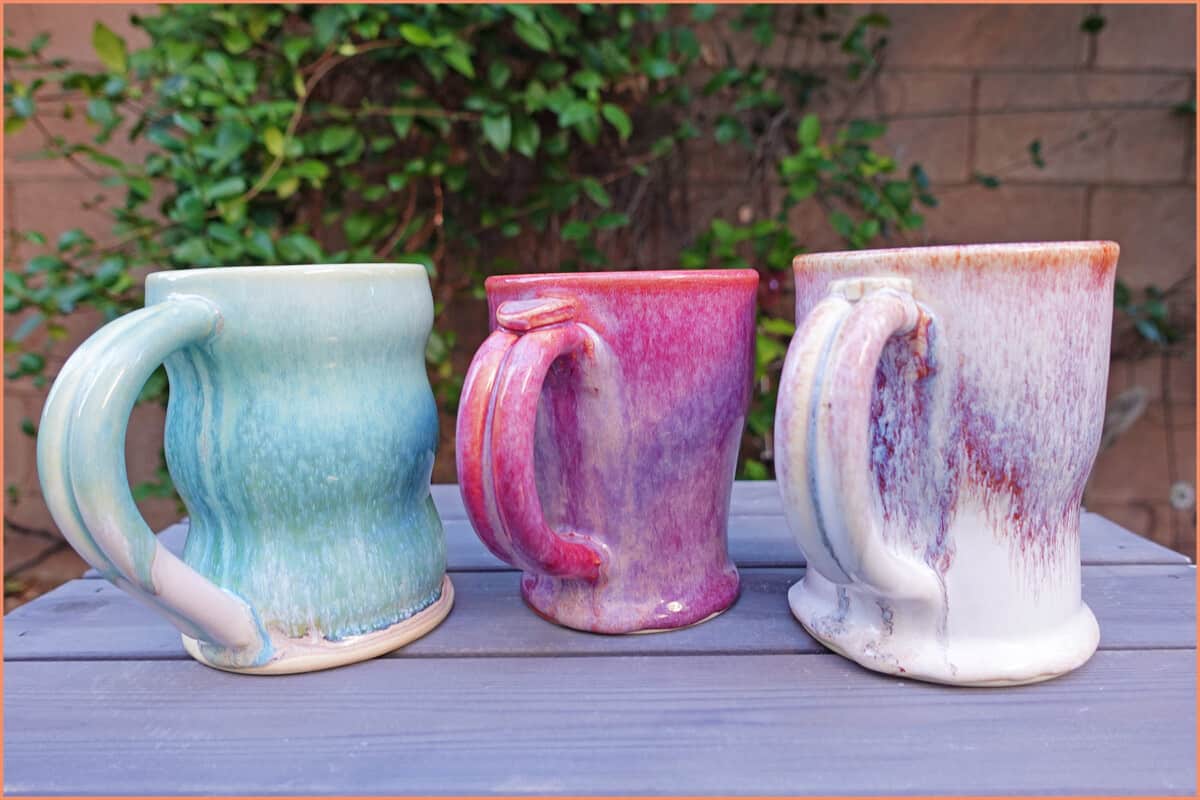 Glazing can be a guessing game until you get some practice, and glaze sets or glaze kits are the way to go for any beginner. Go over to my Best Glazes review page, where I show you my favorites that I am using at this moment and a few I have used in the past or plan on using in the future.
---
A New Pottery Wheel is the Trusted Way to Go
I recommend getting a new potter's wheel for the simple fact that you don't know how a used pottery wheel was taken care of. How much clay was thrown on the wheel, or if it was cleaned properly after every use? Plus, the warranty is only good for the original owner.
Ordering Your Wheel Online is Easier than Ever
Depending on where you live finding a pottery store might be impossible. In Las Vegas, there is not one store where I can physically touch or purchase a pottery wheel.
Not even the local Blick Arts or supply store. Which is a national chain.
Your pottery wheel is packaged and insured for any kind of trip it may endure.
If there happens to be a problem, in most cases, you will have 30 days to return it. In some cases, as soon as a return has been approved and in route, the pottery company will send the new wheel out before the returned wheel gets back to its original location.
In today's day and age, ordering online is safer and much more convenient than at any time in history. Plus, you don't have to travel and unload it. My pottery wheel was delivered to my front door in perfect condition. It can't get any easier than that.
---
In Conclusion
Down at the local pottery studio, I have used seven different pottery wheels.
My three favorite pottery wheels (the Brent CXC, the Shimpo RK-Whisper, and the Speedball Clay Boss) or any other wheels do not compensate Pottery Crafters in any way.
These are my unbiased favorites.
So, If you have just started making pottery or have been around the wheel for a while, I hope I have helped you in your quest to find the best pottery wheel to fit your skills and needs.