How To Use Bats on a Pottery Wheel | Types – Usage – Storage
Bats are discs that you attach to the head of a pottery wheel. These discs help you remove your piece from the wheel, even when it's still wet, without misshaping or damaging your piece. If you're wondering how to get the best out of your Bat in pottery making, you're in the right place
When using a Bat, it's easier to throw your pots and even make changes to the piece while it's stuck on the Bat after removing it from the Wheel. Since bats come in varying shapes, sizes, and materials, learning the uses, types, and how to store your pottery wheel bats will assist your pottery creation.
Affiliate Disclaimer: We are ambassadors or affiliates for many of the brands we reference on the website. As an Amazon Associate, I earn from qualifying purchases.
Here Are 5 Tips on How to Use Bats on a Pottery Wheel:
Types of Bats for Pottery Wheels.
How to Prep a Bat for the Pottery Wheel.
How to Attach a Bat to a Pottery Wheel.
How to Remove a Bat from a Pottery Wheel.
How to Store Pottery Wheel Bats.
1. Types of Bats for Pottery Wheels
The Types of Bats for Pottery Wheels are Plastic, Wooden, Masonite, Medex, or plaster bats. Moreover, there are circular and square bats with varying thicknesses.
While choosing the perfect one for your pottery wheel may be confusing, always ensure that the one you select is compatible with your Wheel
You'll find a vast array of Bats in the market in different sizes, materials, and shapes. Now, you can either Choose to buy a Bat or make one, depending on your budget or preferences. However, the type of pottery wheel you're using will be an essential factor to consider.
Contrastingly, most modern Pottery Wheels have bat holes for bat pins where you secure the Bat to prevent it from wobbling or coming off the Wheel. Some potters also prefer to use ceramic tiles in place of bats.
Keep in mind most Bats, and Bat holes are 10 inches apart. If your bat holes are not, make sure the bats you buy are the same inches apart as the bat holes on your Wheel.
Now, let's have a look at some bat types and what type of pottery wheels they're compatible with:
Masonite Wheel Bats
These are high-quality, ¼ inch (0.64 cm) thick bats made from wood fibers (hardboard). Masonite bats can slightly absorb water, allowing the clay to stick properly to them. Moreover, they're economical and easy to store.
Masonite Bats are compatible with potter wheels that have bat pins. So, fitting them on the Wheel is a straightforward process. One downside of these bats is that they warp when you soak them in water.
Masonite bats are available in two varieties:
Tempered – have a thin layer of linseed oil. These bats are smoother and shed water off more readily than non-tempered bats. So, it's easier to dry and remove a pot (or any other clay item) from them after throwing.
Non-tempered – don't have a layer of linseed oil. These bats are not as smooth as the tempered bats. So, it's not advisable to leave your pot to dry on them.
If you have a warped Bat, place your bat on a flat hard surface with the curved side up, then find a heavy object like a cinder block or cement lawn ornament and place it in the middle of the warped bat. Leaving it for about a day does it for me.
Plastic Wheel Bats
These are waterproof and non-porous bats made from plastic. These bats are more durable than Masonite bats since they don't warp easily. They also have bat-pin holes for easier attachment on the potter wheel.
Plastic bats are usually more expensive than Masonite bats since they come with additional features. For instance, these Speedball Plastic Bats have rims on the sides to make it easy to grab and remove them from the Wheel. They're also injection molded with 9 and 10-inch (22.86-25.4cm) pin spacing, making them compatible with most wheel sizes.
Amaco Plasti Bats are durable and last a long time with proper care. They are textured on one side to keep the clay in place when centering. The other side is smooth. You can still throw on this smooth side, but you have to be careful not to push the clay too hard, so it doesn't slip or slide when you start to center the clay.
While plastic bats are easy to clean and store, their durability makes them worth the money. Be careful when using metal tools on them as they can damage the bat's surface.
Moreover, it's harder to remove your clay pieces from plastic bats than on Masonite or Medex types.
Medex Wheel Bats
They're slightly similar to Masonite bats as they're made from wood fibers. However, their material is premium MDF (Medium Density Fiberboard), which is thicker (3/8 inch or 0.95 cm thick), 90% recycled, and has no formaldehyde. Medex Bats are also a little bit absorbent (allowing the clay to stick properly).
Unlike Masonite bats, Medex bats aren't prone to warping. However, you shouldn't use too much water on them to ensure that they last long. These bats are compatible with pottery wheels that have bat-pin heads.
Plaster Wheel Bats
Though many potters don't use these bats, plaster bats are ideal as they prevent cracking on pottery. Cover your piece using a cloth or leave it in a humidity chamber to achieve the best results. Since they're made from pottery plaster, they're more absorbent than other bat types.
Plaster bats are long-lasting and may be more suitable for pottery wheels that lack bat-pin holes. However, they're thicker and heavier than plastic bats.
Making a plaster bat isn't a complicated procedure. You only need to buy Pottery Plaster and use a rubber mold to make the bats.
Hydro-Bats
An alternative to plaster bats, hydro-bats are made from hydro-stone, a gypsum material that's stronger than plaster. They're about ½ inch (1.27 cm) thick and have rubber pin grommets for attaching the Bat to the pottery wheel. These bats absorb water more effectively than other bats.
A hydro-bat is more resistant to scraping and chipping. You also don't have to use a cutting wire to remove your pottery from the Bat. After you've completed throwing your piece, it'll easily slide off from a hydro-bat. Now that's cool!
Plywood Bats
Plywood bats are usually available as flat discs with two bat-pin holes. They're one of the bat types that you can simply make at home. However, like Masonite and Medex bats, they're prone to warping if you soak them in water.
Plywood bats absorb water well like plaster bats, but they're lighter and around ¾ inch (1.91 cm) thick. These bats are ideal for throwing large pottery as they don't become flabby. To ensure that your plywood bat lasts longer, always let it dry properly after use.
Keep in mind that most bat types, including plywood, Masonite, and Medex, warp when exposed to a lot of water for a long period of time.
2. How to Prep a Bat for the Pottery Wheel
Though bats are ready for use when you purchase them, you'll still have to make sure the surface is damp before using them. So, if your Bat is too wet or too dry, the clay won't stick well on it.
Here are ways to prepare your Bat for pot throwing:
Scrap off any clay that remains on the Bat. If you've used the Bat before and didn't clean it properly, you can remove the clay on its surface using a metal scraper or wooden rib.
Wipe the Bat using a damp sponge. To ensure that your clay will stick to the Bat, wipe it gently using a damp sponge. Do not apply too much water on the Bat's surface because your clay will not stick. The same goes for not applying any water.
3. How to Attach a Bat to a Pottery Wheel.
The most common ways to attach a Bat to a Pottery Wheel are the Bat-Pin Method or the Clay Pad Method.
You want your bat to have a nice secure fit to the pottery wheel, so the bat doesn't wobble, resulting in damaged clay pieces. So, it's vital to fit the Bat firmly on the Wheel before you start throwing your pot.
Now, let's have a look at both approaches:
Bat-Pin Method
You'll find that most pottery wheels have bat holes for the bat pins to place the Bats on. Well, some wheels lack these features; so, you can drill the holes and add the pins. The method is very easy as you only have to ensure that the pinheads correspond to the holes on your Bat.
Most bats have two pin holes (at opposite sides), meaning that you only fit them on two bat pins on the pottery wheel. You can use a BatMate if your Bat fits loosely on the Wheel.
The bat-pin approach is ideal if you plan to remove a partially completed piece from your pottery wheel and work on it later.
To attach your Bat to the pottery wheel:
Ensure that the bat-pin heads are secured on the Wheel.
Align the bat holes with the bat-pin heads.
Place the Bat on the pottery wheel and pat it gently to ensure it attaches properly to avoid wobbling when in use.
Clay Pad Method
If your pottery wheel doesn't have bat-pin holes/heads (and you have no plans of drilling it), you can use the clay pad approach to attach your Bat. This method also works with pottery wheels with pinheads, especially if the Bat always wobbles after attachment.
Though slower, this is the ideal method to use if you're throwing larger pieces.
Here's how to make the clay pad to attach your Bat to the pottery wheel:
Spin your pottery wheel.
Slam a small chunk of clay (around a half pound is good) on the spinning wheel.
Press the clay with the knuckles of one hand while holding it in place with your other hand.
Continue pressing the clay down like you're making a plate. I very flat plate.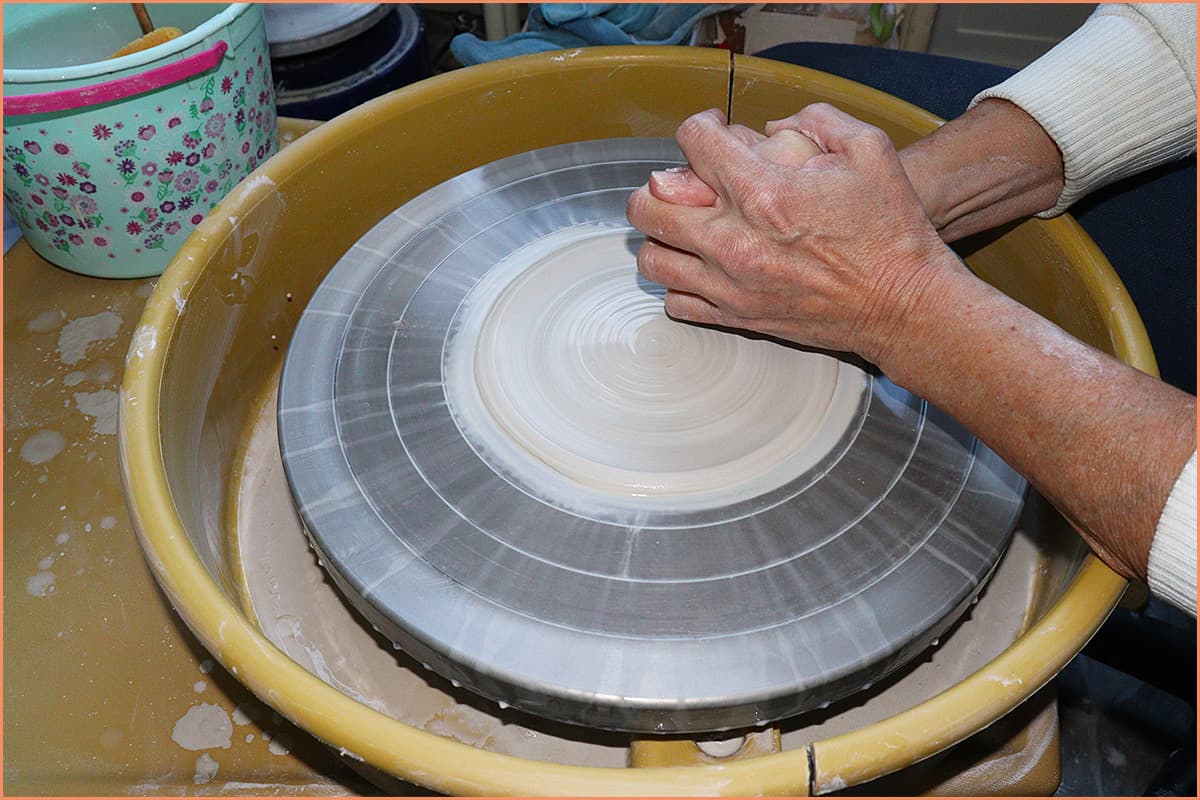 Using a wooden rib, level the spinning clay.
Once the clay is leveled, use a sharp tool (knife or metal scraper). While spinning the Wheel, make several rings on the clay pad. The air between the lines will help to seal the Bat on the Wheel.
Place the Bat on the clay pad, ensuring that its center aligns with the clay pad's center.
Tap the bat as you spin the Wheel to make sure that it's secured well without wobbling.
4. How to Remove a Bat from a Pottery Wheel.
To remove a bat from a Pottery Wheel you place your fingers under the Lip or Rim of the Bat and Lift it off the wheel. A bat with no rim may require a Bat Lifter.
Now, if you'd used the bat-pin approach to attach your Bat using Plastic or Hydro-bats that have 'lips' (rims) that make their removal process easier. You simply have to lift the Bat from your pottery wheel. Speedball Bats have a bat hole that is cut, so the bat hole spreads out to fit the bat pin more snuggly.
That's why you have to be careful when taking the bat off the wheel because it is more secure around the bat pin. Before I found this out I wondered why it was so hard to get one side of the bat off the wheel.
When you look closely at the holes on your bat you will notice that there is one bat hole that is round and one oval bat hole. The oval hole gives the bat room to move, making it easier for you to lift the bat off the wheel. You will want to lift your boat from the round bat hole side using a tool or your fingers. I prefer to use a tool. The Xiem Tools Bat Lifter easily lifts bats from the pottery wheel. It's safe to use and ideal for removing bats after throwing, especially larger pottery pieces.
Another way to remove your pottery from the bat if you don't want to trim the bottom is to let it dry off the bat on its own.
Note: If you've bought bat-pins and fixed them on the pottery wheel, remove them and clean them from time to time to prevent them from getting fixed permanently on the Wheel. Loosen the wing nuts to release the pins.
5. How to Store Pottery Wheel Bats
Pottery Wheel Bats are stored standing up on one edge, just as you would stack your dishes in a dish rack.
Before the final storage, always scrap off the clay, wipe the bat, and allow it to dry. Choose a moisture-free space, or a Bat Storage Cart to store your bats vertically. Proper use, maintenance, and storage of your Bat will extend its life span.
While storing your bats, also consider the space that they require. You may use specific bats depending on the size of the pottery you wish to make. For instance, larger bats (12-inch or 30.48 cm diameter or more) occupy more storage space than smaller ones.
If you won't be throwing big pieces, you can use smaller bats. You can also buy a Bat System consisting of one large bat with some insets. The bat system also saves storage space.
Conclusion
You now don't have to worry about your pottery collapsing on the Wheel while removing it when you can use a bat. To enable your Bat to serve you for a long time, ensure that you've attached, used, cleaned, removed, and stored it properly. Keep making that beautiful Pottery.