10 Tips on How to Become a Successful and Confident Potter
As an experienced potter, I understand the joys and challenges of creating pottery. It's a journey filled with unique creativity and a rewarding way to express yourself. I'll share ten tips that have helped make my endless journey successful and satisfying.
I will cover everything from embracing imperfections to having the patience and persistence to overcome fears and self-doubt. I believe that creating pottery is a personal journey, and it's important to stay persistent, dismiss negative thoughts, and always be willing to learn and make changes. So, let's dive in and look at the 10 tips on how to become a successful potter.
Affiliate Disclaimer: We are ambassadors or affiliates for many of the brands we reference on the website. As an Amazon Associate, I earn from qualifying purchases.
#1 – Don't Try to Be Perfect
Don't Try to Be Perfect or, as I still say to myself, Progress over Perfection.
Handcrafted pottery is not about perfection. It's about creating a piece of unique functional or non-functional art. Your handcrafted pottery comes from being one of a kind and doesn't have to be perfect. 
I made a mug, and I didn't think it was good enough, but I put it out there anyway and sold it. To my surprise, the woman who bought the mug returned months later and told me how much she loved that mug. Now it is her favorite mug.
When our hands are able to mold a piece of clay into something our mind has envisioned, there's always some part of our character in each piece. One of my teachers in pottery class said, "If anyone wants a perfect mug that looks like it came off the assembly line, they can get it at one of the big box stores."
There is no personal connection to that type of pottery. My teacher was encouraging us to be creative and not be too concerned about perfection as we were learning the craft.
Strive for progress over perfection. Handcrafted pottery is akin to nature – unique, beautiful, and ever-changing. So, embrace the imperfections in your work and let them become a part of your creative process.
#2 – Practice Patience.
When it comes to crafting pottery, slow is the only way to go. From molding your clay to decorating, drying, glazing, and firing in the kiln. If you're not taking the time to compress your clay properly, you don't let your pottery dry thoroughly before firing in the kiln, or you bisque fire and or glaze fire pottery too fast; it may lead to unwanted consequences such as Cracked Pottery.
Crafting pottery requires a good amount of patience and focus. Even when teaching, I'm not rushing through the process Like The House Is On Fire! If you have to rush through the process, then pottery is probably not for you.
Remember that creating pottery is a therapeutic activity that requires focus and patience, so take your time and enjoy the process. Practicing patience will increase your chances of success and create beautiful pottery you can be proud of.
#3 – Don't Give in To Your Fears And Self-Doubt
Fears and self-doubt can be major obstacles when it comes to making pottery. It's important to recognize that fear is a natural part of the learning process, and it's crucial to overcome it to succeed in your pottery journey.
Many beginner potters may give in to their fears or self-doubt and start thinking of reasons why they can't Throw on The Pottery Wheel or know How to Glaze Pottery after one or two tries.
I sure did. Mine was glazing. Now, I love forming the clay, but glazing, not so much. When it came time to glaze, fear set in, and I was loaded with self-doubt. My first glaze did not turn out.
Almost everyone keeps their first pot. Right? I sure did.
I searched the recesses of my brain to find a way to make pottery without glazing it. So I thought to myself: "I know! I'll use colored clay and burnish all of my pottery. That's it. I can burnish everything."
I burnished and fired a few pieces, which is very time consuming. I found that even though I liked burnishing, I really didn't want to burnish all my pottery; I wanted to glaze.
So I knew what I had to do. Get over my fear of the glaze melting all over the Kiln Shelf and start glazing. Of course, my glaze was way too thin.
Until I finally applied the glaze thicker and learned how to make cookies to protect the kiln shelves from glaze drips.
If you want to know how to make cookies, I have an article on How to Make Kiln Cookies in 6 Easy Steps – With a Video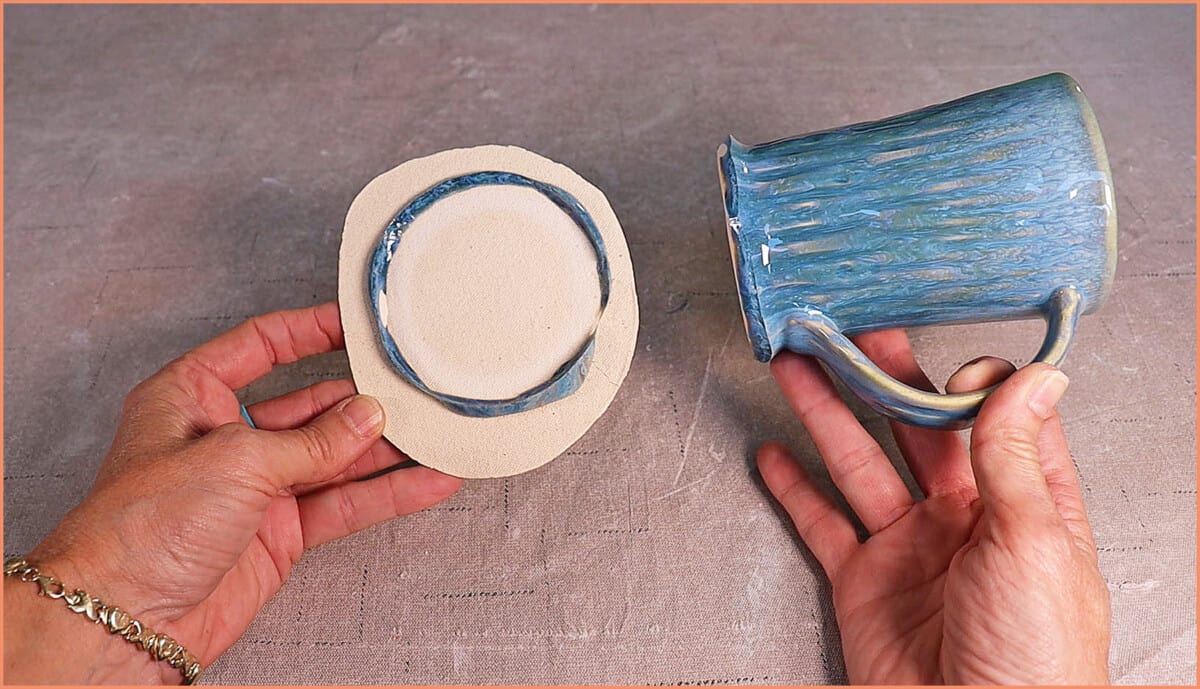 I also have an article on How To Protect Your Kiln Shelf From Melting Glaze.
I'm so glad I overcame my fears and self-doubt and started glazing. Did I make mistakes? Sure, I did, and I still do. But now I enjoy glazing. It's so exciting to see how pottery will turn out.
Don't let your fear or self-doubt hold you back. Ask questions and learn from your mistakes. That's the only way you can succeed.
#4 – Know All the Rules of Pottery Making Before You Can Bend Them
As you go along on your pottery making journey, there are rules that you have to adhere to in each of The 7 Stages of Clay, or your pottery can Crack, Break, or Even Explode. It's important to follow the rules, especially in the early stages of your pottery making journey.
You get confused when you look at the experienced potters and find that some of them bend the rules, and their pottery turns out great! Why is that? Professional potters can bend the rules because they have been test-firing different clays and glaze recipes and adjusting the kiln firing many times until they found what works for them.
The more you learn the craft and grow your skills, the more you'll discover which rules you can bend and which ones you can never break.
As you advance as a potter, you may start testing and mixing different clay bodies together or make your own glazes where you can adjust and modify the ingredients. You may even create your own kiln programs by adjusting each time segment, rate of speed, temperature, and hold on the kiln.
So, remember: learn the rules before bending them, and keep experimenting on your pottery making journey with a solid understanding of the craft. This will set you up for long-term success and continued growth as a potter.
#5 – Be Willing to Make Changes and Ask
If you're molding your clay or glazing your pottery and it's not working for you, you will need to make changes. Pottery is not a simple art form with only one or two ways of doing things.
There are so many variables that come into play when making pottery, so don't be afraid to ask questions. Seeking support from professional potters is a sign of strength and dedication to your craft. Sometimes, the answer to a problem may come from a new perspective or a different set of hands.
So go ahead and be brave, ask questions, learn from others, and be adaptable in your pursuit of pottery excellence. Adjusting and experimenting with new techniques will lead to personal growth and improved outcomes in your pottery.
I found the pottery community is most helpful if you're having problems like crazing or pinholes in your glaze results. I have articles about each of those problems that can help.
Here are the links for you. What Causes Pinholes and How To Prevent Them And What Is Crazing and How To Prevent It.
#6 – Dismiss Negative Thoughts or Opinions
Sometimes, we can be our own worst enemy. We may stop creating because we think we're not good enough, or someone else's negative opinion can also affect us.
For many of us, over one hundred people will tell us they love our work, and one person comes along and makes a negative comment. Then, oh no, we're done. We just believed in one negative comment and dismissed all the positive ones.
We can't get the negative comment out of our heads for some reason. That's why it's important to try to dismiss any negative thoughts that emerge and remind ourselves that nobody is perfect – even the most talented potters have room for growth and improvement. Say NEXT, and move forward to more positive thoughts, like the one hundred positive people who love what we create.
Approaching your work with a positive mindset allows you to enjoy the process and embrace your own unique style. Remember that you have a unique perspective and talent for pottery; staying confident in your abilities is the key to success.
#7 – Take Risks When Making Pottery
You'll never grow or evolve if you don't take risks, especially when it comes to the art of pottery making. When it comes to playing with clay, never play it safe.
Don't think you will not be able to create something similar to what you've seen. That's when you need to push past your comfort zone and try to make your pot bigger or your cylinder taller.
As you push past your limited beliefs, you'll find that you are the only one holding your creativity at bay. Push yourself past your preconceived limitations. You'll never grow and evolve as a potter if you don't.
Taking risks and experimenting with new techniques is essential for growth, so don't let negative thoughts hinder your progress.
With determination and a positive mindset, you'll see tremendous growth in your pottery making journey and develop your own distinct style.
After all, it's only clay, and you can recycle it. If you prefer a less messy way to recycle your clay, check out my article Recycle Clay In 6 Easy Steps – With A Guided Video
#8 – Be Persistent and Don't Give Up
You might find yourself struggling with certain steps when making pottery. After all, there are many Steps Involved in Making Pottery, and it's absolutely normal to encounter challenges while mastering the art form. The key to success is not giving up. Be persistent and keep practicing.
I love throwing on the pottery wheel, but my biggest struggle was getting that clay centered. It took me longer to try and center the clay than it did to make the pot. I'm not kidding. Half an hour later, with half the amount of clay left, I finally centered it.
I had a choice: I could give up the pottery wheel and only do hand building or keep trying. I'm glad I was persistent and kept trying.
Practice, Practice, Practice
One day in Pottery Class, One of my teachers saw me struggling and showed me a different way to center clay. Now, I can center my clay in a minute or sometimes two. If you are struggling, I have a video on How to Center Clay in 5 Easy Steps.
If you are still struggling with centering, I have an article – 11 Problems Centering Clay and Easy Ways to Fix Them – With a Video. Because I had all 11 problems at one point or another, I want to share the solutions with any potter who is having the same struggles with centering.
This is just one example of the struggles you may face in the pottery making process. Remember to be persistent and keep trying.
#9 – Believe in Yourself and Stay Confident
You may think you can't make pottery like another potter or you can't throw on the wheel like them. The good news is you don't have to. The great thing about pottery making is that it's so subjective.
You can form clay, decorate, and glaze in so many ways. It's quite endless. If you love to make pottery, just believe in yourself and keep improving your skills. If you don't believe in yourself and your work, how can you expect anyone else to?
People have different tastes, so focus on being yourself and trust in what you do. You're unique, and believing in yourself is essential to succeed.
Remember, confidence comes from within. Your self-confidence will grow as you continue to develop your abilities and believe in your work. So, when crafting your next piece of pottery, let your confidence shine through and bring your unique vision to life.
#10 – Plan for Success on Your Pottery Journey
In order to get anywhere, you have to know where you're going. When you go on a trip, you need a plan, and you have a map showing where you're going on your phone. The same goes for crafting your pottery clay. You need a plan to succeed.
You need to plan how you're going to make something and all the tools and supplies you need. Plan How You Will Set Up Your Studio and your workflow.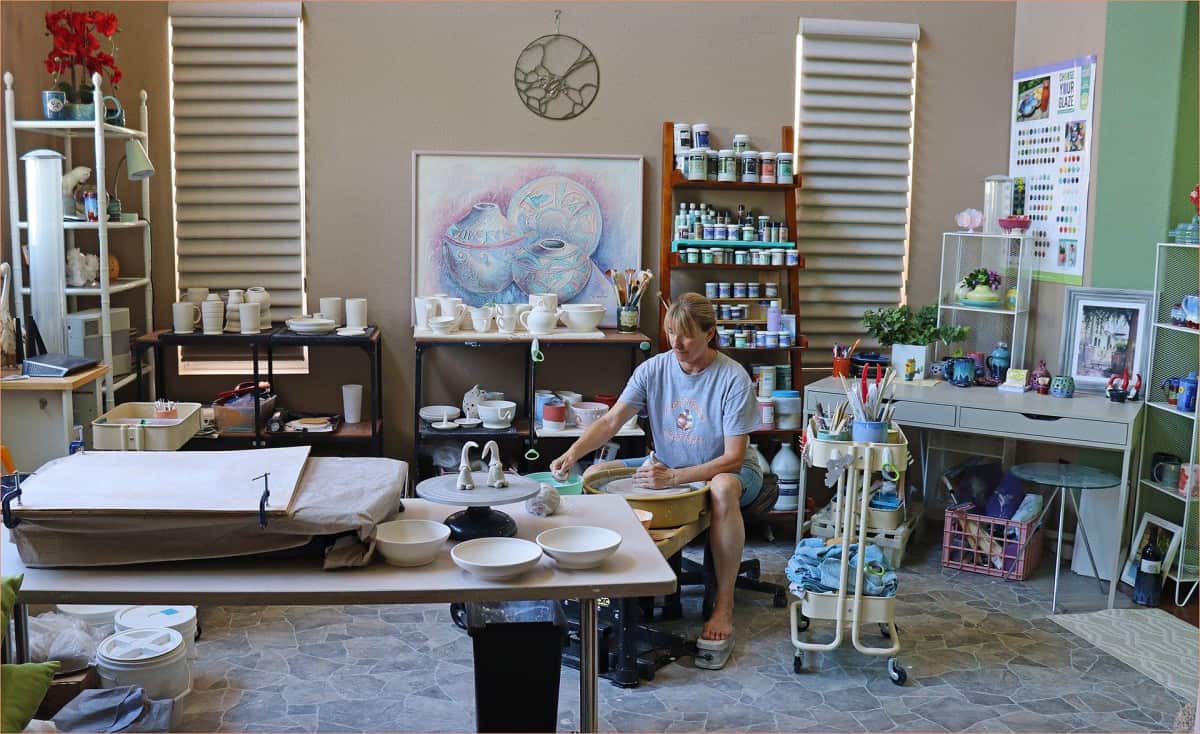 Now that you've created all this cool pottery, what do you plan on doing with it? Are you going to Sell Your Pottery, give it away, or will you become a collector of your own art?
If you're going to sell your pottery online, then you need a plan, and there are different ways you can do it. For detailed information, check out Selling Your Pottery Online – A Step-by-Step Starters Guide
You can also make a business of it and have a pottery shop or set up a pottery studio. For detailed information, check out Starting a Pottery Business
Remember, the more you plan, the more efficiently you are likely to work and the better your chances of success in your pottery crafting endeavors.
In Conclusion
The 10 tips can help you become a successful, confident potter. These tips encourage you to embrace imperfection and focus on progress, rather than perfection, in your pottery journey.
Additionally, cultivating patience and persistence, overcoming fears and self-doubt, learning the rules, and planning for success can all contribute to developing unique and personal creations.
As with any craft, becoming a successful potter takes time, effort, and practice. Following these tips and continuing to learn and grow in this craft, you can develop your skills and create beautiful and meaningful pottery. Whether pursuing pottery as a hobby or a profession, these tips can serve as a helpful guide on the road to success in the wonderful world of pottery crafting.