The Differences Between a Raku and Electric Kiln Explained
One of the most important decisions a ceramic artist needs to make when starting out is deciding which kiln type they should use: Raku or Electric. While both kilns can be great options depending on your individual preferences, it's important to understand the differences between them in order to choose one that best suits your needs.
The main differences Between a Raku and Electric Kiln are the firing times and type of fuel used. The Raku kiln uses gas for fuel and heats up fast, while the electric kiln uses electric coils and heats up much slower. The Construction and temperature ranges are also different.
Plus, I will compare the materials used, the firing process, and the end results with how these distinctions affect ceramic artists' work. To learn more about the differences between the two kilns, Let's take a look at each one.
Affiliate Disclaimer: We are ambassadors or affiliates for many of the brands we reference on the website. As an Amazon Associate, I earn from qualifying purchases.
A Raku Kiln
Raku Kilns are built differently from electric kilns for several important reasons. The kiln needs to be located outside in a safe and spacious location and open properly so you can easily unload the kiln and quickly move your pieces to the post-firing location. Raku kilns are typically Lightweight, making them easy to open and ideal for outdoor use.
Construction of a Raku Kiln
There are several types of kiln constructions: Many Raku Kilns are made with a metal or wire cylinder or box.
Using wire and ceramic buttons to hold a Ceramic Fiber Blanket on the inside of the kiln.
The chamber is set on bricks and uses a Propane Torch as the Burner Setup
You need a Thermometer or Thermocouple for the temperature gauge.
Many potters use Top Hat raku kilns, as shown below. The top hat is the kiln chamber that lifts up like a hat, to access the pottery safely.
Some top hat raku kilns have pulley systems, springs, counterweights, and guiding tracks to raise and lower the chamber.
Front-loading Kilns that open from the front are also used. As shown below
The front-loader and top hat kilns are much safer to work with than a top-loading kiln. Top-loading kilns are more dangerous to work with because the red-hot raku pottery must be carefully removed from the kiln. You can Buy a Raku Kiln or make your own.
Fuel for a Raku Kiln
For raku firings, propane is mainly used. A Propane Tank can last for three firings with smaller kilns. You can also use natural gas if you have a gas line.
Because of the fast firing process and lower temperature used for a Raku fire, gas-fired Raku kilns do cost less to fire than an Electric one.
An Electric Kiln
An electric kiln gives you greater control over the temperature range during the firing process. This means that you can precisely adjust the temperature depending on what type of clay or glaze you're working with, allowing for more consistent results every time.
An electric kiln is mainly used in a Ventilated Indoor Area or an outdoor covered area. It needs to be out of the elements like rain or snow.
Construction of Electric Kilns
This type of Kiln uses elements (coils) to heat the clay and glaze. They are typically made of metal and Soft Fire Bricks as an insulated chamber for holding the pottery during the firing process. The coils are wrapped in the cut-out areas of the kiln bricks.
The control box is located on the outside of the kiln. It has a relay switch that regulates the heat and timing of the coils. The clicking sound is the relay switch at work.
There are holes to the control box for the elements and a Thermocouple that is pushed through to the inside of the kiln to read the temperature of the kiln for the computer in the control box.
Fuel for an Electric Kiln
An Electric kiln needs a good amount of electricity to operate, and in most cases, a power supply that has higher Voltage and Amps than a regular household outlet—especially large kilns.
Electric kilns are more popular because you can do more with them. In addition, they are easy to use, and most require no adjustments while firing compared to other types of kilns.
To learn more, check out Choosing an Electric Kiln – A Step-by-Step Buyer's Guide
The Materials Used For a Raku and Electric Kiln
When using both a raku and electric kiln, there are several materials needed, such as Stilts, Kiln Shelves and Posts for stacking multiple layers within one load.
While potters may use witness cones in Raku Kilns, they are not necessary. However, Witness cones are required in electric kilns.
Raku Firing Materials Needed
A Raku Kiln needs more materials to complete the raku process than an electric kiln. A raku firing needs a Small Trash Can or another type of fireproof container with a cover, Very Long Metal Tongs.
A pair of UV protection Safety glasses, a pair of Heat Resistant Gloves, and combustible material, which I will get into more detail about in the Raku process.
Electric Kiln Materials Needed
Besides kiln Furniture, an electric kiln does not need much other than Heat Resistant Gloves and a pair of UV protection Safety glasses. This is because the electric Kiln, for the most part, is more of a set-it-and-forget-it kiln. You will need to monitor it a little or make a few adjustments (depending on the type of kiln you would have).
Differences Between a Raku and Electric Kiln in Clay and Glaze Used.
Clay and glaze used in pottery can differ depending on the kiln you use.
Clay Bodies Used for Raku Pottery
Because of the fast firing and cool-down process of the raku technique, the Raku Kiln requires a specific Bisqued clay to achieve the desired results. Therefore, it is important to use a clay body that will not crack or warp during the process.
The Clay should be formulated with high levels of grog, which helps reduce thermal shock during the fast firing and cooling process. You can use Low fire or High fire clay bodies. I use Soldate 60, which is a high-fire clay that my teacher recommended to use.
You can also use specially made Raku Clay which can yield the most favorable results. I have found over the years that many potters use both high and low-fire clays with heavy grog, and both work well. It doesn't have to be course grog. Fine grog or even sand also works well.
Clay Bodies Used for Electric Kilns
Because These Kilns fire and cool down much slower, and you are able to control the heating rate and temperature, you have a greater amount of Clays to Choose from. You can choose Low fire clay, Mid fire clay, and even High fire clay if your kiln fires to Cone 10. 2345℉ (1285℃) Your Clay can contain grog or be really smooth.
Glaze Used for Raku Kilns
The glaze for these kilns must be Low fire or Raku glaze. They need to remain stable at lower temperatures while still providing color and texture variations when cooled quickly after removal from the kiln. However, this still leaves you with a good number of raku glazes to choose from.
You can also get creative and add oxides, stains, and other additives in combination or alone in order to create unique effects on finished pieces. For example, copper oxide can produce vibrant blues when combined with an iron-rich base glaze, while cobalt oxide yields deep purples when applied over lighter-colored slips.
You can also add stains to Low Fire Clear Glaze to create a unique look. That is the wonderful part of creating raku pottery.
Keep in mind that none of the glazes used in Raku firing are food safe because the kiln is only heated to 1,800°F (982°C). That is why Raku is mainly used for decorative purposes.
Glazes Used for Electric Kilns
When it comes to choosing glazes for an electric Kiln, the choice is endless. Because of the firing process, you can choose from a wide Range of Glazes depending on your clay body. The only thing that matters is that your glaze and clay get along in the kiln. This means they expand and contract together during the firing.
Once you have gathered the necessary materials, it's time to move on to understanding the firing process of a Raku and an Electric Kiln so that you can begin creating beautiful pottery.
Differences Between a Raku and Electric Kiln in the Firing Process
Raku kilns and electric kilns are two of the most popular pottery firing methods potters use.
When it comes to firing, some distinct contrasts between raku and electric kilns need to be kept in mind before Choosing a Kiln. Both present pros and cons, yet when handled with skill can yield pleasing outcomes.
Overall, understanding these differences between raku and electric firings is essential when making a decision between the two kilns. Let's take a look at each one.
Raku Firing Process
Raku is a type of firing that differs from traditional firing methods. There are a few more steps involved in the raku process.
The term Raku is used to describe the unique characteristics of this style of pottery. To learn more about Raku, you can read this article. What Is Raku Pottery: Facts and Tips for Beginner Potters
Temperature Range and Firing Speed of a Raku Kiln Firing
The Temperature Range of a Raku Kiln
The Kiln should be heated to a maximum temperature of 1,800°F (982°C). This is the recommended temperature for a raku firing. While most potters prefer to heat the Kiln to 1,800°F (982°C), some potters will fire lower for different effects.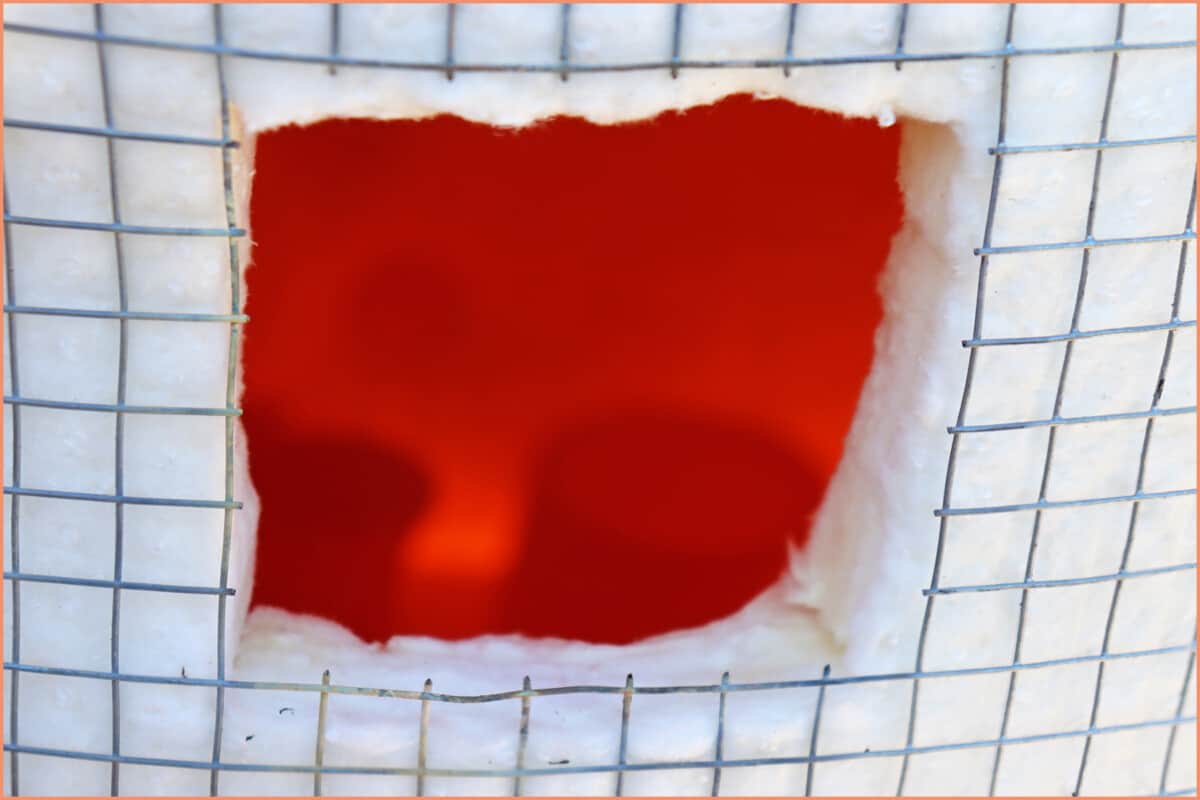 However, it is important to note that the clay must be bisque fired before it can be fired in the raku kiln.
You could bisque fire in the raku kiln but keep in mind it is not recommended because you would have to fire and cool down very slowly, and the Raku kiln is not well insulated. Plus, the bisque ware will be more fragile if the temperature doesn't reach at least cone 06.
The Firing Speed of a Raku Kiln
A Raku Kiln firing is very fast compared to a regular gas or electric kiln. The Kiln heats up in increments. Start the gas flow out slowly, and once the heat plateaus or (stalls) turn the gas up a bit. Continue to do this throughout the firing cycle.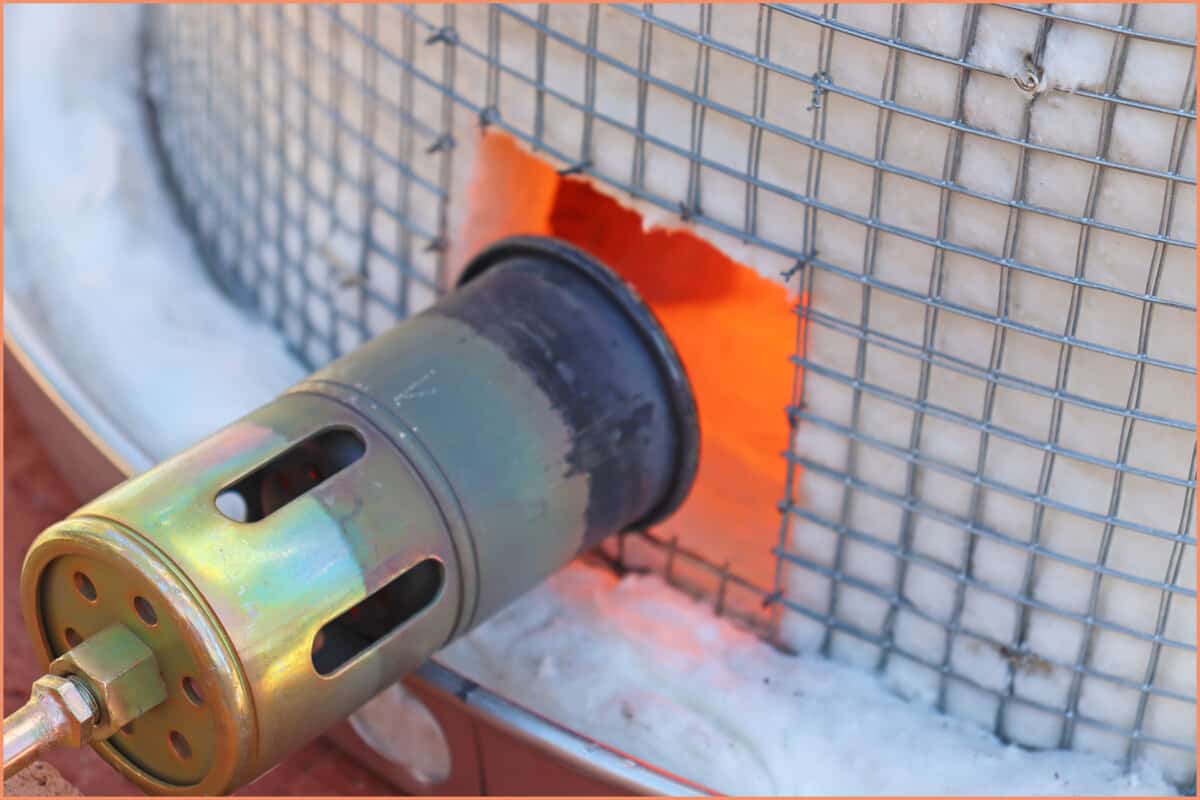 This process needs constant attention. It takes an average time of an hour to an hour and a half. This will also depend on the kiln sizes.
Smaller Kilns will heat up faster than larger kilns. Because only so much gas can come through a gas line, especially a propane tank gas line. Once it hits this temperature and the pottery is then cooled quickly with either air or cold water. This is where the magic happens.
Removing Raku Pottery From the Kiln
This involves removing the glowing piece from the kiln with Very Long Metal Tongs, That is why having a Raku Kiln lift up or open from the front is so important.
Once the pottery is lifted out of the Kiln, it is placed in water or a metal container with combustible materials such as sawdust, newspaper, straw, or pieces of organic material like leaves and sticks to create smoke and flames.
This process creates unique patterns on the surface of the pottery due to its interaction with oxygen during cooling. The results are often unpredictable and can range from vibrant colors to crackled textures depending on how long it is left in the combustibles.
You can also allow the pottery to cool down to 1000℉ (537℃), then add feathers or horse hair.
Electric Kiln Firing
An Electric kiln is different from a Raku Kiln and a Gas Kiln. Although gas kilns are similar, they still need more attention to regulate the burning fuel. The kiln atmosphere is also different. Electric kilns use oxidation firing, while Raku and gas kilns use reduction firing.
Temperature Range and Firing Speed of an Electric Kiln Firing
The Temperature Range of Electric Kilns
Electric Kilns allow you to achieve higher firing temperatures than would be possible with other methods like Raku and pit firing.
Electric kilns can reach temperatures up to 2345 °F (1285 °C) Cone 10. While some may only reach temperatures up to 2232°F (1222°C) Cone 6, or even less. The temperatures can range from 1828°F to 2345 °F (998-1285 °C), depending on the clay body and glaze that is used.
The Firing Speed of an Electric Kiln
These Kilns allow for more precise control over temperature changes during firing cycles. The voltage of the heating elements, rate of speed, and temperature can be adjusted with a control box on the kiln. Allowing you to both bisque and glaze fire.
Once the pieces are in, you'll need to program your controller for each period of the firing cycle until you reach the specified temperature level needed for glazing or bisque-firing.
Keep in mind that different kilns have different programming controllers. Some have manual programming, while others have Touchscreen Programming. Some Older Kilns may even have Kiln Sitters.
Once the kiln is programmed, the heat ramping up from the coils is at a slow rate in segments. The heat gradually increases until it reaches the target temperature. Depending on the rate of speed the kiln is programmed to (medium or slow), it can take anywhere from 7 and a half to over 12 hours to fire.
After this step, the kiln will shut down, and the pottery will cool down naturally. This will take around another 12 hours before the pottery is cool enough to unload from the kiln. It's best to wait until the pottery is at room temperature to unload the Kiln.
End Results of the Raku and Electric Kilns
Once the firing process is complete, it's time to explore the differences between a Raku and an Electric Kiln and how they affect the end results of your pottery. The texture of pieces fired in a Raku Kiln can differ greatly from those fired in an electric kiln. This difference in the results will help you decide which Kiln is best for you.
Results From a Raku Kiln
Due to their shorter firing and cooling times, pieces will remain more porous than those fired at higher temperatures for longer periods of time; this gives them a unique quality that is not achievable with other types of firings.
This results in a unique finish to the pottery, with intense metallic colors and crackle effects. The glazes used also differ from those typically found in other firings, as they are formulated specifically for this method. Raku firing is often done outdoors due to its unpredictable nature; it can produce unexpected results, which makes it an exciting process for potters.
For more detailed information on the Raku process, check out my step-by-step article on How to Make Raku Pottery.
Results From an Electric Kiln
Electric Kilns can produce a smoother surface due to their consistent heat levels throughout. The higher heat allows the glaze to turn into a glass, making it waterproof and, depending on the glaze, making the pottery food safe also.
Additionally, electric firings provide greater control over colors since many glaze recipes require specific temperature ranges for optimal effects. These higher temperatures provide greater durability, making them ideal for functional tableware meant for everyday use.
Overall, both methods offer their own advantages depending on what look you are trying to achieve. Ultimately, it is your choice to determine which Kiln fits you best.
Conclusion
The differences between these kilns are vast. Raku kilns require different materials than electric kilns and use a unique firing process that results in one-of-a-kind pieces of pottery.
Electric kilns also have their own set of materials and firing processes, but they produce more consistent results than raku. Each kiln type has its advantages and disadvantages, so it's important to understand the differences between them before deciding which is best for your ceramic art projects.
FAQ
Can I Use a Gas Kiln for Raku
Gas Kilns can also be used for Raku firing. A gas kiln has the same ability to heat the Raku pottery because of the gas flow in the reduction chamber can be adjusted.
It is very important to know that there are safety risks involved in using top-loading kilns because it involves lifting the red hot piece of pottery out of the kiln. You would also have to try and get the hot kiln shelf out if you had more than one layer of pottery.
You would want to use a front-loading gas kiln because the pottery would be much easier to get out of the kiln. That is why there are raku kilns because they are built better for pottery extraction.
Can I Use an Electric Kiln for Raku
Yes, you can use an electric kiln for raku because Raku is a type of pottery firing process that involves removing the piece from the kiln while it's still hot. Lifting the pottery from a top-loading kiln can be dangerous, especially if it is a deeper, larger kiln size. A front-loading kiln would be much better for Raku.
The kiln needs to be outside or near an outside entrance so that you can unload it and quickly move your pieces outdoors for the after-firing phase.
Important Note: There is a hazard in using a standard electric kiln for Raku firing. The power must be shut off before reaching into the kiln with metal tongs. Turning off the power eliminates the hazardous possibility of accidentally touching a live element.
Also, even when heating at a fast rate of speed to only 1800 ℉ (983 ℃), the Kiln would still take much longer to heat, around 5 hours or so. These factors are important when deciding if you should make Raku pottery in an electric kiln.