What is The Difference Between Glaze and Underglaze
Understanding the difference between glaze and underglaze will help you determine how you want to decorate your pottery.
Glaze and underglaze both beautify pottery. Glaze is a glass-like coating that is applied to a ceramic piece to make it waterproof and durable. Underglaze, on the other hand, is a type of ceramic pigment that is applied to the surface of the clay before it is glazed.
In your pottery crafting journey, familiarizing yourself with the uses of both glaze and underglaze will improve your pottery skills. Let's explore the definitions and uses of glaze and underglaze and help you understand how they differ.
Affiliate Disclaimer: We are ambassadors or affiliates for many of the brands we reference on the website. As an Amazon Associate, I earn from qualifying purchases.
Understanding Glaze and Underglaze
Glazes and underglazes are different mediums that serve different purposes for decorating your pottery. These materials have distinct characteristic differences, which you'll want to understand to create your desired effect on your ceramic pieces.
Main Ingredients in Glaze
The main ingredients in glaze are silica, flux, and alumina, along with colorants if desired. These ingredients melt together during the firing process to create a glass-like protective coating on the ceramic piece. Let's look at the main ingredients of glaze:
Silica: Silica is the primary glass-forming component in the glaze. Silica has a melting point of 3,110°F (1,710°C) which is well above the firing temperatures of pottery.

Flux: The melting agent or flux is the key to lowering the melting point of the silica and transforming it into glass. A wide variety of Ingredients Can Be Used as Fluxes in a glaze.

Alumina: Alumina provides durability and hardness, increasing the glaze's resistance to wear and chipping.
In addition to these ingredients, glazes can contain other additives like Gum Solution and colorants like metal oxides and carbonates to add colors to a glaze for artistic effects.
For more detailed information on Glaze ingredients, check out: What is Glaze Made of?
The Main Ingredients in Underglaze
Underglazes are made from a mixture of colorants (like stains or oxides), water, and a small amount of clay and frit. The clay in underglazes helps it stay in place when applied to the surface, while the frit helps it to fuse to the greenware or bisqueware during firing. Here's a quick overview of the main ingredients in underglaze:
Colorants: These provide the color for the underglaze and come in various forms, such as stains and oxides.

Clay: The presence of clay gives the underglaze its consistency and helps it adhere to the ceramic piece.

Frit: Frit is a mixture of flux and a very small amount of silica. You must have flux to lower the melting point of the silica.

May contain suspend aids: Bentonite, CMC gum, or Veegum may be present in underglaze. The amount of suspend aids, flux, silica, and clay will depend on the underglaze manufacturer.
Comparing Glazes and Underglazes
When working with pottery, it's important to understand the differences to ensure you choose the right technique and materials for your project. Here I'll discuss their differences and similarities.
While glaze seals and decorates pottery, underglazes are ideal for creating intricate designs on your ceramic work, like paint on a canvas.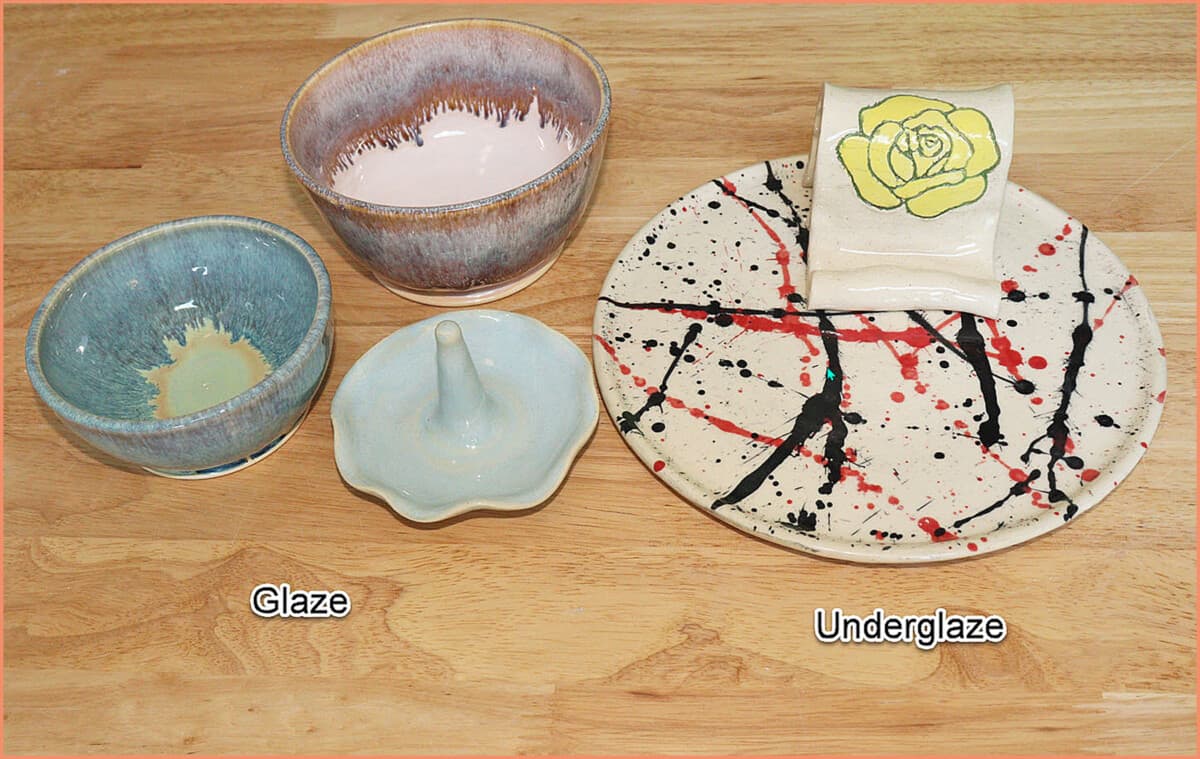 About Glaze:
Glazes are mainly applied to bisque fired clay, although some experienced potters do Single Fire Glazing. Single-fire glazing is a ceramic glazing technique where the glaze is applied and fired only once.
Glaze can be used alone, applied over underglazes, or apply glaze under an overglaze decoration. Overglaze is a decorative technique in pottery where a layer of glaze is applied over an already fired and glazed surface to add color, design, or texture.
A glaze can add function to a piece, making it more durable or waterproof if the clay does not vitrify. Such as earthenware because it does not vitrify. Clay vitrifying is the process in which clay becomes non-porous and glass-like.
In terms of appearance, glazes can be transparent, semi-transparent, or opaque. They can offer various textures like glossy, satin, or matte. Some glazes are formulated to flow, and others are formulated to be stable.
You may need to be more cautious if you Mix Glaze Together because the colors can turn out murky. And some glazes do not function well together, creating various glaze faults. So if you mix glazes, it is always best to test fire the glaze with test tiles.
About Underglaze:
Underglaze is a colored slip with a few additives giving you the ability to apply it to both greenware and bisqueware to create colorful designs. There is a wide range of underglaze colors to choose from. You can even Mix Underglazes Together to create a new color.
You can apply a clear glaze over the underglaze to create a glass-like surface. The clear glaze enhances the underglaze color, protects the piece, or waterproofs it if the clay doesn't vitrify.
When it comes to application, underglazes are easier to use for intricate designs and fine details. This is because they don't move like glazes can during the firing process, allowing you to create precise patterns.
The Difference in Applications of Glaze and Underglaze
When glazing, you will want to understand the difference in the application process between glaze and underglaze. The glazing process for each varies, so let's walk through it.
Glaze Application Process
Most glazes are Applied to Bisqueware because it's easier to apply the glaze. It also absorbs into the pores of the bisqueware, and many commercial glazes are made to be applied to bisqueware.
Remember that the thickness of your glaze will affect the final result, so make sure the glaze layers are thick enough. A good rule of thumb is the thickness of a t-shirt.
Underglaze Application Process
You can apply underglaze to wet clay, leather hard clay, bone dry clay, or bisqueware. Underglazes are best for creating designs on your pottery because they are more like paint and can allow more control during the application process.
When brushing, once you have applied the first layer, let it dry before applying a second or third coat, if necessary. This ensures the colors are solid. The thickness of the underglaze depends on the look you want to create. When your design is complete, you can apply Clear Glaze for Earthenware or Clear Glaze for Stoneware and Porcelain.
Can Underglaze Be Used Without a Clear Glaze?
Yes, you can use underglaze without a clear glaze, but doing so might affect the durability and usability of your final piece. A clear glaze helps seal the surface, making it non-porous and suitable for daily use.
Without a clear glaze, the underglaze might be more prone to wear and tear, and your pottery may not be as functional if the clay does not vitrify.
You can also glaze just the inside if you need to make the piece food safe. I wrote an article that talks about glazes and food safety, and some other important glazing information. You can check it out HERE.
Comparing Glaze and Underglaze Techniques and Tools
You'll find many interesting and creative ways to decorate your pieces using glazes and underglazes. In this section, I'll discuss some popular decorating techniques that you can apply to your own creations, helping you achieve unique and eye-catching designs.
Glaze Techniques and Tools
When using glazes, there are various techniques and tools that you can use to achieve beautiful and unique effects on your ceramic pieces. Let's take a look at a few of the methods commonly used to decorate pottery.
Dipping:
One popular method for applying glaze is dipping because it is so quick and easy to do. To do this, simply dip your pottery into the glaze, ensuring it's fully submerged, and lift it out carefully.
You can use tongs or your hands, depending on the size and shape of your piece. I wrote a detailed article about glaze dipping that you can check out HERE.
Brushing:
Another popular technique is brushing. This method involves using a brush to apply the glaze directly onto the surface of your bisque-fired pottery.
Brushing allows for more precision and control, making it great for when you want to apply multiple layers of glaze. You'll need to use a Suitable Brush for applying glazes, such as a Soft Fan Brushes or a Hake Brush. For more detailed information, check out This Source on brush glazing pottery.
Sponging:
If you want to create interesting patterns and textures on your pottery, you can try sponging. You can experiment with different sponges, such as natural sea sponges or synthetic ones, with varying pore sizes to achieve different effects. I have an article that will give you more detailed information on sponging with glaze. You can check out HERE. And this video on Sponge Glazing.
You can explore using glaze tools like Sprayers and glaze trailing with Bulb Applicators to add even more dimension and creativity to your projects. These tools can help you apply the glaze in cool ways, like creating splatters, lines, or even drips.
Remember, practice makes perfect. Take the time to experiment with these Different Glaze Techniques and tools, and you'll be on your way to creating beautiful and unique ceramic pieces.
Underglaze Techniques and Tools
When you want to add designs to your pottery, underglaze is a great tool. Here are a few techniques and tools that you can use to decorate your pottery pieces using underglaze.
Applying Decals:
Decals (which contain underglaze embedded into a design) are a wonderful way to add images or patterns to your pottery. You can apply decals on bone dry clay and bisqueware. Decals can be found in various colors and styles so you can find the perfect look for your pottery.
Applying Decals or Transfers is a straightforward process, and with a little practice, you will be able to apply them perfectly every time. Check out this Decal Application Video
Painted Decoration:
The most popular method is using brushes to create detailed designs on your pottery. With the Brushing Technique, you can showcase your artistic skills by painting fine patterns, scenes, or unique motifs on the clay surface.
Always make sure you have the right Type of Brush for your chosen ceramic canvas, as this will greatly impact the final result.
Underglaze Pencils:
An underglaze pencil can help you easily create detailed and intricate designs on your pottery. Simply sketch or draw your desired design on either bone dry clay or bisqueware using Underglaze Pencils. Let dry and cover with a transparent glaze to seal and protect the artwork.
Sponging:
Sponging with underglaze is similar to sponging with glaze, but I create more interesting patterns and textures on my pottery with this underglaze technique.
I found Natural Sea Sponges with varying pore sizes work the best. To get more detailed information, check out Sponging With Underglaze. And this video on Sponge Glazing with Underglaze.
Bubble Glazing:
One of the glazing methods that has gained a lot of traction is bubble glazing. It is a fun way to create a unique look for your pottery.
It can be done on a bone-dry clay body but mainly on bisqueware. To learn more about creating this look, go to Bubble Glazing, Tips Tools, and Ideas – With Video.
Split Cups:
Split cups create a cool marbling effect on your pottery. This method was inspired by artists who used split cups with acrylic paint to create abstract art. I thought, "Why not try this with Underglaze colors on my mugs?"
For detailed information on this technique, go to, Underglazing with Split Cups, where I dive into underglazing with split cups, exploring how to create eye-catching designs and effects on your pottery pieces.
This is just scratching the surface of what you can do with underglaze colors. Remember, your pottery is a canvas for your creativity. When working with underglazes, don't be afraid to try new techniques and tools. Enjoy the process and let your imagination run wild, and soon you'll have stunning pieces that showcase your personal touch.
Different Types of Glaze and Underglaze
When you're working with ceramics, it's essential to know the difference between glaze and underglaze to create beautiful and durable pieces. In this section, I'll discuss some common types of glazes and underglaze.
Types of Glaze
Pottery glazes can come in a variety of textures and finishes, including glossy, matte, and crackle. They can also be layered using different glaze combinations to create and beautify unique pottery art. Some glazes are stable, while others are made to flow.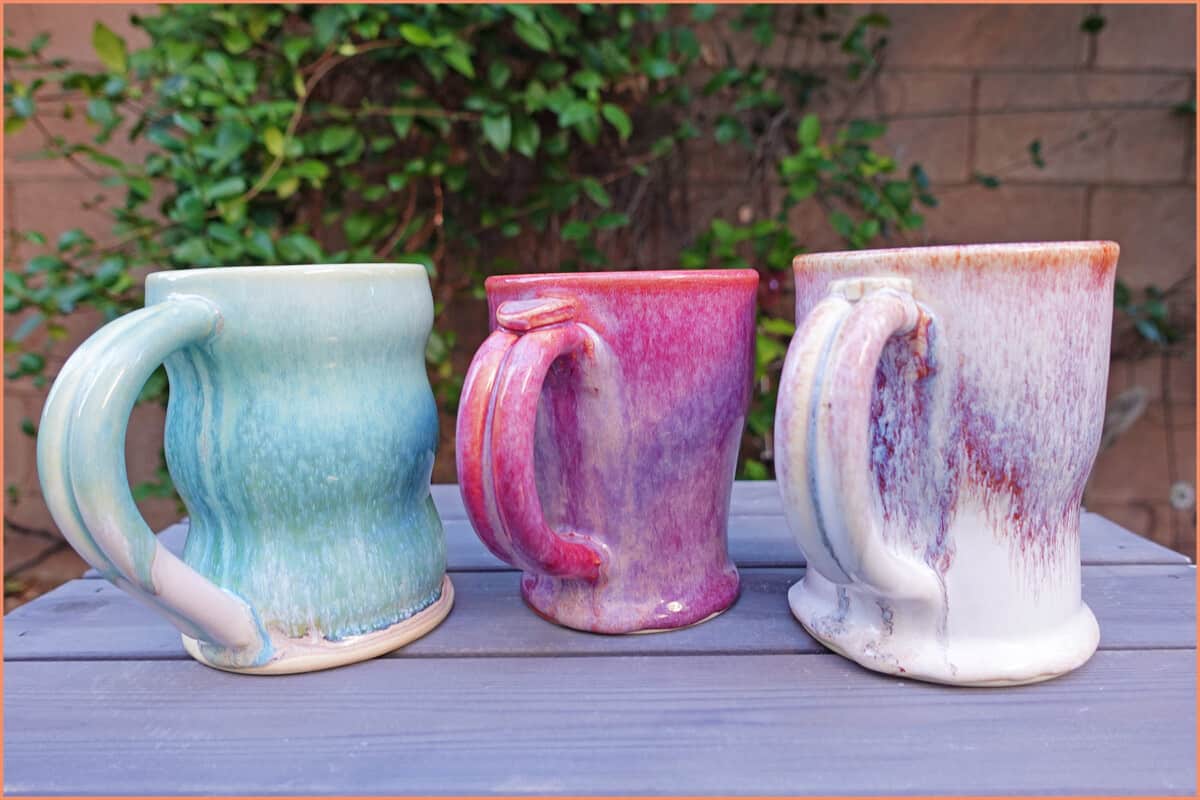 Glossy glazes are smooth and shiny, while matte glazes have a more subdued, non-reflective finish. Crystal glazes have a unique appearance that is created by crystals in the glaze and bloom during the firing process like this Crystal Glaze below.
Each type of glaze can add a different dimension to a piece of pottery, and the choice of glaze can greatly impact the overall aesthetic of the finished piece.
Types of Underglaze
Some potters may say Engobes and Clay Slips are the same as Underglaze. While they are similar they are not the same. Both engobes and slips have a high clay content, which means they can shrink significantly. You can use them to replace underglaze, but keep in mind that they are not as versatile,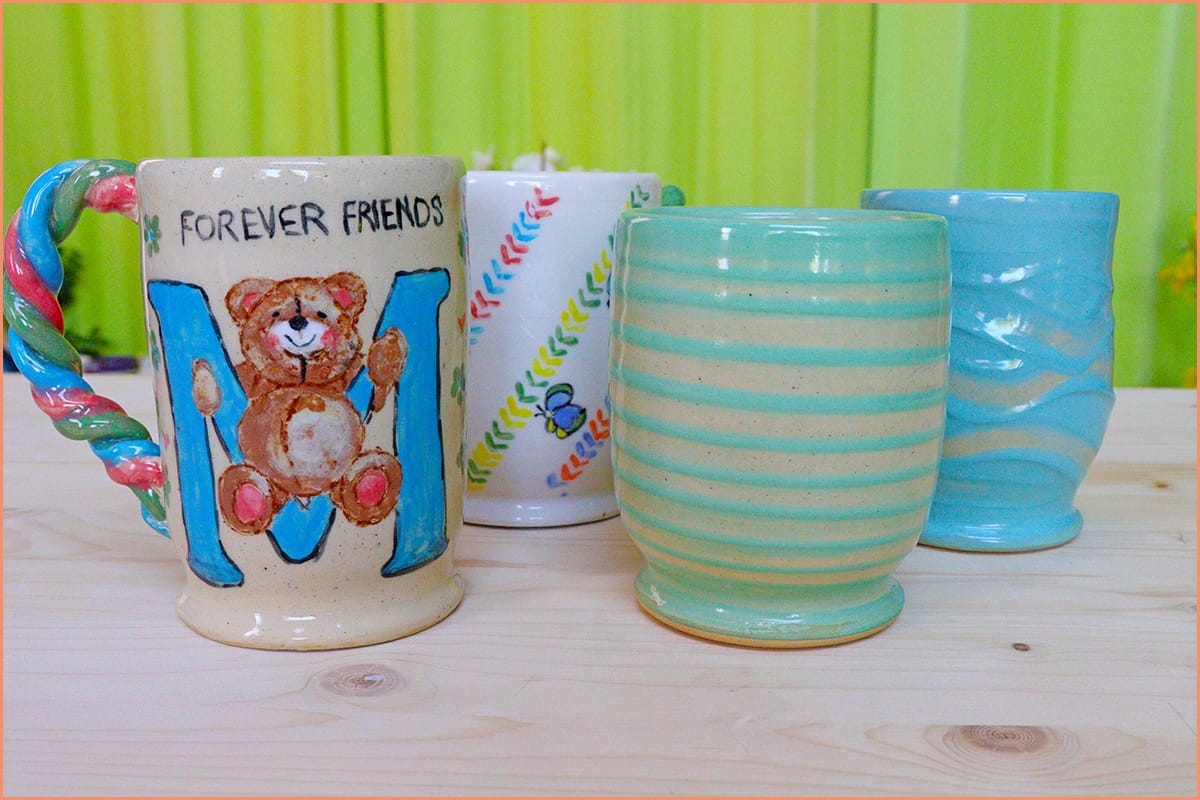 Applying engobes and slips to greenware is not a problem because they will shrink with the clay body in the bisque fire. However, applying them to bisqueware can be problematic and may cause the slip or engobe to crack and flake. Therefore, engobes and slips are typically applied to wet, leather-hard, or bone-dry clay bodies.
Difference Between Slip and Underglaze
While slips and underglazes are similar, they are not the same. Underglazes contain less clay and may contain CMC, Veegum, or both. The amount of clay, CMC, or Veegum depends on the underglaze manufacturer. Underglaze also contains a little Frit (mixture of silica and flux) to help the underglaze fuse to the pottery. These ingredients allow the underglaze to be applied to both Greenware and Bisque ware.
Basic clay slip contains only clay and stains or oxides. These ingredients only allow the slip to be applied to greenware. While some potters have successfully used slip on bisque ware for different effects it is not recommended because of its lack of frit which helps the underglaze fuse to bisque ware.
I wrote an article that gives you more detailed information on the difference between Underglaze and Slip HERE.
For more information on Clay Slip, go to 21 Pottery Clay Slip Questions Answered.
Common Materials and Colors
Some popular metal oxides used in ceramics include cobalt (for blue hues), copper (for green tones), and iron (for reddish-brown shades).
Cobalt blue: This vibrant color is derived from cobalt oxide and is used in underglazes and glazes.
Iron red: A warm, earthy tone created using iron oxide. It's commonly found in Stoneware and Porcelain.
Copper green: Created by adding copper carbonate to a glaze, this color can range from pale green to deep teal.
Metal Oxides: Metal oxides provide an exciting way to add depth and visual interest to your ceramic pieces. By incorporating metal oxides into your underglaze or glaze, you can create stunning effects like metallic sheens, iridescence, and color-shifting finishes.
Glaze Colors
Unlike clear glazes, colored glazes add a vibrant touch to your ceramics by incorporating pigments into the glaze mixture. You can achieve a wide range of colors and textures by experimenting with different combinations.
The fun thing about pottery glazes is there are so many great colors to choose from. The bad part is there are so many glazes to choose from. I wrote an article that will help with choosing glazes. You can check it out HERE.
Underglaze Colors
There are many Underglazes to Choose From. While Carbonate and oxides are used in underglaze pigment, stains are known for providing a consistent and uniform coloration, which is more suitable for underglaze that requires consistent coloring, making them a more preferred choice. While the ingredients do differ in manufacturers the results are basically the same.
Spectrum Underglaze is one of my personal favorites. This set includes six different colors, each of which comes in a 1-pint container. The colors included White, Bright Yellow, Black, Lime Green, Sky Blue, and Fire Engine Red. I love the smooth coverage they give. I only need to apply one coat and sometimes two.
The Difference in Firing Between Glaze and Underglaze
When working with ceramics, it's essential to know how the firing process works with Glaze and underglaze.
Glaze Firing Temperatures
The most important factor in choosing the right glaze is that the glaze firing temperature works with your Choice of Clay. In other words, you need a low-fire glaze with low-fire clay and so on.
You must consider The Clay and glaze you will use to avoid unexpected effects. There is a very good reason for making low, med, and high fire glazes. The glaze and clay need to expand and contract together.
You need to fire the glaze at the proper temperature so the clay and or glaze doesn't Melt on the Kiln Shelves. Applying a flowing glaze too thick will also cause the glaze to melt onto the kiln shelves.
It's always best to match the firing temperature of your Glaze with the firing temperature of your clay. I recommend you try the glaze out on a test piece first to understand better how the glaze will get along with the clay to give you the desired result.
To get more detailed information on the firing temperatures of glaze, click HERE.
Underglaze Firing Temperatures
Underglazes are typically made to be fired to low, mid, and high temperatures. The underglaze colors will get darker the higher temperature you fire them to. It is always best to read the label before using it because manufacturers can differ.
The type of clay does not matter. I have used my underglazes on Earthenware, Stoneware, and Porcelain clay bodies.
The underglaze does not stick to kiln shelves because it does not contain enough frit. I would still use caution if you apply the underglaze really thick.
Fire the underglaze in the kiln to reveal the true colors and make informed decisions while using them on your pottery pieces. Keep in mind that transparent glaze will also affect the end results. You may want to create small clay test tiles first.
Final Thoughts
When deciding between glaze and underglaze for your ceramic projects, keep in mind the unique benefits and considerations of each option.
Glaze primarily serves as a protective layer, making the finished product non-porous and food safe. Remember to check the label because not all glazes are food safe. It creates a glossy or matte finish, depending on the specific glaze you choose, and can be applied to bisque-fired pieces.
It's important to remember that underglazes must be paired with a transparent glaze to create a finished, functional piece if the clay does not vitrify. The underglaze provides long-lasting beautiful colors.
Always remember to be creative and have fun experimenting with different materials, textures, and colors to bring your artistic vision to life.