7 Best Surfaces for Hand Building
The best surface for Hand Building clay needs to have some grip to prevent the clay from sliding off or from the clay sticking to the surface. It also needs to be somewhat absorbent but not too much so that it dries out the clay too fast.
Follow along as I show you the 7 most common types of surfaces for your Hand Building clay. I have tried them myself and have first Dirty Hand Knowledge as to which Surfaces are The Best.
Affiliate Disclaimer: We are ambassadors or affiliates for many of the brands we reference on the website. As an Amazon Associate, I earn from qualifying purchases.
1. Wood
Wood is a popular surface to use, especially since it's so accessible. You can use a wooden table or even a dresser from your home and make it a workable surface. Your wood of choice needs to be unvarnished and of good quality, or the wood will start splitting and splintering.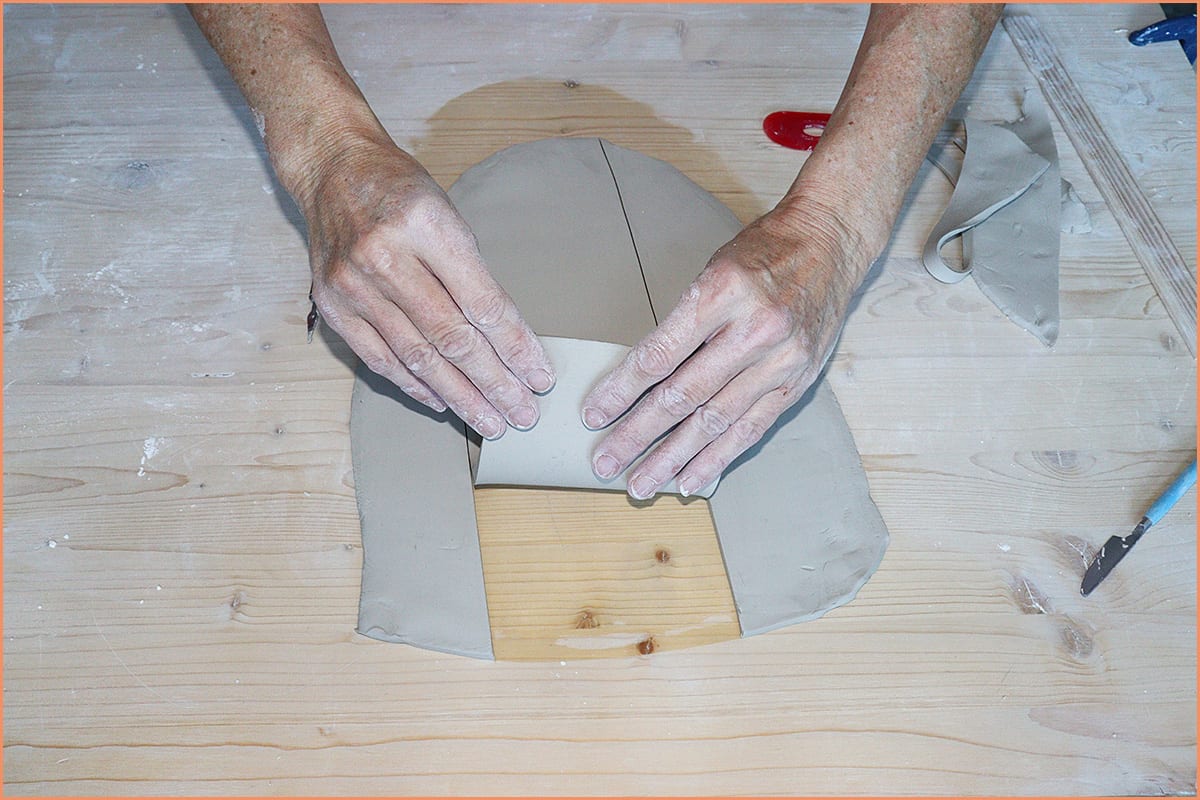 Untreated wood will give you that grip as you work on your clay, and it's nicely absorbent without sucking all the moisture from your clay. If you have an old table with worn-out varnish, you can sand it down to remove the rest of the varnish, which would make a good surface if it's still in good shape.
If you don't have a good wooden table at home, you can get a sheet of wood. Look for untreated wood, like Birch, Maple, Oak, or higher-grade Plywood. The wood can also have cheaper plywood in the middle. You can place the wood on a tabletop or counter and secure it with C – Clamps.
Some of the benefits of wood as a Hand Building and Wedging surface include:
It can be wiped clean easily before or after working on it. Preferably right after.
Unlike plaster, wood doesn't dry out your clay as much.
You can sand down wood if it starts to get grainy, splinter, or worn out.
You can use two different sheets: One for light clay and the other for dark or colored clays.
If you can't find a sheet of wood, Fiberboard (MDF) is a fantastic alternative, and it's easy to secure. Like wood, you do have to be careful with how much moisture you place on it. If the wood is too wet for too long it will warp.
2. Natural Stone
This is an amazing surface to work on, especially the unpolished side. The best natural stones are marble, granite, slate, and quartz. You want to use the unpolished side because it's non-skid and absorbent.
If you don't have one around, you can easily get it from a hardware store or construction site around you. You may find some leftover stones from the countertops.
It also cleans up nicely, but some stones, like granite, can pick up stains easily. Some kitchen stones are polished on both sides, so be careful when buying one. Be sure to clean the surface after every use to ensure there is no transfer of color and particles from one clay body to the next.
3. Plaster
Plaster is another great choice for a Hand Building and Wedging surface because it has a good grip and is relatively absorbent. The best thing about it is that you can pour a layer of plaster on another surface and use it.
If you have a stable wooden table or a big container, you can fill the top with plaster and smooth it over.
Be careful with using plaster because it has two issues:
One, it tends to flake into tiny particles and get into clay. These bits become a problem when you fire the clay form because they can cause it to crack.
The only solution is to use a strong plaster-like Hydrocal that does not break off or crack as easily. If you pour the plaster over another surface, construct a frame around the edges to prevent cracking. Other Potters cover the plaster with canvas.
Secondly, plaster can be too absorbent and may dry out your clay too fast. It is best to work with wet clay that can do with some moisture removal, or you can wet the plaster surface slightly before working on it to make it less absorbent.
4. Plasterboard
Love the plaster surface but don't know how or may not want to make it? You can buy ready-made plasterboard from the hardware store. Different brands are available, including drywall and sheetrock, but they do the same thing.
The good thing about plasterboards is that they can be cut to the size you want. Since the surface is sealed, you don't have to worry about those plaster bits contaminating your clay. However, you can seal the edges more by running some tape around the board just to be safe.
Place the plasterboard on a solid table or surface and clap it down with C – Claps. If you like to use plaster, you can buy several boards to avoid mixing different types of clay.
5. Concrete/ Cement
Cement works well because it does not stick to the clay or suck too much water from it, and it's quite durable. Unlike plaster, it won't contaminate your clay with chips and cracked bits.
You can use pourable concrete as your work surface. If you don't already have a cement slab somewhere in your home, pour two layers of cement mix on top of a sturdy table or container.
Like the plaster, you can buy and make your own cement boards with Hydrostone, These can be made the same as plasterboards, and you can then fit them on a tabletop.
If you don't have the resources to buy concrete or concrete boards, you can use your concrete floor as the Hand Building and Wedging surface. Concrete is a fantastic surface because it's cold, doesn't dry out your clay as much as plaster, and it's easy to clean after.
You don't have to worry about wobbling or sliding edges with the floor. You can use all the force you need to Wedge and Hand build your clay, which costs nothing. Just make sure it's clean before you start wedging to keep your clay uncontaminated.
If you have the stamina and don't mind working on your knees when working with clay, then concrete floors will be your best friend.
6. Canvas
You can turn almost any table into a perfect wedging surface if you stretch the canvas over the top of it or buy a piece of wood and pull Canvas across it. You have to staple down the canvas using a staple gun, or small nails so it stays in place.
The idea here is to find something stable and solid because wedging is quite physical. So if you don't staple or nail the canvas to a table or dresser, you can use C-Clamps to secure the piece of wood to your working table.
If you cannot attach the canvas over a surface, buy a Canvas Covered Board instead. They are cheap, and you can buy them in bulk.
The one concern people have with canvas as a Hand Building surface is that it creates clay dust. You can take care of this by wiping the surface down between Hand Building sessions.
Keep a Spray Bottle handy and spritz it with some water. Others soak it with water using a wet sponge, or if it's portable they hose it down after using.
7. Ceramic Tiles
Last but not least is ceramic tiles, which are smooth and easy to clean. Ceramic tiles are very clay friendly. The surface is great for Hand Building and Wedging Clay.
Tiles have a good grip and absorbency, and you can use them as a Ware Board. In fact, many potters who use ceramic tiles as work surfaces also use them as surfaces for Candling their Pottery.
Other Factors to Consider on Your Clay Hand Building Surface
Your Clay may get stuck to any of these surfaces if the clay is too moist. But that's an easy fix. Keep some Corn Starch handy and apply a very thin layer to your Hand Building surface. Any corn starch left on your clay will burn off in the Kiln.
The Height of the Surface
Hand building clay can put pressure on your shoulders, arms, and wrists. You want your posture to be straight and your wrists to be comfortable.
To gauge the correct height for your body is to stand with your hands straight down on your sides. Your working surface should be parallel to the palms of your hands in that position. This may mean shortening the legs or building up the height of your work table.
If you are working in a seated position you want to make sure your seat is at the proper height so you are not slouching over your work table.
Stabilizing the Surface
Wedging involves pushing, beating, and slamming the clay. This can cause your surface to slide or move around. It's important to stabilize the surface and make sure it stays in one place.
This will not be an issue if you use a counter or table. However, if you have a surface that may move, you can secure it with C – Claps.
Pro Tip: If you're a beginner potter concerned about the cost of equipment, keep in mind that you can recoup some of those costs by selling your unique handmade pottery pieces. With some dedication and practice, you can create beautiful and functional pieces that people will love to buy. Not only will Selling your Pottery help you financially, but it will also allow you to continue growing your skills and pursuing your hobby. So don't be afraid to put yourself out there and start selling your work!
Final Thoughts
Most potters will tell you that a working surface can make or break their clay forms. Since you don't have a wheel to form the art piece for you, it's up to your hands and the surface to make the clay what you want it to be.
The best surface for Hand Building clay depends on your technique and what kind of Clay you are working with. Sometimes you have to experiment with a few surfaces until you get the one that's right for you.