Is Raku Pottery Expensive to Make?
When discussing Raku pottery, a frequently asked question is, "Is Raku pottery expensive to make?" The answer to this is complex, as various factors influence the production costs of Raku pottery.
If you're starting from scratch, the initial investment in equipment and materials can be several Hundred to a few Thousand dollars, depending on the quality and quantity of what you buy. However, after the initial investment, the ongoing costs are mainly for materials and utilities.
While the cost of making raku pottery does vary, its value and beauty are timeless. Despite the potential expenses involved in making raku pots, it is still a popular and highly valued art form. Let's take a closer look at the costs involved in making Raku pottery.
Affiliate Disclaimer: We are ambassadors or affiliates for many of the brands we reference on the website. As an Amazon Associate, I earn from qualifying purchases.
Understanding Raku Technique
Raku is known for its distinctive approach, which involves low-firing temperatures, fast cooling, and a post-firing reduction process. The pottery is removed from the kiln while it is still red-hot and placed in a chamber with combustible material such as sawdust or paper. This causes the glaze to create interesting colors and unpredictable patterns, which are characteristic of raku pottery.
For more detailed information on Raku pottery, visit this link: "What is Raku Pottery."
The Average Cost of Raku Clay and Glaze?
Raku pottery is renowned for its distinctive and unpredictable outcomes, characterized by its unconventional firing process. To begin, I'll first delve into the clays and glazes required for this art form and the average costs.
Clay Used to Make Raku Pottery
The price of raku clay can vary depending on the amount and quality. However, purchasing in bulk often results in a lower cost per pound. On average, you can anticipate spending approximately $15 to $30 for a 25-pound bag of clay.
Raku clay is specifically formulated to withstand the unique firing process involved in creating raku ceramics. When working with raku clay, you'll notice it typically contains grog or sand, which enhances its ability to handle the thermal shock of extreme temperature changes during the firing process and reduce its shrinkage rate.
There are different clay bodies you can choose from. You can use the Standard Raku Clay, which is specifically designed for use in raku firing. It is an Earthenware clay that is porous and can withstand rapid temperature changes.
Although earthenware clays are popular for Raku, you can also use stoneware clay with sand or grog. Because the stoneware will only be fired to cone 06 or cone 04, the clay will still be porous. My Choice of clay for Raku is Laguna Soldate 60. It is a light-colored high-fire stoneware clay that works well for me. It takes thermal shock well, and I have had no cracks or breaks from this clay.
Glazes Used to Make Raku Pottery
Raku glazes have different compositions and prices, and choosing a specific type of glaze can greatly influence the overall expense of making raku pottery. Glazes can range from $8-$20 per pint, depending on the type and brand. You can also consider purchasing in larger quantities for better discounts.
When selecting a glaze for your raku pottery, consider both the aesthetic and financial impacts. While it's important to use high-quality glazes to achieve beautiful results, remaining mindful of your expenses can help maintain a more sustainable art practice. To help balance cost and quality, explore a Low-Temperature Glaze and various raku glaze options like Mayco Peacock Matte 👇As seen in the picture below.👇
You can get a nice crackle effect if you use a Low Fire Clear Glaze on a white clay body. You can also add stains to Low Fire Clear Glaze to create a unique look. That is the wonderful part of creating raku pottery.
The glazes used for the raku method must have a low-temperature melting point. Mid and High-fire glazes are NOT recommended to use for raku glaze because the temperature that raku is fired to is too low. However, this still leaves you with many other glazes to choose from.
It is important to note that raku glazes are not food-safe and should only be used for decorative purposes.
Kiln or Kilns Used for Raku Firing
Essential equipment for Raku pottery includes a Kiln or Kilns. In most raku processes, two kilns are used. If you don't have access to a pottery kiln or raku kiln, they can be an investment.
The First Kiln
The first Kiln is used to bisque fire the clay, turning it into ceramic ware. Either Gas Kilns or Electric Kilns are used for the bisque firing.
For a new Electric Kiln, you can spend anywhere between $600 to $6500, depending on the size and quality of the kiln.
For a new Gas kiln, you can spend anywhere between $1,000 to $6,500, depending on the size and quality of the kiln.
The Second Kiln
The second is a raku kiln used for firing the glazed bisque ware. Raku Kilns range from as low as $400 to $800 for a small portable model. You can also build your own raku kiln for around $200.
And $1,500 to $ 3,000 for a larger, more permanent setup.
Now, with pottery, there are exceptions to many rules. For example, gas kilns can work for both bisque and raku firing because the fuel source is the same.
The gas Kiln has the ability to be used as a raku Kiln. It heats up slower and reaches higher temperatures to bisque fire and heats up fast for raku firing. There still are a few Differences Between a Gas and Raku Kiln.
Raku Firing Materials Needed
A Raku Firing needs few more materials to complete the raku process than a traditional kiln firing. This is achieved through the use of specific materials and techniques that are different from The Cost of Making Conventional Pottery in this Article.
Very Long Metal Tongs
The average cost for extra-long tongs is around $50. Long tongs are needed to remove the red-hot pottery from the kiln.
You need the Metal Tongs to be at least 36 inches long.
Safety Gear
To ensure your well-being while pursuing your passion, investing in the right safety gear is crucial. In this section, I'll provide insights into their cost and functionality. Whether you're a seasoned potter or just starting, understanding and using these safety tools can make your artistic journey both enjoyable and secure.
The average cost for safety gear ranges between $50 and $100, depending on the brand and quality.
A pair of Heat Resistant Gloves is needed for the firing process. These gloves play a critical role in protecting your hands and forearms from extreme temperatures during the firing process in pottery. The high heat generated in kilns can cause severe burns, making heat-resistant gloves essential.
A pair of UV protection Safety glasses. UV protection safety glasses shield your eyes when looking into the raku kiln to see the glowing pottery and witness cones.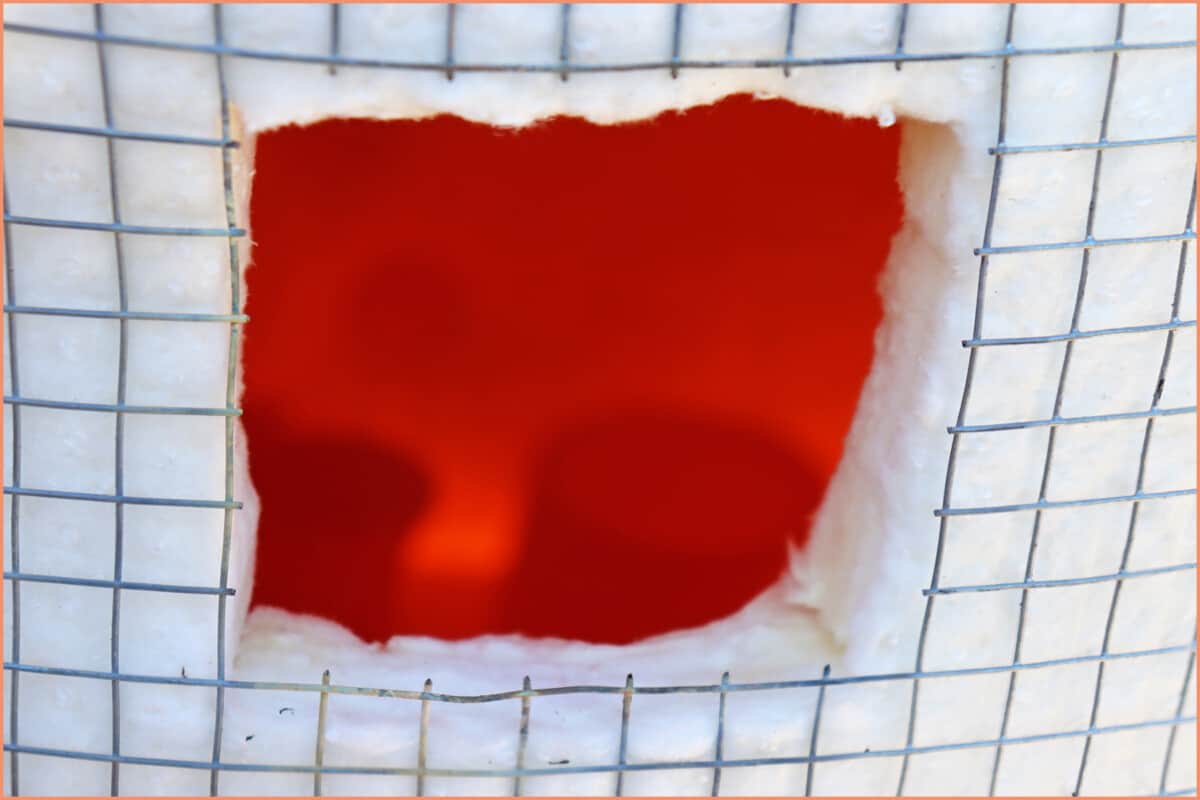 Heat Resistant Sleeves. While not as common as gloves, heat-resistant sleeves provide an extra layer of protection for your arms. Some potters choose to wear these sleeves in addition to gloves to safeguard their arms against accidental contact with hot surfaces.
With all of these materials in hand, you can start creating stunning works of art with unique designs that distinguish them from regular fired pottery ware.
Reduction Chamber
A reduction container and sand can be found for around $50 to $80, depending on the size and number of cans you need.
A trash can or another type of fireproof container is needed to place the red hot pottery in. Small Trash Cans or metal containers are more popular for more control over the pots. Your container MUST have a fireproof cover. Sand is also needed for the bottom of your reduction chamber to protect the bottom from burning out.
Combustible Materials Used in the Raku Process
The materials used to make raku pots can vary depending on the artist's preference and the desired outcome. They are fairly inexpensive, and some are even free. Combustible materials are used to create the unique effects seen in raku pottery.
The standard materials that are commonly used are sawdust and straw. Newspaper is a popular combustible material, especially for beginners, because it is easy to work with. If you choose to use newspaper, make sure it's NOT shiny newspaper. You can also get creative and use organic combustibles like dry leaves, thin branches, hay, wood chips, dried fruit, or vegetable peelings.
These materials are placed in a reduction chamber around the red-hot pottery, which causes them to combust and create a reduction atmosphere. This reduction atmosphere is what produces the unique colors and patterns seen in raku pottery.
Education and Training
If you're new to raku, taking a workshop or class can be beneficial. Learning the art of Raku pottery can be done through workshops, classes, or online tutorials. Workshops and classes can cost anywhere from $100 to $500, while an Online How To Make Raku Tutorial with Video can be accessed for free.
Time and Labor
While the labor of making Raku pottery can take many hours, the raku firing time takes only between 1 and 2 hours, which is a speedy process compared to a standard firing that can take over 24 hours. This can help save on energy costs.
To calculate the average cost of creating a single piece of Raku pottery, you'll need to consider the utility cost and the time and labor invested.
Assuming you already have the equipment and training, creating a single piece can cost a potter anywhere from $20 to $50 in time and materials, depending on its size, intricacy, and how much your time is worth.
Details Created in Raku Pottery
The level of detail in raku pottery can also impact the cost of making it. If you create intricate designs or add extra embellishments, the cost of materials may increase.
Additionally, the time it takes to create detailed pieces can also increase the overall cost of making raku pottery.
Methods Used to Make Raku
Some artists may use traditional methods that require more time and skill, while others may use modern techniques that are more efficient. Different methods will impact the overall cost of making raku pottery.
The cost of labor can vary depending on the methods used. You can choose to Burnish the Pot. Once burnished, you can use terra sigillata to smooth out the pot even more.
Terra Sigillata is a very refined clay slip. It is usually polished to a high sheen and low-fired. Apply 3-8 flowing coats to leather hard or dry clay. Allow to dry and polish with a soft cloth or chamois. 
Keep in mind these figures are just rough estimates, as the cost can vary based on your location, the materials used, and the complexity of the piece. By understanding these components, you can create Raku pottery with a clear understanding of the expenses involved.
Raku Firing Process
The fuel cost for the kilns is typically around $20-$40 for both firings. This, again, depends on the size of the kiln or Kilns used.
After bisque firing your pottery, the raku firing process is a relatively quick and exciting way to create unique, one-of-a-kind pottery pieces. While it may not be the most cost-effective firing process, the results are often stunning and well worth the extra expense.
Sealing Raku Pottery
Raku pottery is not waterproof. Sealing raku pottery is another step in the production process. The Sealant Used to Protect the Pottery can vary in price, depending on the quality and quantity needed.
Using a high-quality sealant can help protect the pottery and increase its longevity, but it can also add to the overall cost of making raku pottery. This process can be time-consuming and require additional materials, which can increase the overall cost of making raku pottery from $5 to $30.
Production Quantity
The quantity of raku pottery produced can also impact the cost of making it. If an artist produces a large quantity of raku pottery, they may be able to purchase materials in bulk, which can help reduce costs. Additionally, if an artist produces a small quantity of raku pottery, the cost of materials may be higher due to the smaller scale of production.
Origin of Raku Pottery That Contributes to the Cost
Raku pottery originated from Japan in the late 16th century. Raku's principles highlight simplicity, natural beauty, and humility, rooted in Buddhist teachings and Sen no Rikyu's ideals. The Raku family in Kyoto has preserved this art for many generations. Raku pottery is an unparalleled example of wabi-sabi, the Japanese aesthetic of finding beauty in imperfection and transience.
Its unique process and philosophy have also attracted attention and appreciation from Western ceramic artists, who have adapted and expanded upon the traditional Japanese raku technique. With its continued evolution and growing global interest, raku pottery remains an important and vibrant aspect of the ceramic art world.
Conclusion
Remember, these are rough estimates, and actual costs can vary widely based on location, preferences, and specific choices. It's always a good idea to shop around and do some research specific to your local area and needs.
It is important to note that the cost of Raku pottery can vary greatly depending on the artist, the quality of the materials used, and the complexity of the design. Some Raku pottery pieces may be relatively affordable, while others may be quite expensive.
Overall, if you are interested in making Raku pottery, it is important to be prepared for the potential costs involved. However, the unique beauty and value of the finished product can make the investment well worth it for those passionate about the art form.