At What Temperature Can You Open a Pottery Kiln?
Having your own pottery kiln gives you the freedom to work at home, at your own pace, whenever you want. For anyone who enjoys making Pottery as a hobby, it's great. And for Potters that make a living selling their work, it is a necessity. But owning a kiln comes with its own set of rules.
A Pottery Kiln can be opened once it has cooled to a least 125° F (51° C). Experts recommend keeping it closed until then to avoid injury and ensure the piece doesn't crack from thermal shock. You can open all the peepholes to let the heat out, but only the top one is typically recommended after 400° F (204° C).
In this article, we will explore why you should wait for the temperature to drop down to at least around 125 ° F (51.6° C. We will also look at other kiln-related information that will help you get started.
Affiliate Disclaimer: We are ambassadors or affiliates for many of the brands we reference on the website. As an Amazon Associate, I earn from qualifying purchases.
The High Heat Can Burn and Break Your Pottery
Anyone who has been working with Pottery for a long time will have stories where something went wrong and their pottery did not make it through the kiln firing. For beginners, it can be challenging to learn, and you'll undoubtedly lose a few pieces while you get to Know Your Kiln.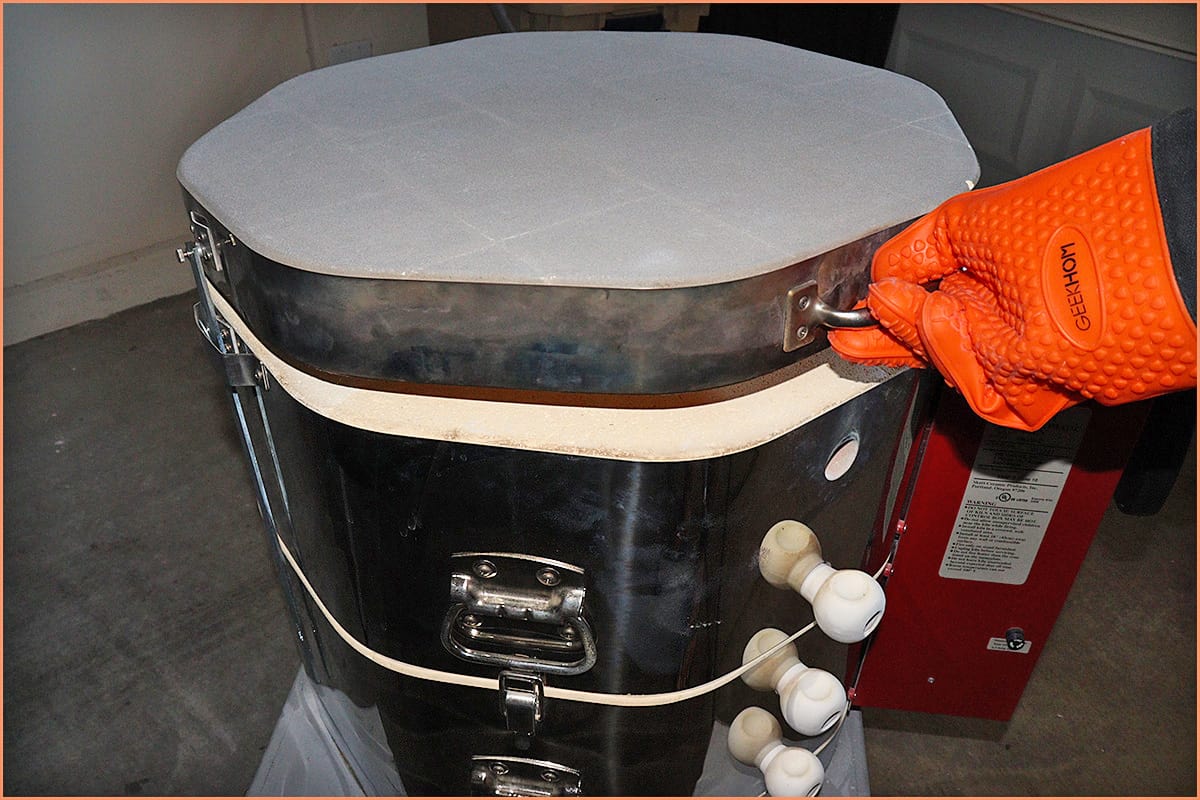 When operating your kiln, you have two primary concerns: the safety of your pottery and the safety of your person. The last thing you want is to start a fire or get burned. In addition, you have steam that can build up under pressure, causing pottery to crack and even explode.
When dealing with heat work, and depending on the type of kiln you have heating elements like electric coils, propane, and high temperature burning wood, (which can become a gas when put under intense heat) are all hazards to be aware of. If you need to be near the kiln while it's on or cooling, Wear Gloves to avoid hurting yourself.
Letting Cool Air in Can Crack Your Pottery
You can damage the pottery, which is the most common frustration potters come across. The sudden escape of heat and the introduction of cool Air into Your Kiln can cause the pottery to crack or tiny fractures to appear on your glazed pottery, a process called "crazing." Because the clay and glaze expand and contract together during the firing, if the glaze cools too fast it may contract around the clay too fast causing these cracks.
You can try covering these cracks with glaze and fire it again in the kiln. If it doesn't work, the gaps will remain and become a hosting spot for bacteria. The last thing you want is mold or food-borne illness-causing nasties to be lurking in your homemade dishware.
Can I Cool My Pottery Kiln Down Faster?
We all get impatient, and waiting for a kiln to cool can feel like a waste of time. But, as you see from the above section, it is also necessary.
So, is there a way to compromise and get your kiln to cool faster? Perhaps a few magic tricks for releasing heat?
You can cool your kiln faster by propping the lid and removing one or all the peepholes once the temperature reaches around 400° F (204° C), as long as you don't have a vent under the kiln. Even though more experienced potters may remove all the peepholes, it isn't recommended.
Venting the peepholes, or propping the lid, still hold a safety risk and increases the chances of crazing in your pottery. In addition, it may further cause problems by releasing heat too rapidly from the KIln.
Expect your kiln to take longer to cool than it did to fire your pottery.
Yes, that means it will add more time to your wait before you can unload the kiln. Just remember good things come to those who wait. The beautiful ceramic work will be worth the added effort of waiting, also avoiding a blast of heat to the face.
Does Having an Updraft or Downdraft Vented Kiln Matter?
The differences between an updraft and a downdraft vent are minimal, and they refer to how one transfers heat over the other. The main function of kiln vents is for even distribution of heat throughout the kiln.
In an Updraft Vent, your heat will be starting from the bottom, then evacuate through the vent at the top of the unit. Downdraft Vents are set at the bottom of the unit, and the air evacuates through the vent on the bottom.
It doesn't matter which vent you have for cooling your kiln, as both should only slightly change how fast the pottery cools down. You don't want your pottery to cool down too fast. If so you will want to program a controlled cooling. Some Potters turn their vents off after the kiln reaches its peak temperature.
Factors That Affect How Quickly Your Kiln Cools
Some factors may cut down on your cool time. But keep in mind the general rule of thumb about the cool time being equal to how long it has been operating will still ring true.
However, because some kilns will heat and fire more efficiently, they may release heat a bit faster without damaging your pottery.
Some factors that dictate how quickly your kiln will cool are:
The style of kiln. As stated above, a downdraft-style kiln could potentially cool a little faster because it more efficiently utilizes fuel and uses a circulating firing method that gives the potter more control. It also has a better ventilation system.
The level of insulation. A heavily insulated kiln will cool more slowly because it is designed specifically to hold on to heat for as long as possible. This is awesome for slow-firing but can sometimes take much longer to cool down. A thinner, less insulated kiln wall will do the opposite, releasing heat from the moment you turn down the flame. In this case you may what to program a controled cooling.
The size of your kiln. The larger the kiln, the longer it is going to take to both heat and cool. However, since you will be operating this equipment in your house and probably won't be mass-producing pieces having a Smaller Kiln may be right for you.
The bonus of cutting down on cooling time may be enough to consider going with a more compact model. But, this might also restrict the items you make if you plan on making larger pieces in the future.
Kiln Tips for Potters
Now that we have looked more deeply into cooling your kiln, let's explore more about kilns in general.
First of all, Beginners Don't Always Need a Pottery Kiln of Their Own Right Away. Not everyone who loves pottery needs to buy and install a kiln right away. In fact, for many hobbyists, it's smart to wait until you have figured out which Kiln is right for you. If you are considering getting a kiln installed in your home, there are some things you should know before Choosing your Kiln. This information is perfect if you have never had one of your own before.
Shared Kilns Will Cost Less To Operate
Try finding a fellow Potter or firing space nearby that lets you come and use their Kiln for a small fee. It will also allow you to get comfortable using different firing methods with others who are more experienced. You can get crucial tips this way and may learn some helpful shortcuts.
The operational costs of running a kiln vary by location, type of fuel, size of kiln, etc. This can add up quickly if you use your kiln regularly.
Also, more and more potters are getting together with others in their area to invest in a communal kiln and studio where those costs can be shared between multiple artists.
In addition, choosing a lower-cost fuel type for your region (example: propane over wood if lumber is expensive where you live) could keep your pottery-making more budget-friendly.
If you know buying a Pottery Kiln is right for you
Here are some questions you may have:
You will be working with fire and flammable material, so you want to make sure you have a proper area to place your Kiln.
Another concern is the cost, both upfront and operational. It won't come as a shock to know that a kiln is an investment and shouldn't be gone into lightly.
When looking for a Kiln, be aware that the costs range anywhere from $800 to $15,000, depending on size, style, features, brand, and type. The median cost for a Smaller Kiln is around $800 to $2000. Medium to Larger units starts at around $2,500 to $15,000.
Hire a Professional To Install Your Kiln
It is much better to hire a Licensed Electrician to install your kiln I have found that Home Advisor (affiliate link) is an excellent choice than going DIY. Because an Electrician will ensure the safe and correct installation of any wiring, breaker boxes, or outlets. You will need a unique outlet due to the amount of power a kiln requires.
Electricians are also aware of the local safety and fire codes to follow to avoid zoning trouble down the line. Don't take any chances. Anything worth doing is worth doing the right way. If you have any electrical problems, you will surely regret not taking the time to find a contractor.
For information on operating your kiln, check out these 21 most frequently asked Kiln Questions.
Final Thoughts
Owning a kiln is fantastic for many reasons, but you want to make sure you take every precaution necessary to protect yourself and the work you are creating. Cooling down your kiln before you open it is better than trying shortcuts that aren't worth the risk. With some caution and know-how, you will be firing ceramic masterpieces in no time.