Stoneware Clay Vs. Porcelain Clay: Details & Facts Explained
Stoneware and porcelain clay are two popular types of clay used by potters and ceramic artists. However, both clays have their own unique properties and benefits, so it's important to understand the difference between them before choosing which one to use.
The main differences between stoneware and porcelain clay are their workability and composition. Stoneware clay is more plastic, making it easier to work with and mold into shapes. Porcelain clay, on the other hand, is more elastic (like a rubber band) and can be harder to mold. While Stoneware tends to have more of a texture, porcelain is smooth as silk.
It can be difficult to decide which clay is right for a specific project if you don't know what each clay type is best for. Let's take a closer look at all the differences and similarities to help you choose which clay body is right for your pottery projects.
Affiliate Disclaimer: We are ambassadors or affiliates for many of the brands we reference on the website. As an Amazon Associate, I earn from qualifying purchases.
What Is Stoneware Clay Made Out Of?
Stoneware clay is mainly ball-clay-based instead of kaolin-based. Stoneware also contains kaolinite (aluminum silicate), feldspar (used as a flux), and quartz (silica). Other clay minerals are added like bentonite, iron impurities, and small quantities of mica, Illite, smectite, and other organic materials. Grog can also be added to stoneware clay.
These different minerals make up the composition of Stoneware Clay. As a result, there are many different types and textures of Stoneware Clays to Choose From, depending on the properties you are looking for.
What Is Porcelain Clay Made Out Of?
The main ingredient of Porcelain is pure kaolin clay (kaolinite), with ball clay, feldspar (used as a flux), and quartz (silica). Porcelain ware is white or translucent pottery that has been fired at a high temperature.
Kaolin is the primary mineral in the white clay body, making up around 30-40 percent by weight. Ball clay adds plasticity to the body, while quartz provides strength once the piece has been fired. Feldspar acts as a flux, lowering the melting point of the entire mixture so it can be fired.
Like Stoneware and Earthenware Clay, there are different types of Porcelain clay bodies.
The Porcelain Clay Body can be mixed with various minerals to fire to a lower temperature and increase workability but will no longer be considered true porcelain. Like Porcelain paper clay. This is a type of clay that is made with a mixture of porcelain and paper fibers. This clay is more plastic and helps with formation issues and cracks.
Bone China clay is a type of porcelain clay. It is made mainly of Pure kaolin (kaolinite), bone ash (animal bones), and quartz (Silica).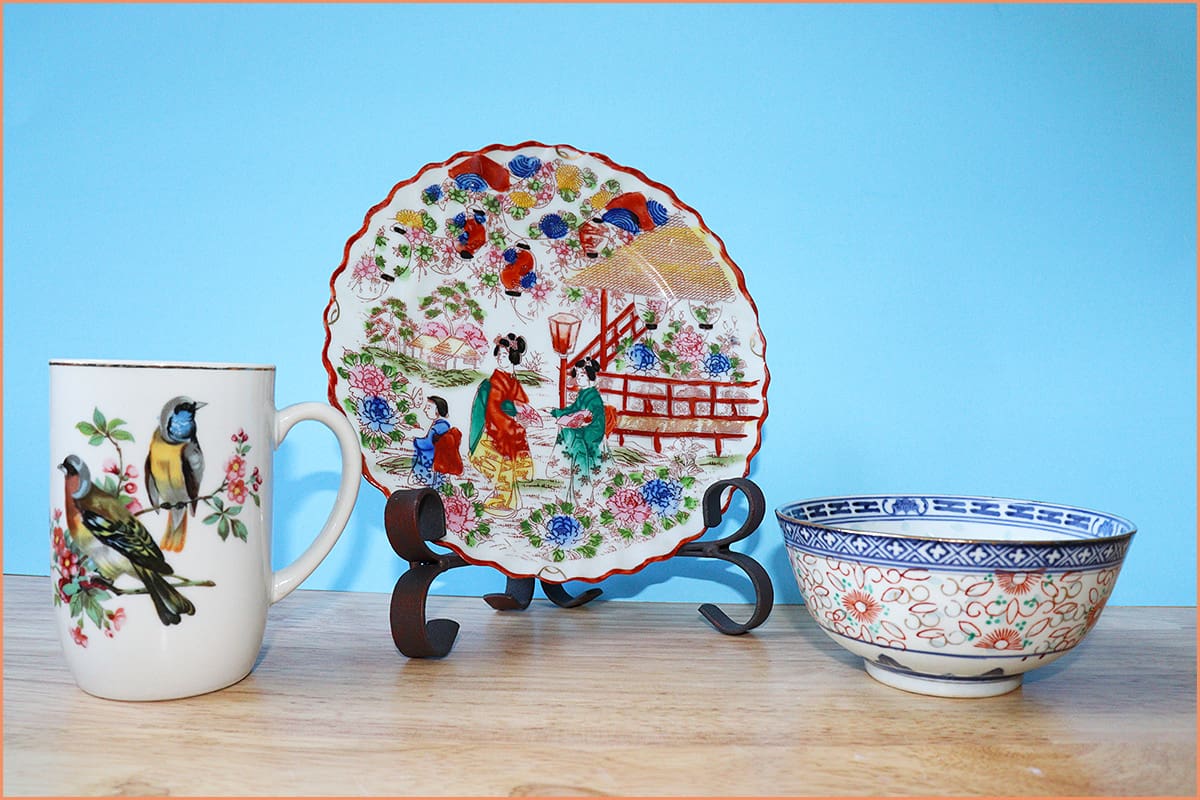 China clay is also one of the main types of porcelain. Chinese porcelain is one of the purest clays, mainly made with kaolinite to make fine china.
Vitrification of Stoneware and Porcelain Clay
Vitrification is the process of transforming a material into a glass-like state. In terms of ceramics, this means that the clay has been fired at a high enough temperature that the clay particles have fused together to create a non-porous, solid mass. This is in contrast to earthenware clay. Earthenware fires at lower temperatures and remains somewhat porous even after firing.
Vitrification is an important process because it makes the ceramic more durable and less likely to absorb moisture. High-fire stoneware is fired to vitrify, but porcelains achieve a more complete vitrification due to the different minerals that are added to stoneware clays.
The degree to which vitrification occurs determines the integrity of the bond between the clay particles. With porcelains exhibiting a stronger bond than stoneware clays. Consequently, when choosing clay for your next project, consider whether you need the added strength and durability of porcelain or if stoneware will suffice.
The Firing Temperatures of Stoneware and Porcelain Clays?
As any ceramicist knows, the firing temperature of a clay body is vitally important to the final product. To verify, stoneware clays are fired to higher temperatures, which is usually Cone 10 2345 ℉ (1285 ℃). The clay fuses and becomes strong and impervious to water at this temperature.
Stoneware clay is also mid-fired which is typically Cone 5 – 2167 ℉ (1186 ℃) to Cone 6 – 2232 ℉ (1222 ℃). This would not vitrify the stoneware clay.
Porcelain is a high-fire clay body, that has a firing temperature that is usually Cone 10 – 2345 ℉ (1285 ℃) but can also be fired all the way to Cone 13 – 2455℉ (1346℃). Porcelain clays do mature to the optimum hardness at a much higher temperature than most other ceramic materials.
Porcelain clays are also made to fire at mid-range which is typically Cone 5 2167 ℉ (1186 ℃) to Cone 6 2232 ℉ (1222 ℃) By understanding the firing temperatures of these different clay bodies, ceramists can produce the desired results in their work.
Which Is Heavier Porcelain or Stoneware?
Stoneware is typically a bit heavier than porcelain. Stoneware is more rustic. It has an earthy texture and stone-like quality with a more unrefined finish.
Porcelain, on the other hand, has a more refined look and feel. Its smooth surface can be either glossy or matte. In addition, stoneware usually edges out porcelain by being just a bit heavier when it comes to weight. So, if you're looking for something with a rustic feel that's a little heavier than porcelain, stoneware might be the right choice for you
Is Porcelain or Stoneware More Durable?
The durability of porcelain and stoneware varies depending on the composition and quality of the clay used. Porcelain clay is made from kaolin, a white clay, and can be crafted into thinner, more delicate pieces making it a bit more fragile. However, Porcelain is typically denser than stoneware and is used for sinks, countertops, and dental work. Making porcelain more durable than stoneware.
Because Stoneware clay is made from kaolinite, feldspar, quartz, and other clay minerals, making it stone-like) resistant to chipping and scratching. (In addition, stoneware is typically less expensive than porcelain, making it a more budget-friendly option for making pottery.
What Is Stoneware Clay Used For?
Stoneware clay is mainly used in Wheel Throwing and hand-building, such as slab-rolling, coiling, pinch pots, and sculpturing. It can also be used for Slip Casting, which usually uses a smoother B-Mix Stoneware clay.
Stoneware pottery is known for its durability and is perfect for everyday use. When fired, it is a very sturdy and chip-resistant material (stone-like), making it a popular clay to use for tableware, decorative pieces, and even in the garden. If you are looking for a material that is both strong and beautiful, stoneware is a perfect choice.
Projects That Are Best Suited for Stoneware Clay
Stoneware clay is heavier and denser than other types of clay. It is also less absorbent, making it ideal for projects that will be used for food or drink.
Some examples of stoneware projects include mugs, bowls, teapots, lidded jars, and candle holders. Stoneware clay can also be used to make planters, juicers, egg cups, toothpick holders, cake stands, mortar and pestles, sponge holders, yarn bowls, jewelry holders, casserole dishes, coffee mugs, and more.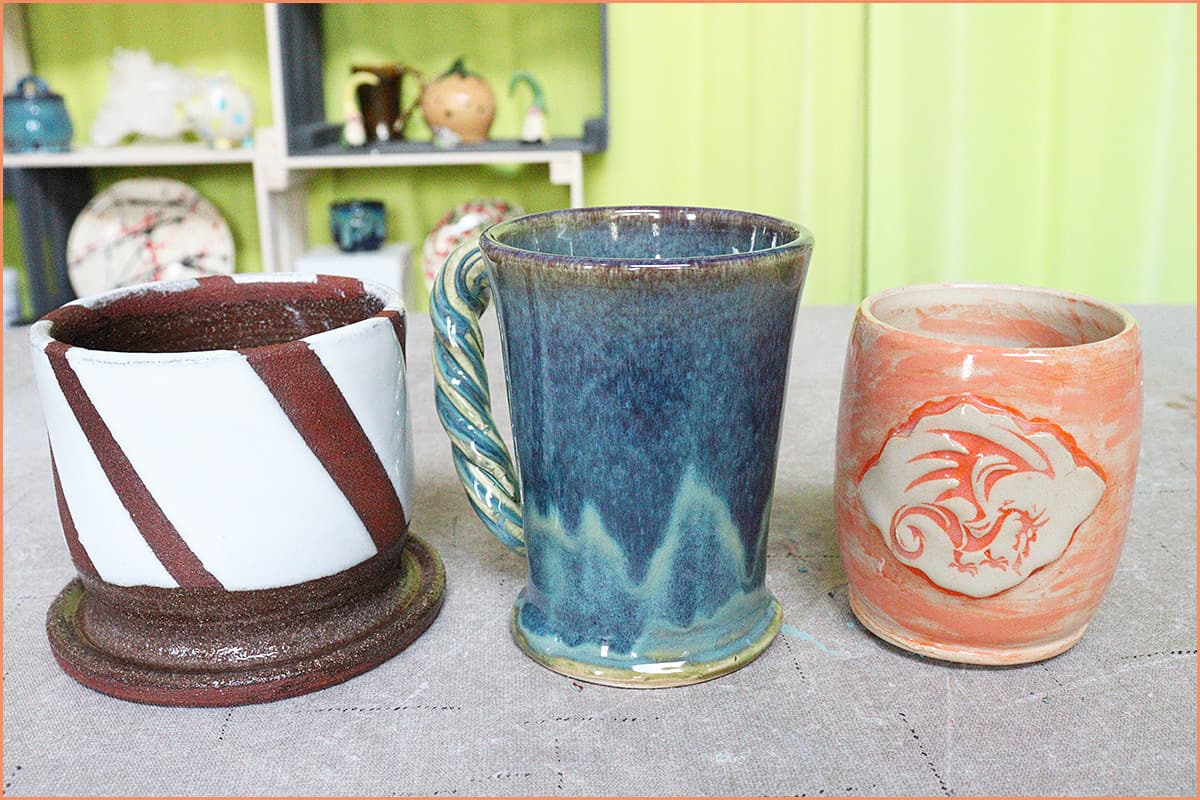 To get the most out of your stoneware clay project, it is important to choose a design that is suited to the material. For example, complex designs with thin walls are not well-suited to stoneware clay due to the risk of cracking or breaking. Instead, opt for simpler designs that can withstand the weight and density of the clay. Then, with a little creativity and experimentation, you can use stoneware clay to create a wide variety of beautiful and functional pieces.
Check out Pottery You Can Make That Sells Well.
What Is Porcelain Clay Used For?
Porcelain clay is popular in Slip Casting, and wheel throwing because it creates a smooth surface. The clay is widely used to make a variety of items, including dishes, figurines, and vases. Due to its strength and durability, porcelain clay is an excellent choice for high-use items such as sinks and countertops. With proper care, porcelain can last a lifetime.
Porcelain is mainly a high quality clay. This type of pottery clay is renowned for its white color, translucency, and strength. Unlike other clays, porcelain clay contains high levels of kaolin, a white mineral that gives the clay its unique properties.
Projects That Are Best Suited for Porcelain Clay
Porcelain is known for its strength and delicate beauty. It is often used to make dishware, figurines, and other ornamental objects. Although porcelain items are often quite fragile, they can actually be quite strong and durable if made correctly.
Porcelain jars with lids are perfect for storing spices, tea leaves, or other small items. Vases and candle holders are beautiful and elegant. They can be simple or ornate, depending on your preference. Pen holders and paperweights make a beautiful office decoration.
Because porcelain clay can be worked into very thin sheets, it is ideal for making translucent ornaments and other delicate decorations.
The Benefits of Stoneware Clay
Stoneware clay is a popular clay body for both beginners and experienced potters. It is a more plastic clay, which makes it more forgiving and easier to mold than other types of porcelain clay.
If you're looking for a versatile clay that can be used for a variety of purposes, Stoneware Clay is a great option. This type of clay is perfect for making strong and durable pottery, so your finished pieces will be built to last.
Most stoneware fired at high temperatures is non-porous and fully waterproof, making it ideal for functional pottery. In addition, stoneware clay does not as high of a shinkage rate that porcelain does.
The Benefits of Porcelain Clay
The main benefit of using Porcelain Clay is its smoothness and translucency. This clay allows the potter to manipulate it even when it is extremely thin.
The porcelain's tiny particle size makes the clay more elastic but difficult to work with on the potter's wheel. Porcelain clay is as smooth as butter, making it very popular among more experienced potters. These properties do make it ideal for slip casting, a technique where liquid clay is poured into a mold to create translucent forms.
Fired at high temperatures, porcelain ceramics are also non-porous (glass-like), so they do not absorb water or other liquids.
Porcelain clay is extremely strong and durable, making it ideal for use in the construction of vases, bowls, and other forms of tableware. While porcelain clay can be difficult to work with due to its low plasticity, the end result is typically worth the effort.
How to Choose the Right Type of Clay for Your Project
When Choosing Stoneware or Choosing Porcelain for your project, there are a few things to keep in mind. First, consider the method you'll use to create your piece. For example, hand building requires a stronger, plastic clay, and wheel throwing requires a stronger, plastic clay that can withstand the high centrifugal forces, while slip casting can be done with a weaker clay.
Second, consider the texture you're looking for. Smooth clays are best for pieces that need to be very precise, like figurines or tableware, while course clays are better for more rustic pieces.
Lastly, think about the firing temperature. Some clays can only be fired at low temperatures, while others require high temperatures. Again, choosing the right type of clay is essential for getting the desired results, so be sure to do your research before getting started.
Is Porcelain or Stoneware Better for Throwing on the Wheel?
The answer really depends on your level of expertise. On the one hand, porcelain has a smooth, buttery texture, making it a pleasure to work with.
On the other hand, Porcelain is a harder clay to work with on the pottery wheel because it is more elastic. It wants to return to its original shape like a rubber band. Porcelain clay also absorbs water faster thus weakening the clay faster. This can make it difficult for beginner potters to work on the wheel.
Stoneware, on the other hand, is more plastic (workable) and therefore easier to mold on the wheel. Stoneware has A-mix clay and B-mix clays that are smooth and more plastic than porcelain. Stoneware clay is a more popular choice for throwing, which makes it a good option for beginners. So, if you're just starting out, you may want to try working with stoneware before moving on to porcelain.
I actually started with a mid-fire porcelain clay because of how smooth it was but struggled to make anything larger than a small mug. Now I use Amaco A-Mix stoneware White Clay. It's the best of both worlds. Nice and smooth but more workable than porcelain Clay.
However, both porcelain and stoneware have their own unique properties, and it is ultimately up to the potter to decide which one is best for their needs.
Is Stoneware or Porcelain Clay Better for Hand Building
There are a variety of clays that can be used for hand building pottery. Still, Stoneware Clay with Grog is generally considered one of the best options. This is because it is strong and relatively pliable, making it easy to work with. In contrast, porcelain is more elastic and can be difficult to shape. As a result, porcelain is not typically recommended for beginning potters.
However, once you have mastered the basics of hand building, you may want to experiment with other types of clay, including porcelain. With practice, you will be able to create beautiful pots and sculptures using porcelain clay.
Is Stoneware or Porcelain Clay Better for Slip Molding
You can use stoneware and porcelain when it comes to slip casting. Both options have their own benefits and drawbacks, so it's important to choose the right one for your project.
Porcelain Slip is the better option if you're looking for a smooth finish. However, porcelain is more likely to deform during firing, so it's not always the best choice for less experienced potters.
On the other hand, a smoother stoneware clay is a good option like A-mix and B-mix clays because it's easy to work with and fire. Ultimately, the best clay type will depend on your specific needs and preferences.
Which Clay Is Better for Dinnerware, Stoneware, or Porcelain?
When it comes to choosing clay for dinnerware, there are Four Main Types of Clay available. However, two of the most popular choices are stoneware and porcelain. Both clays have their own advantages and disadvantages, so it can be difficult to decide which one is right for you. Here is a closer look at the two types of clay to help you make a more informed decision.
Stoneware clay is fired at higher temperatures, making it very strong and durable. It is also less likely to chip or crack than porcelain. However, stoneware is usually thicker and heavier than porcelain, making it less delicate.
Porcelain is a clay that is mainly fired at very high temperatures. This makes it harder than stoneware. However, it also allows porcelain clay to be made into thinner and more delicate pieces. Porcelain is also less likely to absorb moisture than stoneware. This makes it a good choice for dinnerware that will be used often.
So, which type of clay is better for dinnerware? The answer depends on your personal preferences. Stoneware is a good choice if you want strong and durable plates that are less likely to break. However, porcelain is a better option if you prefer delicate and light plates. Ultimately, the best type of clay for your dinnerware will depend on your individual needs and preferences.
In Conclusion
There is no clear answer as to which is better, porcelain or stoneware. They both have unique benefits that make them ideal for different purposes. For example, stoneware might be the best option if you need a more durable dinnerware that is less likely to chip or scratch.
However, if you're looking for something with a more refined look and feel, then porcelain might be the right choice. Ultimately, the decision of which type of clay is better for your project depends on your individual needs and preferences. Consider the purpose of your project when deciding between porcelain and stoneware.
FAQ's
Can Stoneware and Porcelain Be Microwaved?
Can stoneware and porcelain be microwaved? Most can, but there are a few things you should know before putting your dishes in the microwave. First, check to see if the piece has any gold or silver trim. If it does, it's not microwave-safe, and you should use another dish.
Second, if you're unsure whether a dish is microwave-safe, there's a simple test you can do. Just put a cup of water in the dish and microwave it for one minute. If the water is warmer than the dish, it is safe to use.
For more detailed information on microwave-safe ceramics, check out Is Pottery Microwave Safe. With these tips in mind, you can safely use stoneware and porcelain in the microwave.
Is Stoneware Good for Baking?
Is stoneware good for baking? Yes! Stoneware holds heat well and distributes it evenly, making it perfect for oven-to-table serving. Not only that, but stoneware's superior heat retention keeps food warm for meals. Just keep in mind that stoneware must be heated at the same time as the oven.