Affiliate Disclaimer: We are ambassadors or affiliates for many of the brands we reference on the website. As an Amazon Associate, I earn from qualifying purchases.
There are so many different brushes you will need to create and decorate your pottery with.
Creating patterns
Do detailing
Draw images
Brush on names and sayings
Wax resist application
Applying slip
Brush on bold strokes or fine lines
Below is a list of the best Glaze Brushes and Detail Brushes that I use. Many I have used or am using at present. Finding the right brushes can be very confusing and time-consuming. You won't go wrong with any of my picks.
---
Creative Hobbies Hake Brush
Any old brush will not do when it comes to applying ceramic glazes, underglaze, or slip to your pottery. It will show on your final piece. This brush is great for glazing. It was designed with the potter in mind.
Coverage:
The Creative Hobbies Hake Brush is specifically designed to hold ceramic glazes very well. The fine quality of this brush uses very soft natural hairs and has the ability to hold a good amount of glaze for applying nice flowing strokes. This brush puts a smooth coat on every time. 
Durability:
This brush is constructed with a bamboo handle and very soft natural hairs. You may get a stray hair here and there, but overall, it is a durable brush.
Other Features:
This Hake brush is a nice manageable size for beginner potters. At 1 7/8″ wide, it allows you to glaze more area without the brush becoming too big and hard to handle on smaller pottery pieces. I also like using this brush for applying kiln wash. Click "Check Here" below
👇 For the Current Price on the Creative Hobbies Hake Brush 👇
---
Best
Glaze Brush Sets
When using glaze brushes, size does matter. It's important to have the right glaze brushes for the pottery you are decorating. The more you glaze, the more brush selections you will want. Here are Five Glaze Brush Sets that are great for the beginner potter and won't break the bank.
1. AMAGIC Artist Soft Fan Brushes
I just love, love, love this Set of 6 Fan Brushes. I found I use them most often. They are a must-have when glazing pottery. I love them so much that I bought another set, but I still use the old brushes.
Coverage:
The different effects they make and the coverage they produce have been wonderful. These Fan Brushes are specifically designed to make Glazing more enjoyable. It's great when you can feel the ceramic glazes slide across the pottery. Nice and smooth. These glaze brushes are also perfect for decorative glazing. You can apply thin lines by using the side of your brush. Abstract painting with underglaze is also fun and easy with these brushes.
Durability:
Picking little brush hairs from your glaze work can be annoying, to say the least. These glaze brushes have not shed on my pottery so far. These brushes are durable and last a long time. I still have not lost bristles after five years.
It's hard to glaze when your brush is too stiff. The ceramic glazes are going nowhere fast. You also don't want the bristles to be too soft, and you don't have good control of the strokes. I found these Fan brushes not to be too stiff or soft and hold the glaze on the brush nicely.
Other Features:
This Fan Brush Set makes glazing and underglazing fun and easy. I love the assortment of sizes to choose from. As a potter, you always have different size projects and decorating styles. That's why there is no way you can have only one size Fan brush. I love using the Fan brush for my small and medium-sized projects. They are perfect for glazing things like cups and ring holders. Click "Check Here" below
👇 For the Current Price on the AMAGIC Artist Soft Fan Brushes 👇
---
While glazing seems similar to painting, it's not. The Ingredients of Glazes consist mainly of silica, alumina, and clay, which makes the glaze far different than paint. That's why not just any brush will do. I found when glazing large areas, the Langnickel Hake Brushes with soft, white natural hairs will do a good job holding the glaze.
Coverage:
You will find the glaze glides on, leaving a smooth finish. Hake brushes hold the extra glaze needed to cover the pottery evenly, making the coverage easier and more even than other glaze brushes. These brushes hold the glaze well and make the application of glaze go on faster and smoother than any other brush I have used for overall coverage.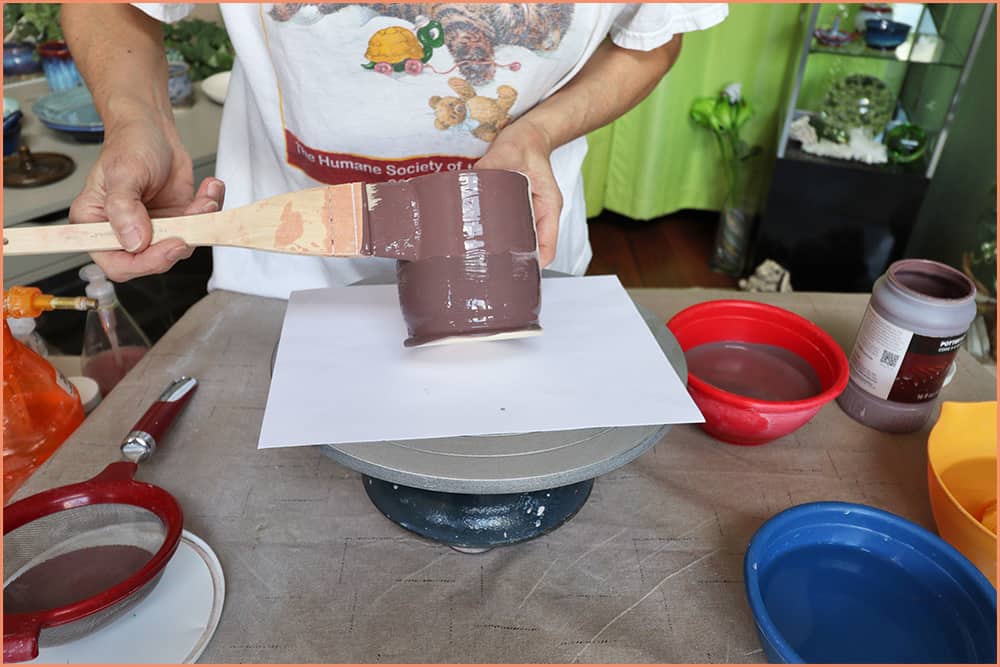 Durability:
These Brushes have held up very well for me so far. I only lost a few bristles here and there. All in all, for the number of times I have used the brushes, the bristle loss is low. The handles are long and sturdy, which helps when glazing in harder-to-reach spots.
Other Features:
Using one small brush for all my pottery didn't work out well. The smaller brush on bigger pots took forever to apply, and the coverage turned out uneven. That's why it's great to have three different-size Hake Brushes to choose from. To get yours, Click "Check Here" below
👇 For the Current Price on the Langnickel Hake Brush 👇
---
3. XDT Hake Paint Brush Set
The Creative XDT Hake Brush Set of Three is another good Hake brush set to choose from for applying ceramic glazes.
Coverage:
This set of Hake Brushes is ideal for glazing. The Long hairs are good at holding a large amount of glaze. This allows the glaze to flow on instead of brush on. Stiff brushes leave streak marks. These brushes hold just the right amount of glaze.
Durability:
These brush handles are made from low-quality wood and are roughly shaped. With that said, the bristles are made of natural hairs and hold the glaze nicely, and they are also easy to clean.
Other Features:
One size does not fit all when it comes to glazing. The choice of 3 sizes 1.18inch, 2inch, and 2.95inch makes a difference when glazing large and small pieces of pottery. To get these brushes, Click "Check Here" below
👇 For the Current Price on the XDT Hake Paint Brush Set 👇
---
4.Transon Round Detail Brush Set
Did you ever search for the right brush and thickness you desire when decorating your pottery? These 8 Brushes are great for detail work with glazing, underglazing, and Clay Slip.
Coverage:
This Round Tip Brush Set has soft bristles to hold the glaze, underglaze, and slip. These brushes work great for smaller designs using thin to thick lines. I mainly use them to apply underglaze and slip. Different sizes come in handy for an array of different strokes and patterns. You don't want to glob a bunch of glaze in a hard-to-reach area or the corner of your piece and hope for the best. These brushes are great at reaching those areas.
Durability:
These brushes are amazing. I don't find hairs on my pottery, which is a great plus.
The brush handles have a smooth feel to them and make them super easy to control while applying the glaze and underglazes. I found over time, the paint on these brushes has worn out on the handles, but the brushes still work great.
Other Features:
Having different sizes to choose from is a big plus when decorating your work. The thicker brush sure does the trick when you want to draw heavier lines, and the thinner brushes also fit the bill. I've been happy with these brushes. Click "Check Here" below
👇 For the Current Price on the Transon Round Detail Brushes Set 👇
---
5. Transon Detail Brush Set
If you are looking for fine lines to draw on your pottery, This set of 9 brushes is great for that detailed type of artwork.
Coverage:
These are wonderful for fine lines and detailed Underglazing. When you want crisp lines and do detailed Glazing and Underglazing, the Transon fine brushes are what you need. They are perfect for super fine lines.
I found these glaze brushes are perfect for underglazing. They held the underglaze nicely and guild on my mug in nice, smooth strokes.
Durability:
The quality and value of these brushes are very good. When you want very flexible and soft strokes to draw thin lines on your pottery, this 7-piece brush set is a good choice.
Other Features:
The convenient carrying case is handy, keeping the brushes nice and neat.
The bristles will be stiff at first. Just rinse them in warm water, and they are ready to design with. Click "Check Here" below
👇 For the Current Price on the Transon Detail Brush Set 👇
---
Glaze Brush Sets
Affiliate Disclaimer: We are ambassadors or affiliates for many of the brands we reference on the website. As an Amazon Associate, I earn from qualifying purchases.
Brush Organizer
The Brush Crate Multi Bin Brush Organizer is great for holding your growing collection of Brushes. There are several advantages to having one.
They help keep your brushes organized.
It gives your brush space to dry properly
It's a great way to display your brushes
They are more visible, which gives you easy access to the different brushes you need
Even though it does not swivel, the circular shape is more convenient.
This brush organizer stands 5-1/4 inches (13.335cm) tall and 5-3/4 inches (14.605cm) in diameter, making it a pretty good size with 49 holes.
Keeping your brushes nice and organized helps you to have a more efficient studio. Click "Check Here" below to get yours.
👇 For the Current Price on The Brush Crate Multi Bin Brush Organizer 👇
---
Having the right brush does matter
These are just a few of the glaze brush sets I like and use most often with my favorite Ceramic Glazes. When it comes to brushing on glazes, the creativity is endless. You can place the glazes wherever you want and make any designs with pinpoint accuracy. These brush sets helped me enjoy the Art of brushing on glazes. I hope they do the same for you. Happy glazing
Make sure you always wash your brushes out after every use. And NEVER use your wax-resist brushes for glazing. It's important to keep them separate. Labeling Your wax resist brushes works the best. We think we'll remember, then suddenly. (Oh no, which brush did I use for wax resist.)
---