Kiln Maintenance Guide: Tips for Top Performance  
Caring for your kiln is an essential part of making pottery, as it can prolong the life of your kiln and improve its performance. One of the best things you can do for your kiln is to perform regular maintenance checks.
As a kiln owner, it's essential to perform routine maintenance and care to ensure the longevity and proper functioning of the kiln. I'll discuss some key kiln maintenance tips designed to help you get the most out of your investment. From regular inspections to proper cleaning and storage, this guide will ensure that your kiln stays in optimal condition for years to come.
I will go through the basic maintenance first, then take a closer look at the maintenance needed for both the electric and gas kilns.
Affiliate Disclaimer: We are ambassadors or affiliates for many of the brands we reference on the website. As an Amazon Associate, I earn from qualifying purchases.
Kiln Temperature Maintenance
Temperature control is a crucial aspect of kiln maintenance, as working with high temperatures can be potentially hazardous. Monitoring the temperature inside your kiln is essential if you want consistent results with each firing.
Overfiring can cause damage to the kiln and your work, while not enough heat will result in the clay not vitrifying and the glaze not melting properly. So it's essential to keep track of your kiln's temperature.
Most newer Kilns have a thermocouple unless you have a kiln sitter or operate your kiln manually with Pyrometric Cones, also known as witness cones.
Thermocouple Maintenance
The thermocouple probe measures the temperature inside your kiln by using electricity and magnetism – pretty cool, right?
Regular maintenance of the thermocouple is essential for successful kiln firing. You need to check the Thermocouple for any signs of damage.
I always keep an extra thermocouple handy. If I see any issues, I can replace it immediately.
To make sure the thermocouple is working correctly, you'll want to test its accuracy with Pyrometric Cones, also known as Witness Cones. A witness cone is the best temperature indicator that will help ensure your thermocouple is accurate. If you have an older kiln, I recommend using witness cones at least every 2nd firing.
To achieve better results, use three cones with different temperature ranges. If you fire to cone 5, you will need a cone 4, cone 5, and cone 6 witness cone.
Cone 4 will bend and melt when the kiln is above the temperature. Cone 5 will bend halfway at the desired temperature. And cone 6 will not bend when the kiln is below the required temperature. Place them near the peephole to peek a look at them with Safety glasses.
Kiln Sitter Maintenance
A kiln sitter serves as a crucial component for kilns with manual controls. This device automatically turns off the kiln once the desired firing temperature has been reached.
As part of your maintenance routine, you need to ensure that the kiln sitter is cleaned and adjusted correctly. The sensing rod rests on the Small Pyrometric Cone and must be able to shut off the kiln when the witness cone bends. Malfunctioning kiln sitters can lead to overfired or underfired pottery, so it's crucial to inspect it to keep it in optimal working condition.
For more detailed information, check out: What You Need To Know About a Kiln Sitter.
Investing in digital controllers can help you keep track of temperatures more accurately than a manual kiln, so it's worth considering investing in one if possible.
Kiln Vents
Room temperature plays a significant role in ensuring a successful firing. Make sure to maintain a well-ventilated and cool room temperature when operating your kiln. Place your kiln in a ventilated place or get a Vent System. A kiln vent helps prevent overheating and ensures the kiln is functioning correctly.
Most kilns, especially newer ones, will shut down automatically if the control panel starts to overheat. I know the 818 -3 Skutt Kiln that I have will shut down if the control panel exceeds 160 degrees Fahrenheit.
Make sure you inspect your kiln vent and clean out the vents every three months. This will also depend upon how often you use your kiln.
To further maintain temperature stability, you can install a kiln exhaust system, which can protect the health of those around the kiln and promote cleaner firings, leading to brighter glaze colors and fewer glaze faults.
For more detailed information about Vents and Properly venting your kiln area, go to: Is it Recommended that a Pottery Kiln Be Vented 
Handling Kiln Wear and Tear
Check for Cracked or Chipped Fire Bricks. Fire bricks are essential for your kiln to function properly, and the wear and tear of the soft brick may lead to uneven firing and damage to your pottery.
In my many years of experience with kilns, I always check for cracked or chipped fire bricks.
Small Cracks on the bottom of the are normal, but when they go all the way across the kiln, or you see through the kiln bottom, the kiln bricks need to be fixed. The same goes for any chips or large cracks on the sides or your kiln lid.
Be careful not to hit the bricks because they are very soft and porous and will crack, and small pieces of brick chip very easily.
You can use a fire brick filler to patch any cracks in the fire bricks. It also works well for any loose or broken fire bricks.
It is much easier than having to replace the fire bricks.
Maintaining the Kiln Lid Band, Hinges, and Handle
Another crucial aspect of kiln maintenance is taking care of the lid band, hinges, and handle of your kiln. I always inspect the tightness of the lid band and tighten it if necessary.
This keeps the heavy kiln lid in place and ensures it won't fall out of place.
Inspect all the screws on the handle and hinges around your kiln and control box. If any are loose, tighten them with a screwdriver.
Maintaining Kiln Furniture
It is important that Kiln Shelf Posts are placed evenly under the shelves throughout the kiln. This helps reduce warping during firings where high temperatures are involved.
Any shelves that start to crack need to be replaced right away. You don't want to risk a shelf breaking during firing.
Do not place the kiln shelf directly on the bottom of the kiln. This effect the firing and could potentially cause damage to the fire brick.
Kiln Wash
For electric oxidation or gas reduction kilns, you can make your own kiln wash or use a Pre-Mixed Kiln Wash or ready-to-use Liquid Kiln Wash.
Regularly applying kiln wash to the shelves helps prevent damage caused by glaze drips and sticking.
If you notice rough spots on the shelves, carefully scrape them and recoat them with kiln wash. You don't need to apply kiln wash after each firing, but make sure to maintain a sufficient coating.
You can check out this Kiln Wash Usage and Application Guide
Kiln Cookies
If you don't want to use kiln wash, you can use kiln cookies. I use kiln cookies with every glaze firing. They have kept my kiln shelves in condition for years.
To learn more, go to How to Make Kiln Cookies in 6 Easy Steps – With a Video 
Removing Glaze from the Kiln
Removing glaze from the bottom and walls of the kiln is important in keeping the kiln clean. Using a chisel or scraper allows you to carefully and effectively remove any glaze drips. When doing so, make sure you are wearing a Face Mask.
Vacuuming
I've found that vacuuming the kiln is essential to remove any loose debris, clay particles, and brick dust that accumulates mainly during a bisque firing. I typically vacuum inside the kiln, at least after every other bisque firing,
Thoroughly vacuum the kiln interior, paying attention to corners and crevices. And don't forget to clean the lid because the remnants on the cover can fall on your ware the next time you use your kiln. Also, make sure to use a vacuum cleaner with a HEPA filter to prevent fine particles from being redistributed into the environment.
There's no set rule for how often one should clean their kiln, but it is better for the elements, and you have less chance of particles landing on your glazed pottery.
Maintaining Kiln Area
Make sure your kiln is positioned on a level and steady surface to prevent stress on the kiln bricks, which can cause them to crack over time. Don't place your Kiln on the ground. The kiln should be placed on a Kiln Stand or even cinder blocks.
Keeping your Kiln out of the outdoor element will extend the life of your kiln. Especially electric kilns, they should always be in a sheltered area. If the gas kiln is outside, it should be covered when not in use.
It's important to keep the firing area around the kiln clean. You will want to make sure nothing piles up around your kiln, especially any flammable or combustible materials.
Now that I covered your basic Kiln maintenance let's take a look at the maintenance involved with Gas and Electric Kilns.
Electric Kiln Maintenance
Electric kilns require regular maintenance to ensure they are working efficiently and safely. The maintenance involves several tasks, including Inspecting the elements, relays, switches, control box, plug, and LED screen.
Inspecting the Kiln Elements
One of the key components you need to keep in check are the element coils in your kiln. Inspecting the heating elements regularly for any signs of damage or wear and tear that could affect their performance is a good idea.
To check the element coils, inspect them with a flashlight or magnifying glass if needed for any small cracks or breaks in the metal coils. Cracks or breaks in the metal coils can indicate that they need replacing soon because they won't be able to heat up properly anymore.
I also check for any signs of wear and tear, such as warped or sagging areas, broken coils, or brittleness. It's also important to examine the element grooves for any signs of damage, as they help to keep the heating elements in place.
For sagging elements, use Kiln Element Pins and carefully place the pins in the fire brick. Remember, the fire brick is very soft and can easily chip or break.
An important note: Maintaining a dry kiln will extend the life of your elements. Plus, you will not have a long element life if you high fire your kiln to cone 10.
Element Replacement
In case you need to replace the elements, it's essential to use the correct replacement elements for your specific kiln model. Therefore, double-checking this detail before ordering new parts is a must.
Unplug the kiln or turn off the breaker in the breaker box as a safety precaution. Then, carefully remove the old elements from the element grooves and tube assembly.
When installing new elements, carefully read the instructions. I ensure the coils are correctly seated within the element grooves, and the wires are properly connected to the kiln's control system.
This process may require some adjustments to ensure the elements are sitting securely and there are no loose connections. Double-checking everything before reconnecting the power ensures the new elements function correctly and safely.
Kiln Relays and Switches
Another essential aspect of electric kiln maintenance is checking the kiln relays and switches. Over time, these components on electronic kilns can wear out or become damaged, which can lead to issues with the kiln's performance. Therefore, qualified technicians should regularly inspect them to ensure their proper functioning.
This helps prevent potential accidents and ensures optimal performance over time since damaged parts can cause uneven heating patterns or even complete failure. In addition, by routinely inspecting and replacing faulty relays and defective switches, you can help prevent problems relating to the kiln's rate of speed heating cycles.
This is essential for accurately executing a bisque firing or glaze firing without babysitting the kiln throughout each session.
Control Box Maintenance
Monitoring the connections and wiring components inside your control box is also crucial. Loose connections are another critical issue to look for in the kiln's wiring system.
I make it a point to inspect the wires for any signs of wear and check that all connections are secure. Worn or exposed wires can cause short circuits or other malfunctions, so prompt attention to any issues discovered is crucial.
If you notice a loose connection, it's crucial to have an electrician address the issue to avoid potential malfunctions or safety hazards.
Touchscreen Controller Maintenance
Finally, Something to consider when Choosing a Kiln. Modern kilns often come with Touchscreen Controllers, which provide user-friendly interfaces and precise temperatures inside the kiln, making them an excellent choice for controlled firings.
Regularly updating the software of my touchscreen controller ensures optimal performance and access to the latest features.
With a digital control panel, you can program specific firing schedules and temperature settings. This enhances precision and accuracy, ultimately leading to more consistent results.
Power Plug
You should also check your plug and socket occasionally to see if there's discoloration or overheating. Moreover, you should change your plug if you notice any damage to the wire's insulation.
The damaged insulation can expose the inner copper wire and give you an electric shock if you touch it.
Additionally, I check the kiln plug and receptacle for any signs of damage or lose connections. If I find any issues, I consult an electrician to replace the affected parts to prevent potential hazards.
By staying on top of electrical maintenance, your kiln will remain reliable and efficient for years to come. I also suggest thoroughly reviewing manufacturer instructions and consulting with a professional if unsure.
Gas Kiln Maintenance
While many potters say that Gas kilns don't involve as much maintenance as electric kilns, there are still components in the gas kiln that need to be tended to.
Check the Chimney: The chimney is responsible for venting the gases produced during firing. Ensure it is clear of any obstructions, such as debris or bird nests.
Monitor BTUs: BTUs, or British Thermal Units, measure the heat output of your kiln. Make sure that your kiln is producing the correct number of BTUs for your firing needs.
Maintaining the Burner
The burner is the heart of your gas kiln and needs to be kept clean to ensure proper firing and that it runs efficiently. Neglecting the burner can lead to decreased performance, higher fuel consumption, and even safety hazards.
Cleaning the Burner
Before cleaning the burner, turn off the gas supply and allow the kiln to cool completely. Remove the burner from the kiln and use a wire brush to remove any debris or soot that has accumulated on the burner. Next, clean the pilot orifice and the main burner using a small wire brush. After cleaning the burner, reassemble it and reinstall it in the kiln.
Checking and Replacing Parts
Check the burner's flame sensor and igniter for any signs of wear and tear. Replace any parts that are damaged or worn out.
Another vital part to check is the blower burner or the venturi burner. They control the amount of air that mixes with the gas to create the flame. If the air is not adjusted correctly, it can lead to an inefficient flame, increasing fuel consumption and decreasing performance. Inspect the burner to ensure that the flame burns blue and is stable.
Finally, check the gas pressure regulator to ensure it functions correctly. The gas pressure regulator controls the amount of gas that flows into the burner. If the regulator is not functioning correctly, it can lead to an inefficient flame or even a safety hazard. If you notice any issues with the gas pressure regulator, contact a qualified technician to repair or replace it.
Regular cleaning, checking, and replacing of parts can help prevent performance issues and safety hazards. As a gas kiln owner, it is vital to take the time to maintain the burner regularly.
Chimney Maintenance
If your Gas kiln has a chimney or (vent), it is important to check for blockages and damage to the chimney. Blockages can cause poor ventilation, which can lead to carbon monoxide buildup and other safety hazards.
Inspect the exterior of the chimney and hood for any cracks, holes, or other damage. Use a flashlight to inspect the inside of the chimney or (vent) for any signs of damage or deterioration. If you notice any damage or blockages, contact a professional to make repairs.
By following these steps, I can ensure that my gas kiln's chimney and hood are properly maintained and safe to use.
Checking and Calibrating the Controls
Before every firing, Make sure to check and calibrate the controls of the kiln. This involves verifying that the temperature readings are accurate and adjusting the settings if necessary. I also check the pressure gauge to ensure the gas pressure is within the recommended range.
Testing and Maintaining the Safety Features
The safety features of a gas kiln are crucial to prevent accidents and ensure a safe firing process. As such, I make sure to test and maintain them regularly.
One important safety feature is the flame sensor, which detects the presence of a flame and shuts off the gas if no flame is detected. I turn on the kiln to test the flame sensor and observe the flame. If the flame sensor is working correctly, the gas will shut off if the flame goes out.
Maintaining a gas kiln's controls and safety features is crucial for a safe and efficient firing process. By following these steps, I can ensure that my kiln is operating at its best and that I can continue to create beautiful ceramics with peace of mind.
Raku Kiln Maintenance
As a ceramic artist, I know that properly maintaining my raku kiln is essential to ensure its longevity and optimal performance. In this section, I will discuss how to clean and maintain your raku kiln and troubleshoot common issues that may arise.
Cleaning and Maintaining the Raku Kiln
Regular cleaning of your raku kiln is necessary to prevent the buildup of dust and debris. Here are some steps you can take to keep your kiln in top condition.
Inspect the wire, ceramic buttons, and Ceramic Fiber Blanket. Replace any wire or ceramic buttons that are broken. Replace the ceramic fiber blanket if it is worn or torn.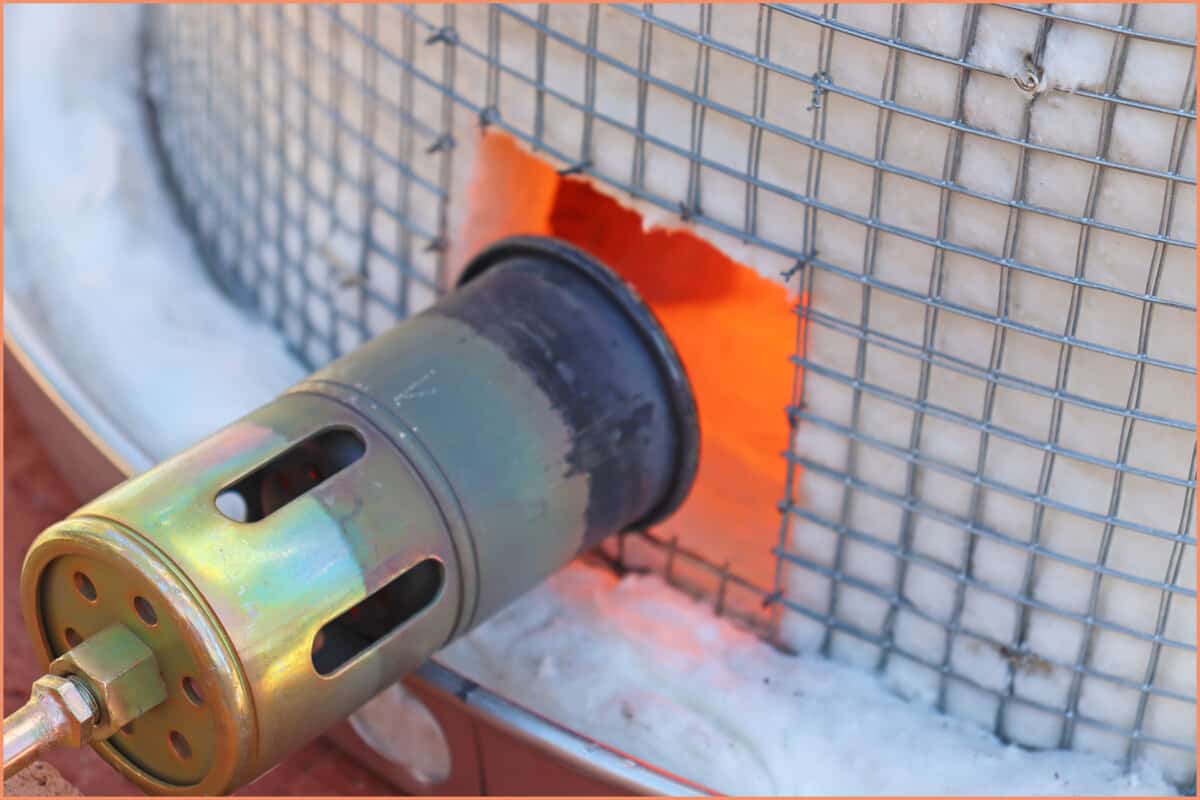 Clean the burner or burners to ensure they are free of any obstructions.
Some top hat raku kilns have pulley systems, counterweights, and guiding tracks to raise and lower the chamber. To maintain a smooth raising and lowering of the firing chamber, lubricate the bars with WD40.
By following these tips and regularly maintaining your Raku Kiln, you can ensure that it will continue providing you with excellent firing results for years to come.
For detailed information on the whole process, check out, How To Make Raku Pottery.
In conclusion, gas kiln maintenance is essential for safe and efficient firing. By performing regular maintenance tasks, you can extend the lifespan of your kiln and avoid costly repairs.
Conclusion
By following the steps outlined in this kiln maintenance guide, you can keep your electric or gas pottery kiln running smoothly and efficiently. Cleaning regularly, troubleshooting common issues quickly, and replacing parts as needed are all important components of proper kiln care. Taking these precautions will help ensure that your pottery projects turn out just right every time.
FAQs
What is the life expectancy of a kiln?
Generally speaking, most electric or gas-fired pottery kilns can last over 25 years with proper maintenance. Electric kilns typically last around 25 years, while gas-fired ones can have a longer life expectancy due to their efficient heating system. Regular kiln maintenance also helps to extend the lifespan of your kiln. By keeping your kiln in good condition, you can avoid costly repairs and replacements down the line.