21 Tips for Hand Building Pottery
Hand building pottery is an excellent way to explore the art of crafting pottery. The journey toward pottery proficiency is an ongoing process marked by constant learning and improvement.
Enjoy every step of the way and embrace the opportunity to unleash your creativity through hand-building pottery. With these 21 Tips for hand building pottery at your disposal, you're well on your way to creating beautiful and functional ceramic art.
In this article, you'll discover these tips will enhance your pottery making experience. I will start with the most basic but most important tip.
Affiliate Disclaimer: We are ambassadors or affiliates for many of the brands we reference on the website. As an Amazon Associate, I earn from qualifying purchases.
1. Choose the Right Clay Body for Hand Building
When choosing the best clay body for your project it's important to consider factors such as the shrinkage rate, workability of the clay, firing temperature, size, and form of your work. With that in mind, these are the two most popular clay bodies for hand building. From my experience, I found clay with grog is better when hand building.
Earthenware Clay
Using earthenware clay with grog is an excellent option. It is easier to work with, reduces warping and cracking, holds up the clay structure better during the building, and has less shrinkage rate.
While Earthenware clay is a popular clay to work with, it does have a lower firing temperature. This makes the clay more porous and not as durable as other clay bodies and may not be suitable for a coffee mug, dinnerware, or other functional pottery. Popular clay for hand building: Earthenware Clay
Stoneware Clay
Stoneware clay with grog is another popular choice for hand-building pottery. The grog in the stoneware clay does the same as the grog in the earthenware clay. It helps increase the clay's workability, reduces warping and cracking, holds up the clay structure better during the building, and has less shrinkage rate.
Stoneware clay is a mid to high-fire clay, making it more durable than earthenware, and suitable for making dinnerware and other functional pottery. Popular clay for hand building: Stoneware Clay
Both Earthenware and Stoneware clay bodies are good choices. The one you choose will depend on your firing temperature and uses. They are both available in a variety of colors. Experimenting with different clay bodies will help you understand how they react to various hand building techniques. Don't be afraid to try new options along your pottery journey. For more detailed information on Pottery clay you can check out – Choosing Your Pottery Clay
2. Invest in A Good Work Table
It's smart to have a good strong, dedicated work table. A Work Table like the one below. It has numerous benefits. It has wheels that lock, is well-built, and strong enough to wedge on and slam clay around.
Working on pottery can take hours, and sitting or standing too long can get uncomfortable. This Table is adjustable. Allowing you to sit or stand when working. Also, consider investing in a Good Chair or Stool to help prevent strain on your back and improve your overall hand-building experience.
Here is the Pottery Crafting Adjustable Height Worktable
3. Your Work Surface
The best surface for hand building clay needs to have some grip to prevent the clay from sliding off or the clay from sticking to the surface. It also needs to be somewhat absorbent but not too much so that it dries out the clay too fast.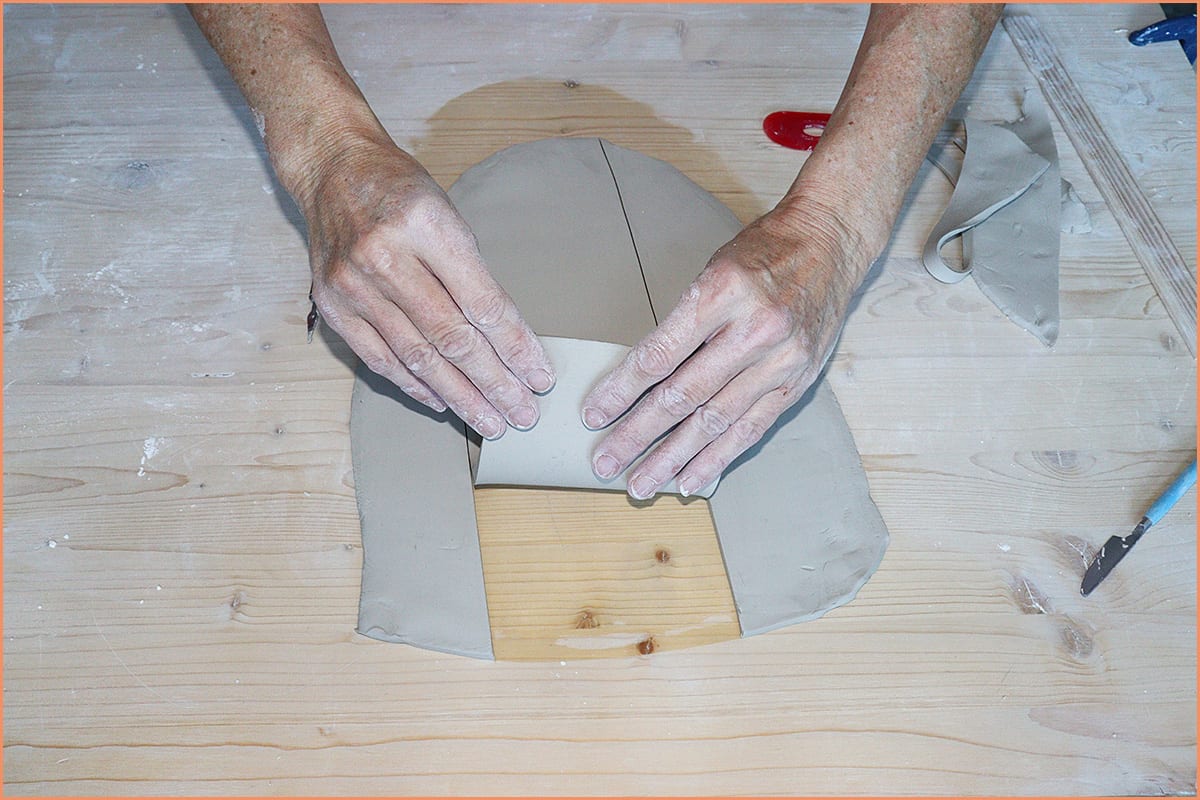 The good news is there are many surfaces to choose from. Here I show you The 7 Most Common Types of Surfaces for Your Hand Building Clay. I have tried them myself and have first Dirty Hand Knowledge as to which Surfaces are The Best.
4. Use Wedging
For me, wedging clay is the least liked task but must be done. Even if you have a per-wedged batch of clay you don't know how long it's been sitting in the bag, and the consistency can become uneven. That's why it's still important to wedge your clay.
This process ensures an even consistency throughout the clay and eliminates air bubbles. Doing this reduces the chances of encountering problems during the various stages of hand-building pottery.
You can use multiple methods to wedge your clay, such as the spiral, stack and slam, and ram's head techniques. Regardless of your chosen method, the goal is to create a smooth, homogenous mass free of air pockets and lumps. To learn more about each wedging technique, Go to How To Wedging Clay
5. Maintain Even Thickness
Keeping the clay's thickness consistent while hand-building pottery is better for preventing cracks during drying or firing. When working with slabs, coiling, or pinching, make sure you try and maintain an even thickness throughout.
When Slab building, you can use a Rolling Pin with measuring sticks on each side. I use C Clamps to keep them in place.
Slab rollers are great for slab construction to ensure even thickness. Slab rollers come in various types, such as the Full-Size Stand-Alone Slab Roller, which gives you the ability to make larger slabs of clay.
Or smaller tabletop slab rollers. I think This Tabletop Slab Roller works well, especially if you don't have a lot of space or a big budget.
Choose the one that best fits your workspace and budget.
For coiled pots, roll out individual coils of clay with a consistent diameter. As you join the coils together, make sure they are evenly pressed and blended with the previous layer. Press each new coil gently but firmly against the previous coil to maintain consistent thickness.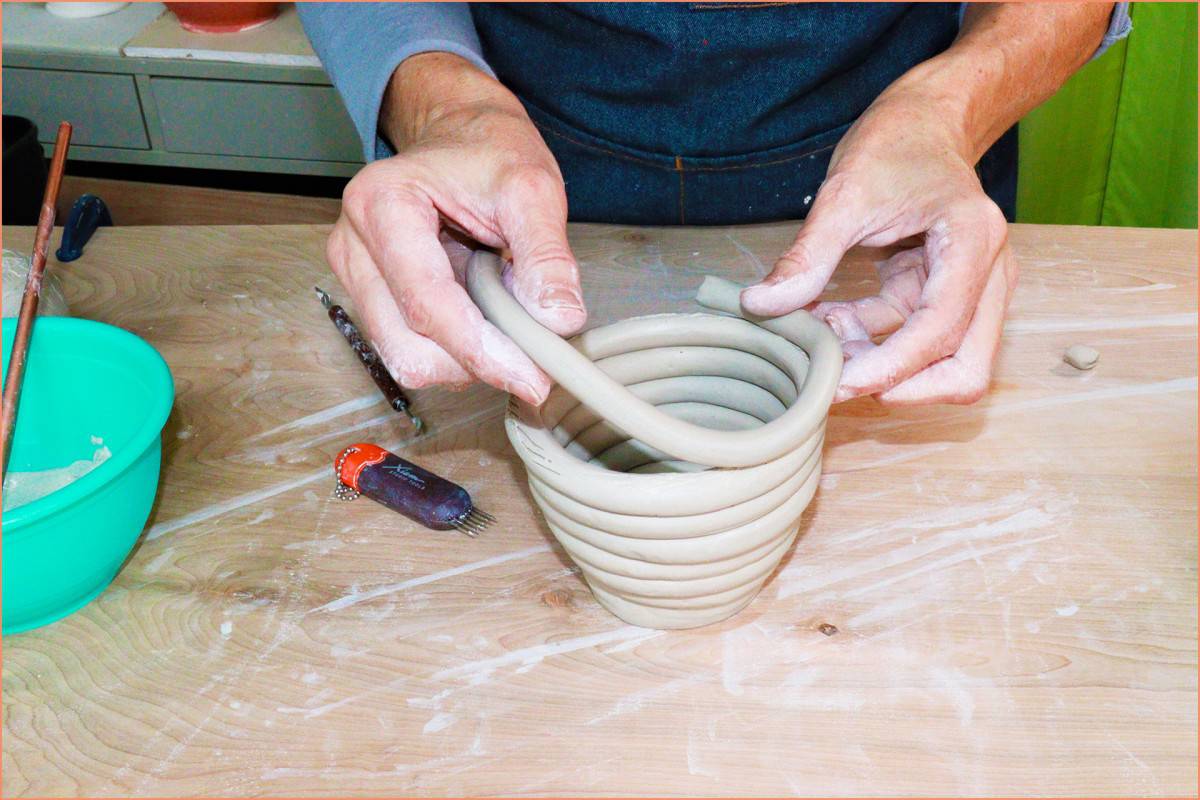 When working with the pinch pot method, maintain even thickness by applying consistent pressure to the clay. Hold and spin the clay ball in one hand while pressing the walls out with your thumb. Gradually and evenly pinch the clay, ensuring a uniform thickness throughout the pot.
By focusing on maintaining an even thickness when hand building pottery, you can help avoid cracking and ensure a more durable finished piece.
6. Compress Your Clay
Compressing your clay is another essential step in preparing your clay. This helps to align the clay particles, gives your clay a smooth surface, and helps to prevent cracks.
I like using a rubber rib to smooth the surface of the clay. Apply even pressure vertically and horizontally to the surface. This not only helps compress the clay but also removes any imperfections and gives your clay a nice finish.
Turn the clay over so that the clay particles align on both sides. Proper compression is crucial in hand-building pottery, as it greatly influences the overall quality of your work and helps to prevent cracks.
7. Use a Ruler
While it might seem trivial, taking the time to measure your pottery pieces accurately can make a significant difference in the final result.
For other shapes like cylinders or curved pottery, use your ruler to set a marker before cutting the clay slab or coils.
The ruler can be indispensable in forming straight lines and perfect right angles.
In addition to thickness, use the ruler to measure the dimensions of your pottery. For instance, if you're creating a mug, you'll want to measure the size of the handle to make sure it's not too small or too large. To ensure the center of gravity for the handle, you will want to measure across the mug and make the curve of the handle come out half the distance.
8. Use a Wire Bevel Clay Cutter Tool
This tool is a versatile and essential piece of equipment for any potter who wants to achieve a good angle cut when joining clay.
The Wire Bevel Cutter Clay Trimming Tool is designed to cut clay at 45, 30, and 60-degree angles for different techniques. It is a hand-held tool that is easy to use and allows for a range of cutting angles depending on how you hold it.
If you hold it flat, you can achieve two different angles, while holding it on its side allows for a range of cutting angles. It's great for slab building and coil building.
9. Templates for slab building
Using templates in slab building can greatly enhance your pottery projects, especially if you want to create consistent shapes and sizes. Template clay cutters can make your hand-built pottery look more polished.
By combining and altering templates, you can create unique and exciting shapes for your pottery project. Try using multiple templates for a single piece, rotating them, or altering their size to add interest and variety to your work.
In addition to the standard shapes and forms, you may consider Making Your Own Templates. These resources help you get started with creating your pottery pieces and offer ideas for more complex forms as you gain experience.
Don't be afraid to experiment with templates while hand building pottery. As your skills improve, you'll find it easier to create stunning ceramic pieces with consistency and precision.
10. Experiment With Textures
You can choose to add patterns or textures to your slabs before assembling your piece. Experiment with stamps, rolling pins with carved designs, or various texturing tools to create unique and interesting surfaces.
While working on your hand building pottery, experimenting with textures can enhance the beauty of your pottery pieces. Incorporating a variety of textures adds depth and interest to your creations, making them more visually appealing.
One way to create textures in the clay is to use Carved Rolling Pins to create cool patterns.
Using a clay stamp is another excellent way to add texture and design to your pottery. There are various Clay Stamps Available Online, or if you prefer, you can create your own custom stamps by carving designs into small pieces of clay or wood. Gently press the stamp into the clay surface to leave a distinct pattern behind.
To further enhance the tactile quality of your pottery, try using different tools, fabrics, or natural materials to create texture. Items like plastic combs, metal mesh, burlap, or even leaves can leave fascinating impressions on your clay when pressed or rolled onto the surface.
Remember, the key to successful texture experimentation is to be open to trying various materials and techniques. Don't be afraid to think outside the box, and most importantly, have fun discovering new ways to make your hand built pottery visually stunning.
11. Using a Banding Wheel
Banding wheels allow you to turn your work as you apply decorative shapes and join pieces together. It is commonly used in hand building pottery rather than using a pottery wheel.
When using a Banding Wheel, you can hold a brush or other tool against the rotating surface to create a consistent and even design. This is particularly useful for creating symmetrical patterns or adding intricate details to a piece.
Banding wheels come in a variety of sizes and styles. For more detailed information on choosing a banding wheel, go to The Best Banding Wheels
12. Keep Your Clay Moist
Clay can dry out as you work with it, which can make it difficult to mold and shape. To ensure a smooth hand building experience, it's essential to keep your clay moist. Here are a few tips on maintaining the perfect level of moisture in your clay:
Firstly, keep a Mister Spray Bottle handy while working on your pottery. Use the spray bottle to mist the clay gently when it starts drying out. Be cautious not to add too much water, as this can weaken the clay. Aim for a consistency where the clay is firm enough to hold its shape yet soft enough to mold.
Another handy technique to keep your clay moist is to cover it with plastic wrap or a damp cloth. This helps prevent air from drying out the clay while you are working on your project or taking a break.
Coil building can be time-consuming, so remember to cover your coils with plastic to prevent them from drying out if you're completing the process in stages.
13. Fixing Small Cracks
Noticing small cracks in your pottery can be disheartening, but don't worry! Fixing these imperfections is part of the hand building pottery process. Here are some helpful tips to address small cracks in your work:
It's crucial to seal cracks as soon as you notice them. If you are bending your clay and notice small cracks, use slip or water to smooth out the imperfections. Be gentle with your touch, and don't apply too much pressure.
If your pottery is Leather-Hard, you can still repair any cracks or weak spots. To repair, score the area deeper and larger than the crack itself, then place a small amount of scored soft clay into the space and spread it over the original crack. This will help strengthen the area and improve the overall structure.
Don't forget to check for hidden cracks in areas that are difficult to see, like the underside and interior of your pottery piece. A thorough inspection can help you identify and address all weak spots before they become problematic.
14. Score and Slip
When working with clay, it's essential to create strong bonds between pieces. To achieve this, always use the score and slip technique. This helps create a secure connection between the two pieces.
You can perform scoring and slip at two different stages of clay: The moist but firm workable stage or the Leather-Hard Stage. If you choose to score and slip at the leather-hard stage, make sure your clay is shaped into the proper position because you are no longer able to reshape the clay.
For an easy way to make Slip check this video How to Make Plain Clay Slip Easy with No Lumps.
Roughen both surfaces to be joined by scratching them with a needle tool or serrated rib. The goal is to create grooves that will interlock when the two pieces are pressed together.
Using a brush or your fingers, coat the scored surfaces with slip. This wet clay will act as a glue, filling the grooves and binding the pieces together.
Press the two scored and slipped surfaces together firmly but gently. Hold the pieces together for a few seconds to ensure a strong bond.
After joining the pieces, use your fingers or a tool to smooth the seam, blending the clay and reinforcing the bond. Be careful not to press too hard, as this can weaken the connection.
For more information about Slip, check out 21 Pottery Clay Slip Questions Answered.
15. Reinforce the Corners of Your Hand-Building Project
After you slip and score your pieces together it is best to reinforce the corners by lining them with a flattened coil of clay. Roll out a small coil of clay and flatten it. The size of the flat coil will depend on the size of your project, but it should be thin enough to fit in the corner without distorting the shape of your piece.
Place the coil in the corner of your piece where the two sides meet. Gently press it into the corner so that it adheres to both sides.
Use your fingers or a tool to smooth out the coil and blend it into the surrounding clay. You want to make sure that the coil blends into the corner of your piece.
Reinforcing the corners with clay will add extra support and prevent cracking. It's a simple but effective technique that can make a big difference.
16. Use Molds and Supporting Forms
When you're hand building pottery, especially larger pieces, using supporting forms like molds can be incredibly helpful. These forms ensure that your clay maintains its shape as it dries.
Molds are available in various shapes and sizes, allowing you to create a wide range of pottery designs with consistent results. Additionally, you can create your own custom molds from materials such as plaster or bisque-fired clay.
You can also use support structures like newspapers or foam blocks. This will help maintain your piece's shape and prevent it from collapsing or becoming misshapen during the drying process. To do this, simply place your support structures around or inside your piece as needed, ensuring that they give enough support without distorting the clay's design.
17. Clay Extruders for Hand Building Techniques
Using a clay extruder can significantly enhance your hand building pottery experience. Clay extruders are the perfect tool for enabling you to make coils, handles, and decorative elements with ease.
When you use a clay extruder, the process becomes simpler and more efficient. You no longer have to worry about uneven coils or hand-pulled handles that may not be the correct size. The extruder ensures uniformity and precision, giving your hand built pottery a professional touch.
There are various types of clay extruders available, each with its unique features and benefits. Handheld Extruders are user-friendly and portable, making them an excellent choice for beginners. Larger, more advanced Wall Extruders offer increased capacity and versatility, ideal for those who want to explore more complex hand building techniques.
As you become more comfortable with using a clay extruder, you can experiment with various dies and techniques to enhance your pottery creations further. For example, try installing dies off-center for curved extrusions or explore different patterns to create unique decorations or Custom Handles for your hand-built masterpieces.
For more detailed information on clay extruders and ways to use them, be sure to check out our article on Pottery Clay Extruders – Uses and Functions
18. Storing Your Unfinished Clay Projects
Storing your unfinished clay projects properly is crucial to preventing your project from drying out. When you have to pause your project or want to continue working on it later, follow these tips to ensure the clay stays in optimal condition:
First, wrap any unused slabs of clay tightly in plastic, such as a plastic wrap or a thick plastic bag, to prevent them from drying out.
Next, keep your work-in-progress moist by covering it with plastic wrap or a damp cloth. It's essential to monitor the moisture levels of your project and adjust as needed to maintain a workable consistency. If you're using a damp cloth, make sure it's not too wet, as this could cause the clay to become waterlogged and too soft, making it less stable and harder to work with.
Periodically check on your stored projects to ensure they maintain their moisture levels. If you notice signs of drying or cracking, apply a light mist of water with a Mister Spray Bottle. Keep in mind that it's easier to remove moisture from your project than it is to add it, so make sure you keep an eye on your piece so it doesn't dry out.
19. Avoid Sharp Edges
When placing your template on top and carefully cut around it using a knife or needle tool. Remember to smooth the edges of the cut pieces to avoid sharp or rough areas.
You may not realize that sharp edges can lead to stress points, potentially causing cracks during the drying process. When your pottery comes out of the kiln, sharp edges can also be quite dangerous.
One effective way to avoid these issues is by rounding off the edges of your slabs. To do this, you can use a sponge or rubber rib. You may even find that using your finger can produce satisfactory results in smoothing out any rough edges or seams. By gently rubbing along the edge of your slab, you can create a more rounded, comfortable shape.
Another advantage of paying attention to the edges of your hand-built pottery is its aesthetic appeal. Rounded edges create a more polished and visually appealing finish, while sharp edges can give an unfinished or unprofessional appearance. With this in mind, it's well worth investing a little extra time and effort in smoothing out your projects' edges.
20. Understand Clay Shrinkage
During the drying and firing processes, clay tends to shrink due to the loss of water layers. The finer the particle size of the clay, the more water layers it holds, leading to more shrinkage.
When you're working on your pottery piece, always keep clay shrinkage in mind. In order to account for this, you can use a shrink ruler, which helps you determine the shrinkage percentage of the clay.
Knowing the shrinkage percentage will allow you to create pieces that end up the desired size after firing.
21. Drying and Preventing Cracks
When hand building pottery, drying is a crucial step that must be done properly to avoid cracks in your creations. Depending on the type of clay, 20% to 30% of the clay's body weight is water. So, you want the water to evaporate slowly and evenly to prevent pressure from being put on the clay particles from wet and dry clay.
To ensure that the clay dries evenly to prevent cracking, you should allow the pottery to dry slowly. This may mean covering them loosely with a plastic bag for a few days.
If a pottery piece is left out in the open, The rim will dry faster than the sides and base of the pottery. There are several places to dry your clay. You can use a damp box, a portable greenhouse, a drying room, or a designated drying area.
Rotating and turning your pottery over is important in the drying process to prevent a cracked area from forming. Turning the piece over. Helps to ensure that the pottery dries evenly and doesn't crack. By rotating the pottery, you allow all the pieces to dry at the same rate.
For more detailed information on preventing cracks, check out: How to Prevent Pottery Clay From Cracking While Drying.
In Conclusion
Hand building is a versatile and rewarding technique for potters of all levels. By following these tips, you can create beautiful and unique pieces that showcase your creativity and skill. Remember to experiment with different techniques and tools, and don't be afraid to make mistakes – they can often lead to new discoveries and techniques.
Hand building is a great way to explore the possibilities of clay and create pieces that are truly one-of-a-kind. Whether you're a beginner or an experienced potter, these tips can help you take your hand building skills to the next level. So get your hands dirty, let your creativity flow, and see where your journey with handbuilding takes you!