How To Do Pottery With Long Nails – 5 Tips To Remember
Pottery is one of those timelessly classic crafting activities that artists and novices from around the world enjoy. However, it can be challenging if you have long natural or acrylic nails and really don't want to part with them. So how can you enjoy the beauty and relaxation of pottery crafting if you're constantly putting marks in your clay with your nails?
You shouldn't have to choose between beauty preferences, like long nails, and doing crafts, like pottery. This article will discuss how you can keep your nails long and still create magnificent pottery pieces.
Initially, you may think that crafting clay with long nails is impossible, but it's simpler than you think. If you're used to having long nails, acrylic or natural, you're likely already well-adapted at learning new ways to do things without breaking your nails.
If you can open a soda can without chipping your long nails, then molding clay may be a breeze.
Making pottery can be more challenging to do with long nails than it would be otherwise, but you can do it. You may need to practice this and other techniques before finding the right one that works for you. You may even find that a combination of these techniques works best for your style.
Affiliate Disclaimer: We are ambassadors or affiliates for many of the brands we reference on the website. As an Amazon Associate, I earn from qualifying purchases.
Here are a few ways that you can create beautiful pottery with long nails:
Use a Sponge to Protect the Clay.
Use the Pads of Your Fingertips.
Rely on Your Knuckles to Mold the Clay.
Wear Gloves When Working with Clay.
Use Tools as Your Hands.
1. Use a Sponge to Protect the Clay
So, the first option you have is to use a sponge to cover the hard, sharp edges of your nails from marking or carving into your clay.
This technique works well if you're throwing your pottery on a Wheel or if you're Hand Building.
What you'll need are one or two sponges and some water. Place your sponge in the water, gently ring out the excess, and apply it to the clay.
You can keep the sponge on your non-dominant hand while you are forming the clay's desired shape and use the soft pads of your dominant hand to help shape the piece.
You can also keep the sponge over your nail tips to avoid accidentally scraping the clay with your nails.
Then, use the Finishing Sponge to finish manipulating the clay into the desired shape.
This technique takes practice to master, but once you find a good fit for the sponge in your hand, it becomes much more manageable.
Even slight pressure from one finger can mark the clay, and creating small lines and shapes is even harder to design with nails.
The Sponge on a stick can also help you get your desired shape, especially if you're using a wheel.
If the sponge technique isn't for you or trying other methods, read on to discover four more tips for molding clay with long nails.
2. Use the Pads of Your Fingertips
Before embracing your long nails as pottery tools, I would file them so that the edges are rounded rather than sharp and pointed. The sharper your nails are, the more likely you can damage your clay design. After you've filed them down, you can use the pads of your fingertips to help mold the clay.
You have to be aware of your hands at all times for this method. Also, it's best to focus your efforts by primarily using your thumb, pointer, and middle fingers. This is because these fingers tend to have the best control when working with clay.
Remember to keep your nail tips slightly upward while you work. This will force the pads of your fingertips to protrude more and put pressure on your fingertips rather than your nail.
Don't worry about rushing. Take your time and focus on the pads of your fingertips while you work.
This method may be the easiest to try with long nails because you're just figuring out how to position your hands and use what you have to your advantage.
If you think about it, long nails could give you a unique edge compared to other artists. If you want, you can embrace your extended nails and use them to create unique pieces. Then, when you need to add intricate lines or cuts, you can use your nails.
3. Rely on Your Knuckles to Mold the Clay
If using the pads of your fingertips is too tricky to do with long nails. I would recommend using your knuckles to manipulate the clay. Keeping your fingers folded will keep your nails away from the clay and still allow you to mold your piece.
This method is best for Throwing on a Wheel, but you can try it with Hand Building also.
You'll still primarily be using your thumb, pointer, and middle fingers to manipulate the clay, but they will be folded in so that your knuckles are primarily used to mold your clay.
This technique is not difficult to master. You may have seen potters without long nails using this technique. Keep in mind it doesn't work for everything. You'll still need to shape the clay with your fingers.
If you try this technique, you'll likely need to combine it with the sponge technique or use tools. To do this, use your knuckles to drag the outside of the clay upwards and use a sponge on the inside to shape it.
Your knuckles work great for pulling clay up, but not so well on the inside of your clay piece.
This method works well for Hand Building projects also.
4. Wear Gloves When Working with Clay
One of the simpler ways of working with clay while maintaining your long natural or acrylic nails is to wear gloves.
I would recommend Latex Gloves for this technique. Cotton gloves would be too difficult to work with. Also, some people say that using gloves diminishes the skill required to complete your piece because you can't feel the clay.
I disagree. Rubber gloves are usually thin enough that you can still feel the clay and manipulate it the way you want it, but without it getting into every crevice of your nails and drying out your hands.
Some artists choose to work with rubber gloves, even without long nails, because it's cleaner and less of a mess.
Pro tip: moisturize your hands before you put the gloves on, and they won't be dried out when you're done.
Nitrile gloves are most artists' preferred gloves to use while working with clay because they fit snugly on your hand and feel almost like you don't have any gloves on at all. The tight fit of nitrile gloves also allows you to complete small, intricate parts of your work without a hitch.
Be careful if you opt to use gloves that your nails don't break through the fingertips and rip the glove. Sometimes, if a glove is ill-fitting or made with soft material, or if your nails are long and sharp, the glove could rip where your fingertip meets the material and break it. If your glove breaks, this defeats the purpose of wearing them with long nails.
To prevent a broken glove, make sure that you get gloves in your proper size. You don't want them too big, or the wrinkles could leave odd lines in your clay, but you also don't want them too tight, or they'll break.

You may also have to try multiple types of gloves to see what feels and works best for you.
5. Use Tools as Your Hands
Sometimes the best way to craft with clay while still keeping your nails long is to use tools as your hands.
There are many different types of tools you can use to create beautiful pottery like the ones listed below:
Metal Ribs
Plastic Ribs
Wooden Ribs
Modeling tools
Wooden ball stylus tool
Metal ball stylus tool .
Metal, Plastic and wooden ribs are great for smoothing and compressing the clay. Ribs are best for use on the wheel when you're throwing your clay. Then use the wooden it on the inside of your work to smooth, extend, and shape your clay. Metal and plastic ribs are best for the outside of your cylinder.
The medal and plastic ribs are excellent for slab work. Compressing your Clay and ensuring that your clay is free of cracks and creases.
Modeling tools are excellent for artists with long nails. Modeling tools are great for creating texture. These work in place of your fingers and nails to create designs, lines, and virtually anything you want for your pottery piece.
Check out this video to see a few popular throwing tools
Even if you don't have long nails, tools can be an excellent resource for crafting your pottery
Other tools that could be helpful. Here are more tools for carving out and crafting your clay. Check out my Pottery Tool Guide List
With tools, your nails are free and aren't at risk of breaking or potentially damaging your artwork.
A shammy towel is also really effective at protecting your nails and your pottery. You can use a shammy towel similarly to the sponge I mentioned earlier, but it's less porous.
A Shammy Towel helps smooth and shape clay when sculpted, both on the wheel or slab building.
If you're just beginning your journey in pottery making, many of these tools and techniques take time and practice to master. So remember to take your time and try out lots of different approaches to see what works best for you.
Even if you're an experienced Potter, getting used to long nails while you create can be challenging. Remember that you can adapt to accommodate your long nails. It just takes time.
Can you Wear Rings?
Another thing to consider is whether you'll be wearing rings. I would recommend removing rings from your hands before working with clay especially if you are throwing on the wheel.
While there are no official rules for wearing jewelry while you create pottery, I feel like it gets in the way, especially if you're already trying to overcome challenges with long nails.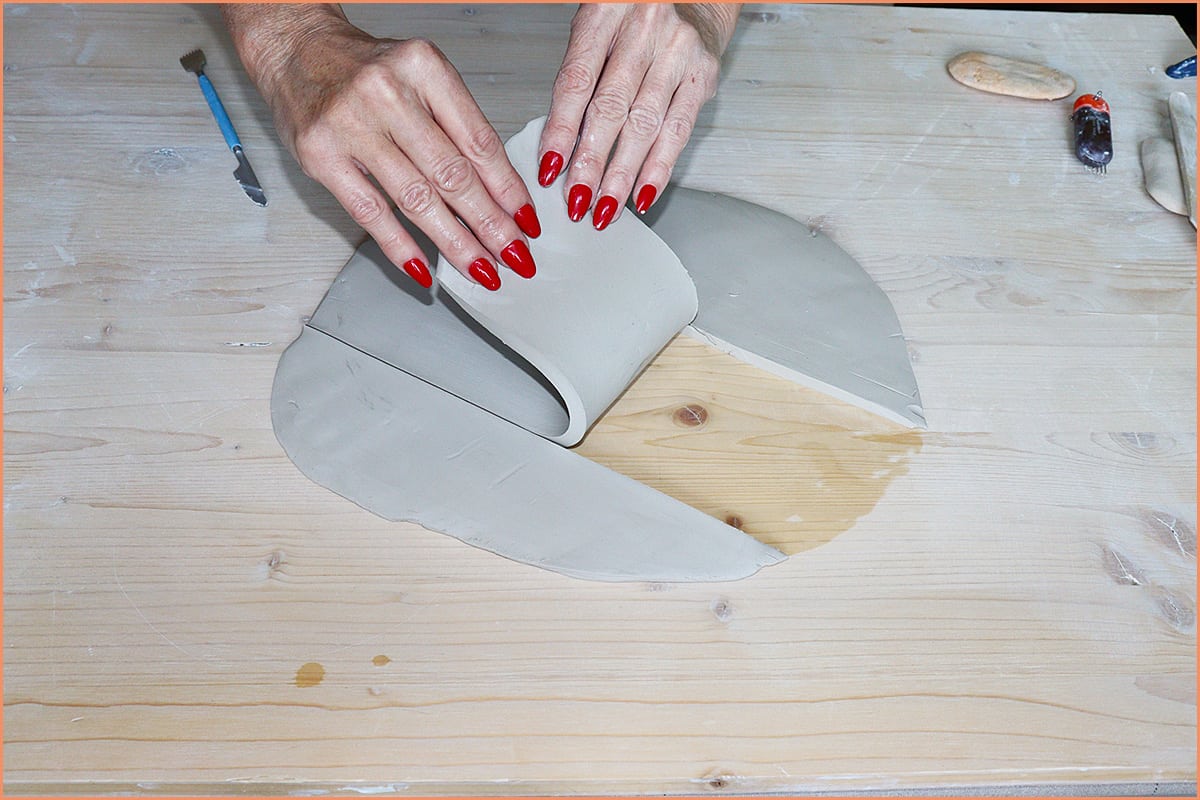 Also, rings have the potential to leave impressions in your work that you might not want there, or they could get lost inside the clay.
If you decide to wear your rings while working with clay or forget that you have them on, make sure that you clean them well after you're finished. Your rings can get damaged by the clay over time. In the interest of protecting your expensive or favorite personal items, it's best to remove rings before you start.
How to Care for Your Hands After Crafting Your Clay
Crafting Clay is great, but it does dry out your hands, and if you have sensitive skin, this can be a problem.
After you're finished working with clay, it's important to wash your nails, nail beds, and especially underneath your nails with a stiff-bristled brush. This will dislodge any clay that is trapped around your nails.
Once you've cleaned your hands and removed the clay from under your nails, apply a thick, highly moisturizing lotion like Vaseline or Aquaphor to your hands. This will help prevent over-drying.
If you have cuticle oil, you should apply that to your nail beds to protect your natural or acrylic nails.
To ensure soft hands the next day, apply your thick moisturizer and cuticle oil as directed. Then, put your hands in cotton or spa gloves and leave them on overnight. In the morning, your hands will thank you.
Conclusion
Pottery is an ancient art form that still inspires creativity today. If you are afraid that your long acrylic or natural nails will inhibit your skillfulness with pottery, try some of the above tips and techniques.
If you're still struggling to work with clay and have long nails successfully, you could always cut them shorter. They will grow back, or you can always get a complete set of acrylic nails after your pottery project is finished.
I would encourage you to adapt to long nails and use them to your advantage by creating unique pottery pieces before you cut them. For more detailed information on what to wear when crafting clay check out What To Wear When Doing Pottery and keep crafting that beautiful pottery