Can Air-Dry Clay Be Used on the Pottery Wheel – 3 Brands Tested
The art of pottery has been around for centuries, and people have experimented with different types of clay to create their pieces. Some Clay are better suited than othersto on a pottery wheel, but what about Air-Dry clay?
I tested 3 Brands of Air-Dry Clay and yes, Air-Dry Clay Can Be Used on a Pottery Wheel. I tested each brand Das, Activa Plus, and Amaco Stonex using 1lb of clay while making a planter. There is a definite standout amongst the three. Follow along as I demonstrate my nonscientific test. With a Bonus Video
Affiliate Disclaimer: We are ambassadors or affiliates for many of the brands we reference on the website. As an Amazon Associate, I earn from qualifying purchases.
Air-Dry Clay Behaves Differently
On the pottery wheel, air-dry clay does take some getting used to because it is made with different ingredients than ceramic clay to become harder than bone dry Clay (Greenware). It takes time to learn how far to mold the air-dry clay on the pottery. If pushed too far, air-dry clay can collapse just like ceramic clay.
Air-dry clay holds some similarities to porcelain on the wheel. When it's too wet, as with porcelain, air-dry clay will also collapse.
Some air-dry clays even shrink like pottery clay because they are premixed with water. You can use several air-dry clays on the wheel, but you have to experiment to find the one that works for you.
When used on the wheel, air-dry clay has a good consistency. Unlike ceramic clay, air-dry clay doesn't develop hard patches. This heavily depends on the type of air-dry clay you have purchased, but air-dry clay even feels good on the pottery wheel if you buy the right one. Air-dry clay is a good choice until you get a kiln.
Common Types of Air-Dry Clay
There are three types of air-dry clay that can be used on the Pottery Wheel because it behaves similarly to how pottery clay behaves. However, you have to remember that air-dry clay will behave differently than pottery clay on the wheel. It isn't the same thing.
There are three common types of air-dry clay, which include:
Cold porcelain clay
Paper air-dryclay
Air-dry Modeling clay
Cold Porcelain Clay:
This is a type of clay originally from Argentina, is an air-dry clay. However, this isn't actual porcelain. Instead, it got its name from similar characteristics. Because you don't have to fire it to dry, they call it coldporcelain clay.
Coldporcelain is different from other air-dry clays in that it has greater durability. It uses corn starch, glue, lemon juice, olive oil, and hand lotion as its ingredients.
Because this clay uses many oily ingredients like olive oil and hand lotion, you wouldn't want to use water on the wheel with it. Instead, you'd have to use an oil-based lubricant. Not many potters have done it, but you can use cold porcelain clay on the wheel
Paper Air-Dry Clay:
This is a non-toxic air-dry clay, paper clay's wood-like texture makes it ideal for sanding, drilling, and carving. This type of clay can work on the pottery wheel because of its cellulose fibers. Be aware, however, of how it will behave differently from ceramic clay.
They use paper fibers to make paper clay. Many air-dry clays may use paper to one level or another, but the more paper, the better for the wheel because of the fibers.
Paper clay has extra strength because of its fiber. Still, like most air-dry clays it is easy to break. Many crafters dislike air-dry clay because of that.
Air-dry Modeling Clay:
Modeling Clay is a moldable material mainly made with natural Clay, cellulose fiber, fillers, or preservatives that make the Clay stronger, and the air dries the clay over time. Air-Dry modeling clays are soft and pliable, so the Clay can easily be molded into whatever individuals want them to look like before drying thoroughly.
It won't harden while you work with it but will completely dry at room temperature without any heat or oven required in one to two days, depending on the climate you live in.
Three Air-Dry Clay Brands Tested on the Pottery Wheel
I've been asked many times if air-dry clay be thrown on the Pottery Wheel.
So you don't have to I went ahead and bought these 3 different brands of air-dry clays to test out.
I made three plant holders with one pound of each clay.
I called each company to find out what these air-dry modeling clays are made of and none of them
would give specific ingredients. Just the basics because they don't want one else to copy them and I don't blame them. Let's see how well these air-dry clays thew on the pottery wheel.
DAS Modeling Clay on the Pottery Wheel
DAS air-dry Clay Is made in Italy and has been around since 1963. It is a water-based air-dry modeling clay made with natural Clay, fillers, and binders making it stronger than ceramic bone dry clay.
The fibers in this Clay make forms sturdy and less likely than other products to break once dry. This means there's minimal shrinkage which reduces cracks or breaking while drying out completely making DAS air dry clay a good hand building and sculpting clay, but how about throwing on the wheel.
Results on the Wheel
At first, it felt stiff but with some wedging and water, the clay becomes more workable. It didn't stick to the wheel very well at first but centered and opened pretty well. The Clay felt a little rubbery.
I could feel the fibers and binders that make it a good air clay. This air-dry clay did not fair very well for me on the Pottery Wheel. The walls did not stay up or even. The clay collapsed and cracked shortly after I threw it. I would not recommend using this clay on the wheel.
The Activa Plus Air Dry Clay on the Pottery Wheel
Activa Plus is made in Spain. It's a water-based Ultra fine grade modeling clay that's made from 100% natural clay, with natural cellulose fibers and minerals added to harden the Clay and make it stronger than bone dry ceramic Clay. Activa Plus air dry clay is a good handbuilding and sculpting Clay. But how does it mold on the Pottery Wheel?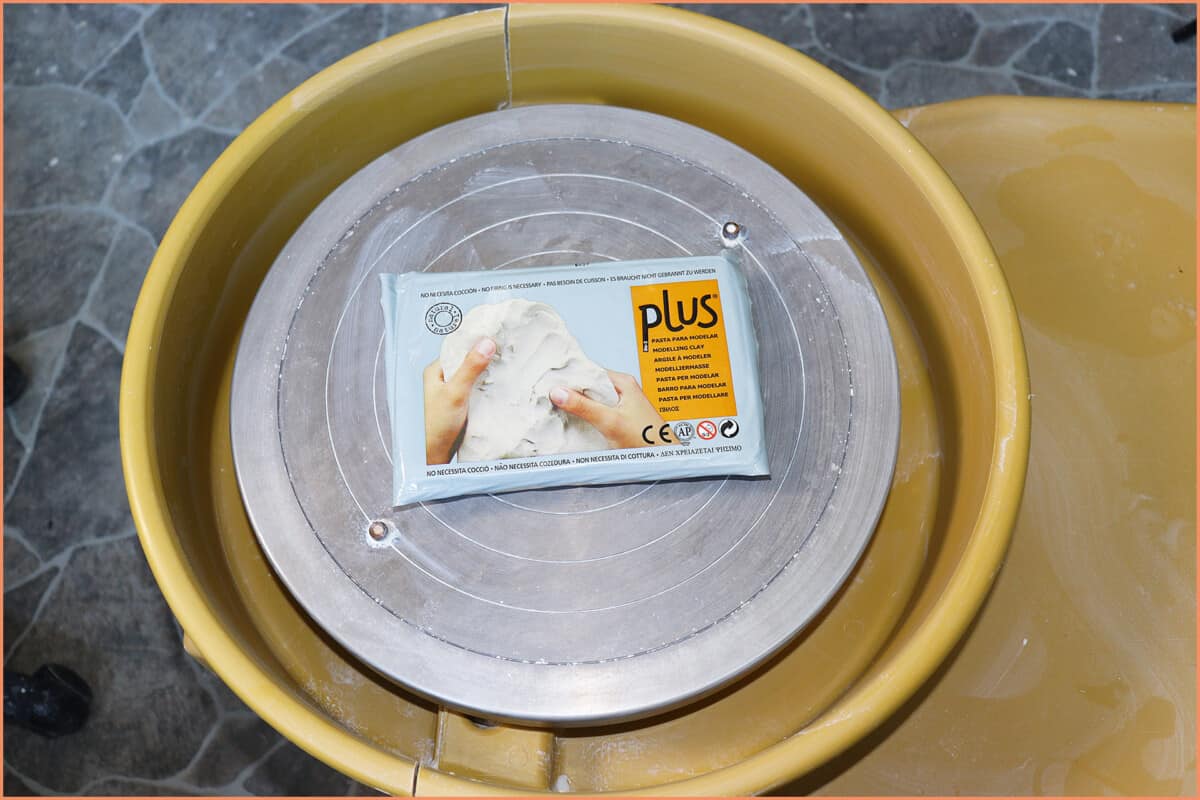 Results on the Wheel
The Activa Plus Air dry Clay centered and opened well. The clay did feel a little gritty, probably from the cellulose fibers and minerals added. It didn't do too bad on the Pottery Wheel. A bit more water was used and it didn't mold as easily as ceramic clay.
I ended up making a pot but not the exact shape that I wanted to create. I had to stop molding it because the clay was getting wobbly and going to collapse. If you throw less than a pound of clay I think it will throw ok.
AMACO-Stonex Clay on the Pottery Wheel
Stonex is made in the USA. It's a smooth water-based modeling clay made of all-natural Clay and preservatives that harden the clay. This moist air-dry clay should be wedged before use. When completely dry it produces a hard durable piece of art.
Stonex is a good all-purpose clay that works well for sculpting and hand-building.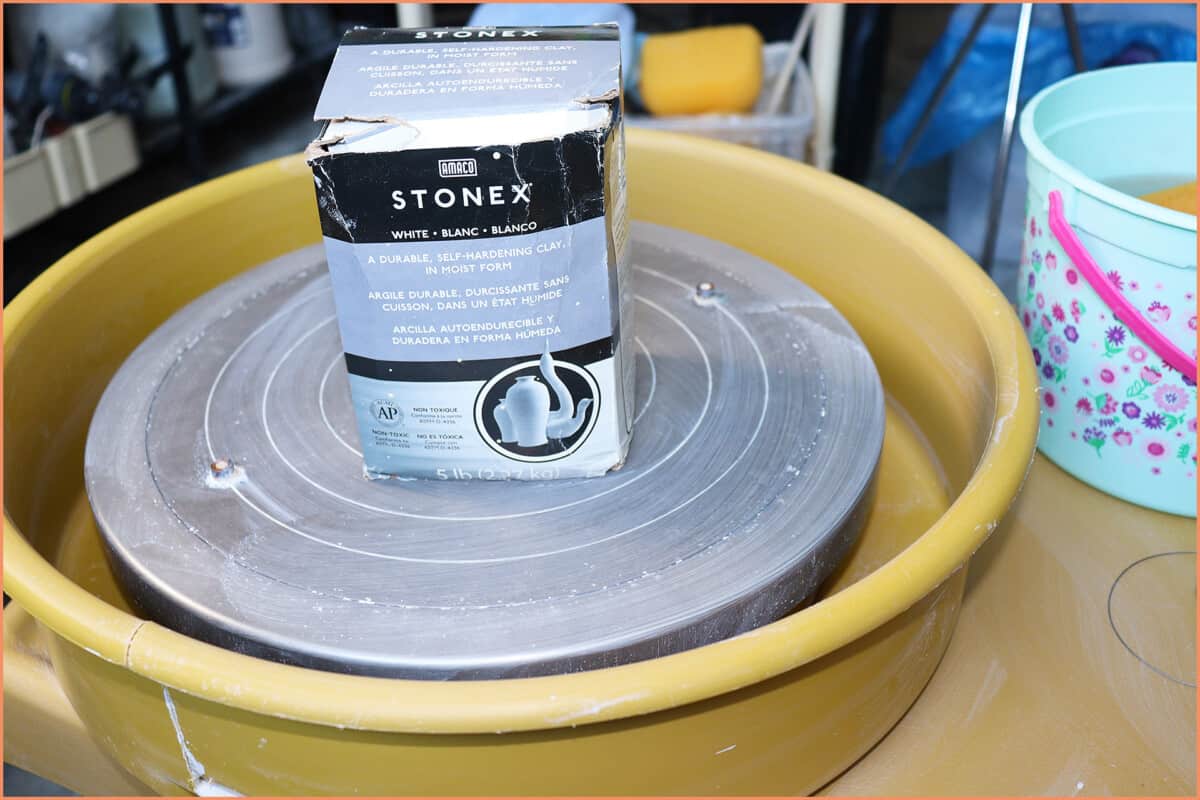 Results on the Wheel
And the winner is Amaco Stonex Air-Dry Clay. This air-dry clay works surprisingly well on the Pottery Wheel. The description of this air-dry clay even says that you can use it for this purpose.
The Stonex centered and opened very well. It felt smooth like porcelain. I did use more water than ceramic clay but it held up beautifully. I even played with the clay longer than normal to see how well it would stay up.
The clay molded the shape I wanted and made a nice plant holder. If I didn't have a kiln and wanted to throw on the Pottery Wheel this is the clay I would get.
Finishing Touches to Your Air Dry Clay
When you're finished, let the air dry clay dry slowly by placing plastic on top of it. Then you can decorate it with paint and apply a sealer to protect the surface from water and wear over time. The water will start softening your work of clay art, so make sure that everything is completely dry before applying any kind of protector like Mod Podge Dishwasher Safe Waterbased Sealer.
Final Thoughts
Air-dry clay can be used on the pottery wheel, but you should expect it to behave differently from ceramic clay on the wheel. Knowing which clay works on the Pottery Wheel is very helpful.
If you don't have access to a kiln throwing air-dry clay on the wheel can be an alternative to ceramic clay. This gives you some experience at the pottery wheel before you get a kiln. To learn more about Kilns, click here.