Home Pottery Studio Set Up Guide
Having a place where one can push the boundaries of creativity is the best thing a Potter can have. It's where learning the craft of potting and working on ideas happens without interruption.
A Studio is vital for every Potter, but how do you set one up? What are the things that a Studio should have? How do you Organize your Equipment and optimize it for a seamless workflow?
If you're unsure about the answers to these questions, don't worry. This step-by-step guide will walk you through everything you need to do to set up your Pottery Studio.
Affiliate Disclaimer: We are ambassadors or affiliates for many of the brands we reference on the website. As an Amazon Associate, I earn from qualifying purchases.
Get Your Equipment
Hobbyists and professional Potters have different requirements when it comes to the equipment that they will use. A Hobbyist, for example, may not need a lot of Equipment to work on Ceramics; a Wheel, a Worktable, and a small Shelf would suffice. Potters who prefer hand-building probably won't require a lot of space either for a Slab Roller, Worktable, and a small Shelf.
No two Potters are alike, and you may not need all the equipment that another Potter has, well not all at once. Sure, it can be tempting to get everything that you want when creating your Pottery Studio, but you may not need some of them right away.
Initial Assessment for Pottery Studio Equipment
Before you decide on the equipment that you'll invest in, you need to conduct an initial assessment. This process should revolve around the average volume of Ceramics that you want to produce and the designs that you're planning to develop.
Because of all the steps involved in the process of making pottery, your workflow and the type of tools in your Studio should complement each other, to keep everything organized and maintain the liquidity of your process.
If you focus on creating small unique designs, then large equipment may not be necessary. You'll also need to assess the amount that you will invest in, which may have an impact on your decisions.
Look at your creations. What inspires you? Where do you get your ideas for creating pottery? Do you prefer Creating on the Wheel or Building by Hand? If you are throwing on the Wheel, having a Wheel will be necessary for a Pottery Studio. If you are Hand Building, then a Slab Roller may be necessary.
Checklist of Equipment Needed for a Pottery Studio
Before we dive into the list, let's get something out of the way; your list will determine your production and scale of work. However, if you're focusing on intricate details rather than production volume, then it won't be as important.
Pottery Wheel
Although Wheels have improved from Manual to Electric-powered, Pottery Wheels remained a staple in almost every workspace throughout the history of potting. This equipment makes the process of molding clay easier, allowing artists to be more efficient in crafting pieces.
Choosing the right Wheel depends on a Potter's production scale. Here are some of the things that you need to consider when looking for a Pottery Wheel:
Motor
The motor is the heart of every Pottery Wheel. In the early days, wheels ran at a constant speed, but innovations gave us variable motors that allow users to adjust the torque and power. Nowadays, wheel power can vary from 1 to 240 RPM with 1/6 to 1 1/12 horsepower.
For hobbyists, a Wheel with 1/4 horsepower should suffice. It can center at least 20 lbs of clay, which is enough for most medium-sized ceramics. Professionals who are aiming for a larger scale of production can opt to invest in a Wheel with 1/2 HP that can center up to 50 lbs. Potters who are planning to start their own business should have at least 1 HP motor, which can handle anywhere from 50 to 200 lbs!
Reversibility
Left-handed, Right-handed, or Ambidextrous, it shouldn't matter when potting. That's why manufacturers often have Wheels that are reversible and can go either way. If you prefer to throw left-handed or both, then you may want to opt for a slightly more expensive reversible Potter's Wheel.
Wheel Brands
Different brands have different specialties, and although Brent wheels are the most popular, other brands can perform just as reliable.
Brent, for example, is known for manufacturing wheels that are durable and last a long time.
Speedball is known for aggressively innovating pottery wheels.
Nedic-Shimpo, on the other hand, is preferred by potters whose studios are inside their houses because of its super-quiet operation.
It is one of the most significant investments that you'll make for your Pottery Studio. For more in-depth information on choosing a Wheel, this Step by Step Guide can help you select the right Wheel.
Here is a list of popular Wheels Reviewed that will help guide you to the Wheel that fits your Studio and Pottery-making skills.
Slab roller
If you are mainly a Hand Builder and think that hand-rolling your clay is too time-consuming or strenuous, then a Slab Roller should be on your list of must-haves.
Even if you Hand Build half the time Slab Rollers are still great to have. Especially to making Cookies for Kiln, because you want the cookies to be level so if the glaze melts off your pottery it doesn't run off your cookies.
There are Slab Rollers you can place right on the work table that may be very convenient for you. If your studio space allows you can choose a spot and get a full-size Slab Roller.
Kilns
There are different types of Kilns that you can choose from when setting up your Pottery Studio. It can be Electric or Gas, Manual or Computerized, and Front-load or Top-load. All of these types fit different levels of your Pottery skills and workflow, and will ultimately affect the quality of the ceramics that you create.
Electric vs. Gas Kilns
Electric Kilns are usually cheaper than Gas-burning Kilns. It is economical, easy to use, reliable, and has a relatively benign impact on the environment (Especially a Smaller Kiln).
Gas kilns, on the other hand, are preferred by professionals and serious Potters, because they create different effects in ceramics, such as reduction and flashing that is not possible even with the best Electric-powered Kilns.
Manual vs. Computerized Kilns
When you opt to use Electric Kilns, you'll have to pick between manual firing or computerized control. Most Potters choose the Computerized Kilns because of their ease of use.
If you're looking for equipment that can last for years and still be reliable, Manual Kilns offer good value and reliability.
Front-Loading vs. Top-Loading Kilns
Price is the most significant difference between the two. A front-loading Kiln is more convenient and will give you great value in the long run. Top-loading kilns are cheaper but could be troublesome to use if you can't reach to the bottom of the Kiln.
Most kilns available in the market are Top-loading, which works just as well. If you're a hobbyist who doesn't have high-scale production, then top-load is a good investment.
Potters who are planning on starting a business and aggressively increase their production will find great value in Front-load Kilns.
Best Brands for Kilns
This equipment performs a vital part in potting, Skutt is one of the most popular among potters for quality, accurate calibration, and control panel accuracy.
Kilns are a great long-term investment and will serve your Pottery Studio for years! I recommend checking out this article on Choosing an Electric Kiln, which has good information on what to look for in a Kiln. Before you decide which Kiln is best for your Studio, this List of Kilns also gives you more information on Buying a Kiln and what to Consider.
Work Table
Your worktable will be the centerpiece of your Pottery Studio. 3′ x 8′ is a good size, and the height shouldn't be too short or tall to wedge on. Depending on your height. The height of your wedging area should be right around your hip area which gives you good leverage and doesn't put undue pressure on your back. Conventional tables will do, but you may not have the flexibility when it comes to the sizes available.
You can be at your work table for many hours when crafting your clay into functional or nonfunctional works of art. You may not want to sit the whole time or stand.
I repurposed my Adjustable Vairdesk Work Stand from my office to my Pottery Studio. It is a great addition to my Work Table. I now have the ability to sit or stand without hunching over the table, which is a big PLUS. I have the Varidesk, but they no longer sell this model. You will find this Adjustable Work Stand to be similar or even better than mine.
If you don't get one for your Studio, I highly recommend one for your Office Desk, its a Back Saver, Plus you should only sit down for 30 minutes at a time, according to Harvard Health.
Your work table should also have an area to work with your clay and wedge that the clay doesn't stick to. The nonstick surface can be granite, concrete, oak, maple, or plywood. You can also cover the wood with a heavy canvas.
You need to stretch the canvas when placing it on top of the table. It needs to be tight and stapled on the underside of the plywood. You may have to re-stretch it over time to be sure that it remains tightly attached to the table.
Your worktable should be capable of withstanding heavy use. It will serve as your solid surface for almost everything that you need for making Pottery.
Every work table should have a Spray Bottle to keep the dust down and add water to your clay or work surface when needed. To learn a little more about keeping Clay and Glaze dust down here is a short post where I give you a few tips on Minimizing Dust in your Studio.
Glaze Table
Glazing is another fun step in potting, it adds the final touches on your ceramics. You should keep your glazing area separate from your clay-making area.
Having a separate table for glazing is ideal. It keeps your workflow smooth without worrying about the glaze mixing with your clay or staining the tabletop. It also puts everything that you need for different processes within comfortable distances.
If you're working in a small studio and can't have a separate area, just make sure your area is clean before and after you glaze. Covering the table with plastic will also do. This extra layer will protect your table from the Glaze and keep everything clean.
When looking for a glazing table, there's no industry standard, but it should have enough space to put all the ceramics for the project you're working on, and still have enough room for your supplies.
I was lucky enough to have an Old Banquette Table that's perfect for my small Studio Space. It's a heavy table that I not only use for Glazing I also use it for Wedging and Hand Building. If you don't have a work table this Height Adjustable Folding Table may do the trick for your space. It is durable, easy to clean, and handles a weight capacity of 350 pounds.
Storage Shelves
Your pieces should have enough space to segregate Ceramics that you need to Bisque or Glaze and finished products.
When working on small spaces, you can keep all of your Ceramics on one shelf. However, it would be best if you kept pots that need firing or glazing away from your finished products. This practice smoothens your workflow and avoids your ceramics from being tampered.
I also have storage space on the shelves for glazing bowls, measuring cups, strainers, newspapers, plastic bags, ware boards, mason stains, Giffin grip, and the Handheld Clay Extruder.
There are different ways you can have your storage space;
Have some of these Easy to Assemble Shelves placed on different sides of your Studio
Find some Shelves in your home or Second Hand Store.
Have your Shelves custom-made to save space and make sure that you're utilizing every inch of your Studio.
Damp Room
Setting up a damp room away from everything that you're working on is an ideal setup for a Pottery Studio. This area will serve as a space where you can place all damp ceramics or pieces that still need some work. The goal of having a damp space is to prevent your ceramics from drying out before you finish trimming or decorating
If you have room in your Studio you can get a small Portable Greenhouse with 4 Shelves to use as a Damp Space. It is enclosed and designed to keep moisture in. Click HERE to get yours.
When on a budget, you can look for an old refrigerator with its shelves still intact. This setup will create an environment that protects your ceramics from damage.
If your studio is too small for a damp room you may also place your pottery on a ware board, carefully place in a plastic bag (Clear bag would be best), and seal with a twist tie until you are ready to trim or decorate.
If you live in a drier climate It's also best to cover the top of your Pottery with plastic the first day or two so your pottery does not dry too quickly and crack.
Tools and Bats Storage
It can be easy to misplace your tools when potting. So, we suggest that you have a central location where you can keep your bats and tools. A mobile cart or container with a shelf on top is ideal. You can use any rack that has horizontal bars to hold the bats and a tray on top to keep all your tools.
Using this 3-Tier Utility Cart with Rollers is very handy to have next to your wheel. It can easily hold all the tools you need for throwing, trimming, and decorating and roll the cart wherever you need it.
I found these Command Wire Hooks work great on the side of the cart. They hold the tools well and will help you stay more organized.
The goal of having dedicated storage for your bats and tools is to have them easily accessible. It is where you can place everything that you need while working, without taking up too much space on your worktable.
Regardless of the scale of production that you're planning, organizing your tools will keep you productive.
Clay Storage
A properly placed clay storage keeps your workflow smooth. We suggest that you keep your clay in a container or thick well-sealed plastic bags that you can put under your worktable.
Water left on the floor around clay dust can create mold and dried clay contains silica and can be inhaled. That's why mopping is required to keep your studio a safe place to work. Good practices will keep it safe and organized!
Get Your Tools
A potter can only be as good as the tools in his possession. Knowing the tools that you need for your pottery studio will push the boundaries of your creativity and keep you working efficiently.
The goal of having a checklist is to give you an idea of the tools that a pottery studio should have. If you're starting to learn pottery, it would be best for you to buy a toolset. It will help you get the gist of using specific tools. As you gain experience, you can start building your tool collection to match your preference when potting.
Here's a list of the essential tools every potter should have when starting their studio:
Ribs and Scrapers
These tools are for throwing and can help shape or smoothen pots as you form them on the wheel. If you're planning on making coiled pots, you'll also need these tools during the "rib and hand" method.
They come in different shapes and sizes, but the most common material for these tools are metal, wood, or rubber. Potters use ribs and scrapers interchangeably, but Rubber Ribs are more popular because they can be easy to work with and the Metal Scarpers provide the smoothest finish possible.
Needle Tool /Potter's Needle
A potter's needle is one of the most versatile tools for potting. You can find needles set into wooden, plastic, or metal handles. This tool can neatly trim the top edges of pieces while on the wheel, and for scoring coils and slabs when molding by hand.
Cut-Off Wire Tool
It has two handles on both ends and is useful in cutting clay or removing thrown ware from the wheel. These wires should be flexible to give you better accuracy when cutting. Have smooth shaped handles to give you a comfortable grip, and stainless steel braided cable that is more resistant to kinking and stronger than nylon fishing line.
Sponges
A sponge is, perhaps, the most useful tool and is a must-have in any pottery studio. It helps add or remove water from the clay, making sure that you always have the consistency that you need for your pieces. Sponges are great to use in all stages of pottery making. From shaping and smoothing out your clay to removing any glaze from the foot of your pots.
Calipers (Potter's Calipers)
Potters use calipers to measure the outer and inner dimensions of pieces where they will meet with other parts of a set. You'll need this tool to measure lids to match the opening of jars, the base of a cup to match the center of a saucer, and the base of a pitcher to match the basin's interior floor.
Fettling Knives or Potter's Knives
These knives have thin blades that are either hard temper or flexible. They are very useful for trimming slabs or thrown pots, and in cutting different areas when hand-building ceramics.
Trimming and Modeling Tools
Trimming and modeling tools come in a wide variety of shapes and sizes. These tools are a must-have when potting because, aside from trimming and modeling, you can also use these tools when throwing on the wheel. The Augernis 57 Piece Tools Set is a great choice if you want most of the modeling and trimming tools for your studio.
Check out all these Pottery Tools to purchase and get more information on how to build your Pottery Studio tool inventory.
Banding Wheel or Turntable
A Banding wheel (Turntable) is used for glazing, decorating, carving, hand building, and sculpting. Allowing you to easily view and work on your piece without moving it around with your hands.
A Banding Wheel makes it easier for you to decorate your pottery. So it's important to get one that's sturdy, durable, and at the same time, falls within your budget. Have a look at These four Banding Wheel options to find the one that's right for you.
Brushes
Aside from applying glaze and underglaze on your pots, you can also use brushes to carry water and slip to specific areas when you are molding the clay. When looking for brushes, it's best to get them in sets because of all and different ways you will use the brushes and size of your pottery. My list of Glaze Brushes and Sets will help you choose the best brushes for you.
Plan Your Space
Once you have all the tools that you need, the last step in setting up and organizing your pottery studio is planning your workspace. When planning your studio, having separate areas to work on different processes of potting is just as important as the space that you have.
Your pottery studio can be an extra room in your house or a corner in your garage. It can be small, but it should never be a reason to be unorganized. You have to follow the flow of the process when setting up different work stations, to keep everything in place.
Remember that potting can be a messy business, but you can plan your workflow to make it manageable.
How to Plan Your Space Properly
Make sure that your studio reflects how you create your pottery. A good rule of thumb when organizing your workspace is to follow a fluid motion that supports your work process. Having different sections where you can work on your craft is ideal for professional potting practices.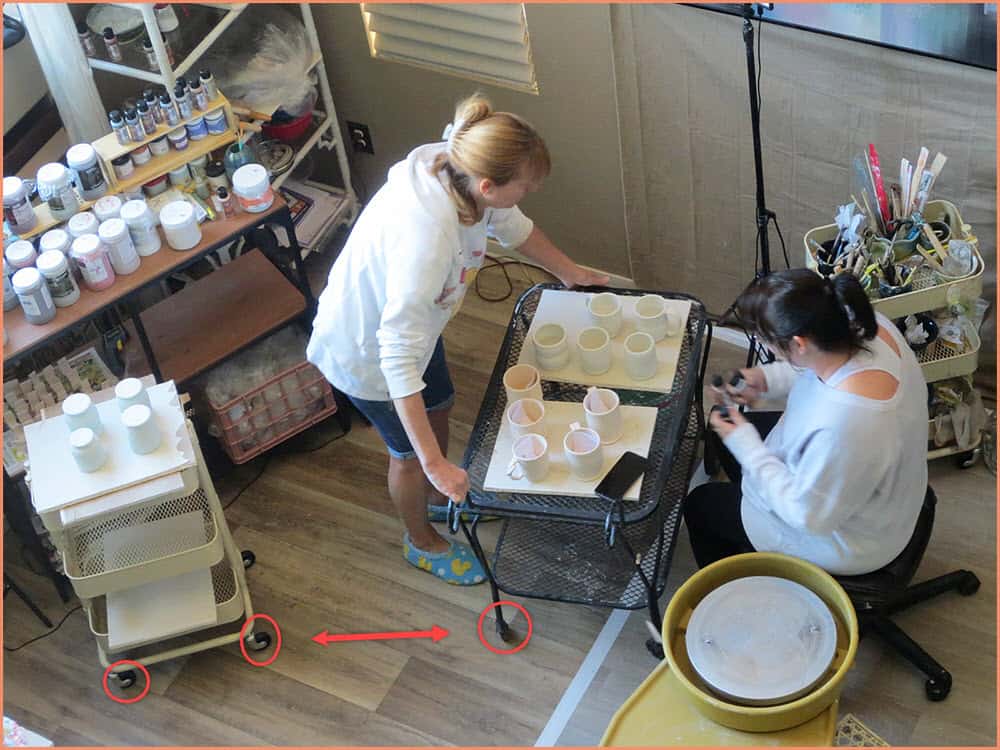 Studio On Wheels! Whenever possible it's best to put things like your Shelves, Clay, and even Kiln on wheels. Whatever you possibly can, especially if it's heavy or you have limited space. Having my Kiln on wheels is a true space saver. I just wheel it against the wall when not in use.
Start with the Basics
Flooring:
When it comes to planning your workspace flooring is at the top of the list. Before you can put anything in your studio space you have to have the right flooring. A smooth surface that can handle getting wet often and Mops up easily is the ideal surface, like Vinyl or Linoleum.
NO CARPETING. You will not be able to clean it properly. The clay that collects on the carpet will turn into dust. A runner or mat to wipe your feet is fine because you can shake it out outside or wash it. If you have no choice or you want to protect your floors there is a solution. The good news is; you can get a Sheet of Vinyl flooring (Cut-to-Length) at Lowe's for example or another hardware or homeware store.
Power Supply:
The area should have enough sockets for all the equipment that you'll use while working. To make it easier for you to set up your pottery studio, start with the equipment that needs an electric socket, then work your way around the area. Remember that your work table should be at the center of everything with different sections for different steps in crafting.
Water Supply and Drainage:
You'll also need a decent supply of running water to keep your workplace clean and maintain the consistency of the clay that you are using. The ideal setup is a sink right in your Studio. If not it's ok, buckets or pails of water will do the trick. Disposing of your water is another story.
Never Pour Glaze or Clay Directly Down the Drain. It will stick to your pipes and in time Will clog your pipes. This Gleco Trap System keeps the glaze and clay from clogging your pipes. It's great for home studios and easy to install.
Pottery Wheel Section
The placement of your Pottery wheel is very important. Your wheel needs to be near an outlet unless you have a Kickwheel (Manual Wheel). Then you must take into account how much your clay splashes over your splash pan. This is an individual thing some potters tend to splatter their clay around more than others depending on how much water you apply and how fast your wheel is spinning. You may want to have a little more room around your wheel.
Clay Section
The clay section should be the only messy part of your studio. This space is dedicated to moist clay, drying clay, and damp pieces. It is an area where you can throw, wedge, and store everything that you need when molding your Pottery.
Your work table should be in this section, and as mentioned earlier, it should have enough space for you to do most of the potting processes. Most Pottery Studios have more than half of their space dedicated to their clay section because it is where most of the work happens and tools are stored.
Keeping a dedicated section where you work on clay prevents your pieces from getting into other areas of the Studio. It also reminds you of the processes that a ceramic still needs to take and avoid tampering with the intricate process of potting. For example – bumping into soft, leather hard, and greenware, while glazing. And of course, your Studio can't be complete without some good clay. Click HERE to check out some of my favorite clays.
Glaze Section
The glaze section needs a clear separation from the clay section. This area in your studio is a dedicated space for everything that contains glaze.
Everything should be in this section, whether in a dry or wet state and pre or post-application, including the glaze powder in storage. An ideal setup for a glaze section is a separate table with two shelves for storing glazes in both states.
If the clay section is the messy part of your studio, the glaze section should always be kept clean and well-ventilated. Powder that you produce when mixing glaze might tamper with your clay mixture. Larger pottery studios even have a separate room for glazing, to have a clear separation between different work processes.
If your area is too small for separate areas, you can put plastic over your clay area when glazing or make sure you clean before and after every separate task. In general, this is a good habit to get into.
Check out this List of Glazes you can add to your growing collection.
Kiln Section
This section is where your Kiln should be, together with the shelves for your Kiln furniture, Cookies, and Ceramics that are already dry and ready to be fired. The kiln section is where you'll fire your ceramics, so it needs to be an area in your studio that is not a fire hazard. Do not put your kiln by a door that would be your only means of escape.
Concrete flooring for your Kiln section is advisable because it makes your studio much safer. It's best to have your Kiln in a separate area like a garage or separate well-ventilated room. An ideal Kiln section has a vent that provides better firing results and allows the fumes from the Kiln to escape outside.
---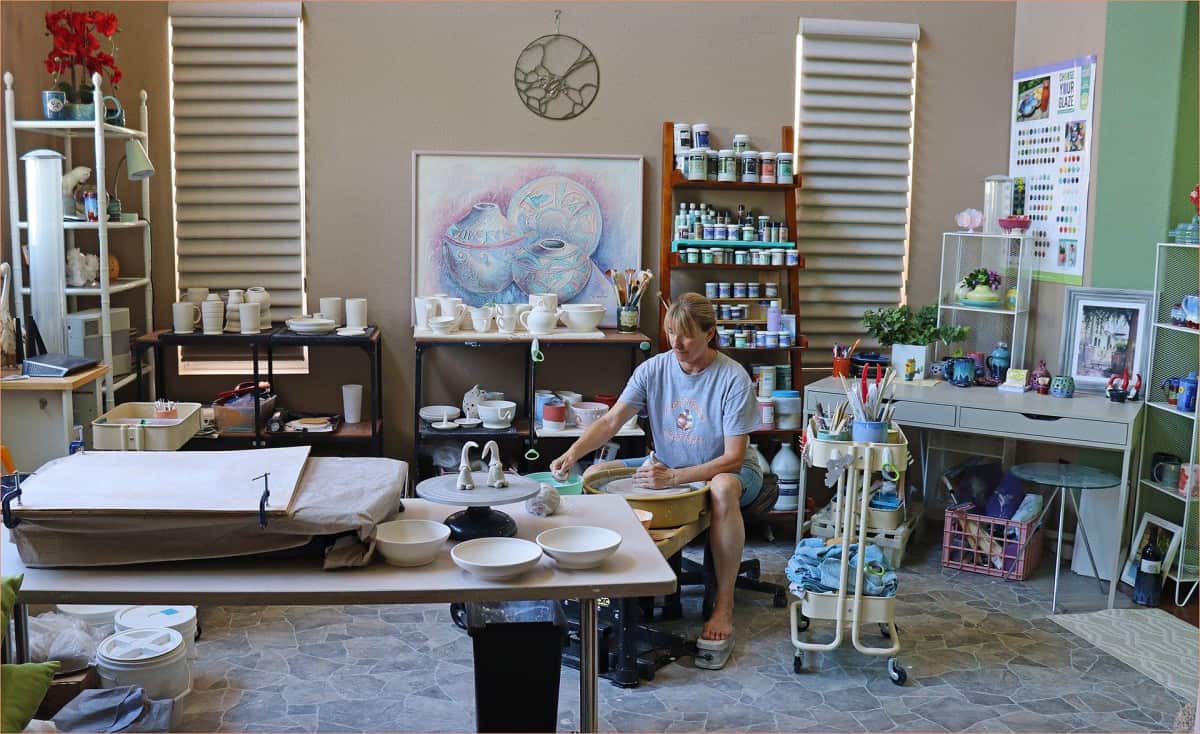 Here's a YouTube Video Below where I Set up and Organize my Home Pottery Studio
Pro Tip: If you're a beginner potter concerned about the cost of equipment, keep in mind that you can recoup some of those costs by selling your unique handmade pottery pieces. With some dedication and practice, you can create beautiful and functional pieces that people will love to buy. Not only will Selling your Pottery help you financially, but it will also allow you to continue growing your skills and pursuing your hobby. So don't be afraid to put yourself out there and start selling your work!
Conclusion
An ideal space for a Pottery Studio is one average-sized room with clear separation on each section, together with all the tools that support your potting process. It doesn't have to be grandiose or complete at once. You can gradually add more equipment and specialty tools as you progress. What's more important is that you have a clear vision of how you can perfect your craft.
This workspace will serve you for years. So keeping everything organized right from the planning stage is crucial to setting up a Pottery Studio that promotes efficiency, creativity, safety, and productivity.