Wheel Throwing vs Hand Building – The Differences Explained
Two basic methods for artistic clay creations exist, Wheel Throwing and Hand Building. You can create everything from creative coffee mugs to ornate flower pots, but before you start, you have to choose a technique. Throwing has its unique advantages, as does hand building.
In this article, we will look at the differences and the advantages and disadvantages of each so that you can decide what works best.
Affiliate Disclaimer: We are ambassadors or affiliates for many of the brands we reference on the website. As an Amazon Associate, I earn from qualifying purchases.
What is Wheel Throwing
Wheel throwing is a technique used by potters to create ceramic objects on a pottery wheel. It involves the use of a Pottery Wheel that spins, allowing the potter to shape and mold the clay into various forms.
The process begins with the potter centering the clay on the wheel, which is done by pressing the clay firmly onto the wheel head. Once the clay is centered, the potter can begin shaping the clay into the desired form, using various tools and techniques to create different shapes and designs.
Wheel throwing is a process that requires skill and practice to master. It involves an understanding of Choosing the Right Clays, as well as an ability to manipulate the clay in a controlled manner.
Many potters find wheel throwing to be a deeply meditative and satisfying process, as they are able to create beautiful and functional objects with their hands. Whether you are a beginner or an experienced potter, wheel throwing is a fascinating and rewarding technique that can help you create unique and beautiful pieces of pottery.
What is Hand Building
Hand building is a pottery technique that involves creating objects by hand without the use of a pottery wheel. Hand building allows potters to create a wide range of shapes and designs, from simple pinch pots to complex sculptures.
The process involves working with clay that has been rolled out into sheets or coils, which are then shaped and molded into the desired form. Hand-building techniques include pinch pots, coil building, slab building, and sculpting. It allows for a great deal of creativity and experimentation, as potters can use a wide range of tools and techniques to create unique and interesting objects.
Hand building also allows potters to create objects that cannot be made on a pottery wheel, such as square and irregular shapes. Whether you are a beginner or an experienced potter, hand building is a rewarding and satisfying technique that can help you create beautiful and functional pottery.
The Startup Cost: Wheel Throwing vs. Hand Building
Wheel throwing:
The cost is more than simple hand-building. Pottery wheels cost anywhere from $400 to $2,000, but you could look at them as an investment along with all the other fun tools and supplies you can get along the way.
There are a few more basic supplies you will need to get started:
Modeling tool
Needle tool
Sponge
Smoothing Rib
Wire clay cutter
Ribbon tool
Loop tool
Look at the cost, but don't forget the main type of pottery that you will create over and over. Think of the wheel that will work best for it. Tabletop pottery wheels cost the least, but they don't give as much workspace. The other difference in cost is that motorized pottery wheels usually cost more than non-motorized wheels, where you use your feet to propel them, also called a kick wheel.
Hand Building :
You might start with hand building because you don't have to pay for a wheel, but switch to throwing as your technique improves. This makes sense because hand-building also tends to be easier for beginners since you have more control over the clay. Hand building uses hands, fingers, and simple tools to build your wares.
You don't even need tools, but most hand builders get the basics to start:
Clean-up tool or (Knife)
Sponge
Scoring tool
Rolling pin
Smoothing Rib
Wire clay cutter
You don't have a high startup cost with hand-building, which adds to the ease. You could pay anywhere from $50 to $100 to get started, depending on you. This is not to say, you may want a slab roller instead of a rolling pin to roll out your clay. These range from Mini tabletop ones that start at around $200 to free standing that can cost as much as $3000. Unlike the pottery wheel, you don't need it to hand-build but may want it someday.
Most of these tools will work for both wheel throwing and hand-building. You can find them, plus many other tools Here.
Wheel Throwing vs. Hand Building: Which is Easier?
We've already outlined how hand-building tends to be easier than wheel throwing, but let's go into more detail on why. You build with your hands, whether wheel throwing or hand building, but hand-building doesn't use a wheel, and it feels easier because you can make improvements more easily. You can replicate an item easier with wheel throwing, which makes it ideal for mass production.
Learning pottery from hand-building is easier because you take pottery in its most basic form and build your knowledge. Hand building gives you more control over what you build.
Which One is More Time-Consuming?
Wheel throwing has a huge advantage when it comes to time-saving. The pottery wheel spins at 240 to 300 RPMs (but of course, you don't spin the wheel that fast when throwing). How long it takes to create pottery with a throwing wheel depends on your skill level because beginners usually take longer than someone well-versed in pottery. You have several other factors that influence the time, such as the thickness of your clay and how long it takes to dry.
Building a single piece can take up to three weeks or longer with hand building, but shorter with throwing. It's all up to you. Just cover your pottery with plastic until you are finished creating.
If you want to create a large piece, wheel throwing almost always makes more sense because you can build it much faster than with hand building.
Wheel Throwing vs. Hand Building: Which One is More Aesthetically Appealing?
Wheel throwing can look more professional in the final result. That makes it the ideal choice if you plan to sell your ceramics. Pottery done on the wheel looks standard, but that doesn't necessarily make it better, either. For example, hand-building techniques tend to have more personality. Most hand-building ceramics have a more rustic look that appears rough around the edges. A potter must work hard with hand-building to make it look its best.
Keep in mind that you can always get a slab roller to keep your clay more even when crafting your pottery.
In terms of detail, hand-built pottery always has more detail because the finer details take time to build up. Let's take the example of a candle holder that they shaped like a flower. Adding the individual details would be next to impossible if wheel-thrown because of how you do it. The vines and individual flower petals require time to make.
You can do this after the pottery comes off the wheel, but it still differs from wheel throwing. Everything done on a wheel can be done to look the same. That isn't as easy with hand-building your ceramics. Depending on the desired projects, you may want this or not.
When Does Wheel Throwing Make Sense?
If you want to create a perfectly round shape, wheel throwing is a perfect choice. The potter's wheel does its best work with round objects. At the same time, you can create objects much faster, and you can do it without needing a mold.
When Does Hand Building Make Sense?
Beginners especially can get the most from hand-building because of the greater control, but someone who needs more control over the process would want to choose hand-building. Hand-building feels more personal. Even if you have the exclusive goal of reaching wheel throwing, hand-building teaches you the basic principles you will use later with wheel throwing.
The creative process is another reason why some potters prefer hand-building. You may find wheel throwing more stifling because it limits what you can do. Unless you have plenty of experience, you will find yourself limited to round objects unless you modify them with hand building.
Any time where you want to create a beautiful piece with more detail and personality, you will opt for hand building, at least in the final stages.
No Polymer Clay with Wheel Throwing: Why Not?
Polymer clay has to be used selectively at the pottery wheel because it feels awkward at the wheel, and the results can be mixed. Polymer clay is made of a polyvinyl chloride (plastic-manmade) base. If you decide to use polymer clay at the wheel, you have to choose one that works with it, and there are no known recommendations of what will work. You have different types of polymer clay. Plasticine is even a type of clay that kids use for Play-Doh!, but it wouldn't make sense to use this at the wheel.
In general, it's not advisable to use polymer clay for the pottery wheel because it doesn't work like regular clay. On the other hand, you can use polymer clay with your hands, and it might make sense if you don't want to buy a pottery kiln, which costs anywhere from $300 to $4,000. Plus it is not food safe.
Hand Building Techniques vs. Wheel Throwing Techniques
When it comes to hand-building techniques, you have three distinct techniques: Pinch, Coil, and Slab construction.
Most expert potters call the Pinch technique the simplest because you can knead the clay into a small lump. You open the pot by creating a middle portion with your thumb. Enlarge the middle by pinching it. Make the walls thicker or thinner based on need.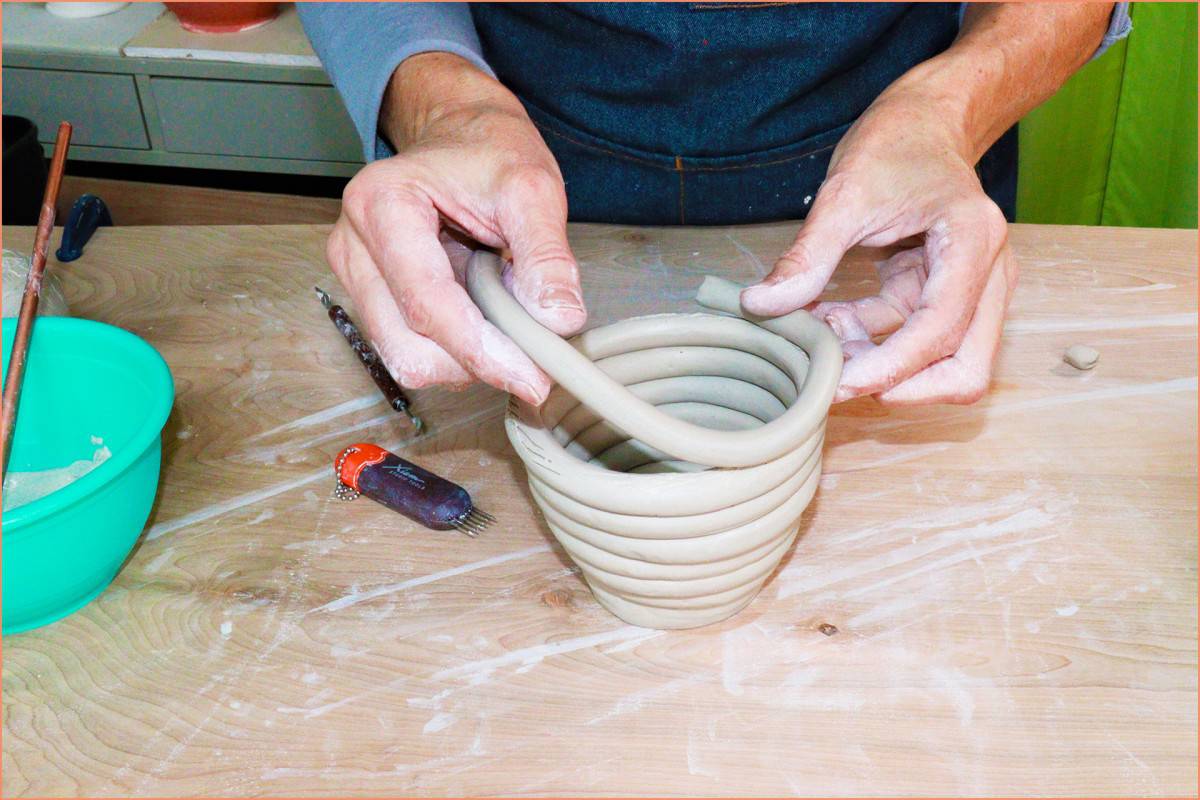 Native Americans of New Mexico, Greeks, Chinese, and regions in Africa did the Coiling construction technique to create ceramics. First, you make a cylinder as thick as a pencil. You have one issue with the coiling technique. Getting the cylinder to a uniform thickness poses a challenge. Pottery experts consider coiling the most versatile technique.
Lastly, you have Slab construction. Requiring the most expertise, slab construction works especially well for creating objects at 90-degree angles.
You could, for example, create a figure using slab construction. Slab construction creates many of the same shapes that you'd get on the wheel, but it differs in the sense that you have greater control over the creation. You can also create more angular designs with slab construction than with a pottery wheel.
What techniques do you get with Wheel Throwing? Wheel throwing techniques have a rich variety, and you always have more to learn on the pottery wheel. The wheel only does one thing, which is spin, but the hand positions differ greatly and influence the throwing.
Wheel Throwing vs. Hand Building: What Clay Do You Need?
For wheel throwing, you want clay with plasticity. You will typically use more water with wheel throwing than you would with hand building. This is to make the clay more workable at the wheel. Many times, potters will use Porcelain or Stoneware at the wheel because of its plastic (workable) properties. Keep in mind, more plastic clay will shrink more. That increases the risk that it will warp when you put it in the kiln. Here are just a few Good Clays for Wheel Throwing.
Beware of how some clays work well for wheel throwing, but they would prove disastrous for hand-building techniques.
The best clays for hand-building will either be Earthenware or Stoneware clays with grog for less shrinkage, more stability and less cracking when drying.
Like with wheel throwing, the plastic texture is the ideal surface with no to less grog. We don't recommend porcelain with hand-building because of the difficulty of using it. While you could use porcelain with hand building, you need a lot of practice to do it well. Any clay with grog or fiber, such as paper clay, will work well with the hand-building technique.
Stoneware has another advantage over porcelain—it's more forgiving, and it doesn't cost as much. You can use stoneware with wheel throwing too.
Let's have a look at the porcelain. This fine-grained clay contains a high kaolin percentage, which is a clay especially helpful when you need the body pure and white. They formulated porcelain to remove copper and iron, which gives it a white or off-white color. Porcelain is better for the expert because of its plasticity and elasticity. Sometimes potters mix kaolin with other clays to make it more elastic.
Affiliate Disclaimer: We are ambassadors or affiliates for many of the brands we reference on the website. As an Amazon Associate, I earn from qualifying purchases.
Getting Started with Wheel Throwing: Which is Best for the Beginner?
Let's say that you wanted to get started doing pottery on the wheel. For a beginner, you may want a small Pottery Wheel Machine.
There is a review video for you to check out – A Pottery Wheel Machine – Should This Be Your First Pottery Wheel?
Electric has the advantage in that you don't have to coordinate your feet with kicking the pottery wheel. The electric pottery wheel also provides you with torque and speed, which you can use to control clay distribution.
It sounds romantically quaint to get started using a manual kick-wheel, but like learning the drums, you will have to learn how to coordinate your feet with your hands. Some people do like manual wheels because they have more control over the speed by how much they kick the wheel.
Wheel Throwing vs. Hand Building: What's More Popular?
You have potters in each camp who will argue for the virtues of their chosen one, but wheel throwing is ultimately where the more advanced potters wind up. Nevertheless, hand-building still has its virtues that wheel throwing can't compete with. For example, the pottery wheel comes with far more frustration, especially to a newer student. You have a few key pitfalls with wheel throwing that hand-building doesn't have, which include:
Wheel speed is too fast or too slow.
Clay needs to be centered before anything can be made, which can be very difficult in the beginning.
Have to balance the use of water and not play with the clay too long.
You can't stop in the middle of the project because the speed of the clay requires dedication.
Easy to trim through the bottom of the pot with wheel throwing.
The other thing is that hand-building will never have your work collapse like what you'd get with wheel throwing.
Most potters are diehard wheel throwers, and they will never turn their back on it—that's fine. You do have virtues with hand building. For example, in the final stages of wheel throwing, you might add details through hand-building because you can't get as much detail with wheel throwing. Wheel throwing, however, has much better production value, and you will put out five to 10 times the pots than you would with hand building.
Hand building offers flexibility that can't compare to wheel throwing. For example, you can adapt the slabs to an infinite number of choices. With clay coils, you can make nearly anything. You can choose to either have the piece show the coils, or you can smooth them out. Hand building only limits itself to your imagination. You could create a pot that looks like a carp or make a clay teapot with dolphins and starfish.
Which One is More Adaptable?
Hand building usually allows for more adaptability. You can use more clays with it, including polymer clay, but you typically want to use sticky and firm clay with hand-building. The cool thing about hand building is that you can use multiple hand-building techniques in a single piece for unique artistic work. Hand building allows for the easier creation of one-of-a-kind pieces.
Wheel throwing has many more techniques, however, and in that sense, you get more out of wheel throwing. After you have mastered the hand-building techniques, you can move on to the wheel throwing techniques to eventually decide which technique to continue.
Pros of Wheel Throwing
Faster production of pots.
There are tons of techniques to learn and master.
Easier to produce a professional-looking style.
Replicate an item for mass production easily.
Creates large pieces with ease.
Designs round pieces easily.
You can alter the piece after throwing it.
There is no need to use a mold for cylindrical pieces.
Cons of Wheel Throwing
Harder to put detail into wheel-thrown ceramics.
Requires advanced pottery knowledge to do it successfully.
A higher cost for the equipment needed to do it.
Need finer clay for wheel throwing.
Equipment can break down, requiring you to replace the parts.
Pros of Hand Building
Lends itself well to the creative process.
You can add more detail to it.
Creates a more rustic appearance.
Is an excellent choice for beginners to learn the way of clay.
You need nothing complicated to get started with hand building techniques.
Every day sparks the opportunity for new and creative ideas!
Not as messy as a pottery wheel
These pieces have the potential to be more beautiful because of the depth of detail.
Costs less to get started with hand building.
Cons of Hand Building
Takes more time than with wheel-thrown pieces.
It's not as easy to make everything look the same with hand-built pieces.
There are some limitations with hand-built techniques, such as the pinch technique, where pinch pots tend to be smaller.
Some people prefer the technology of wheel throwing.
It will never be as sturdy as wheel-thrown ceramics.
Hand forms rarely look as nice as wheel-thrown pieces.
Pro Tip: If you're a beginner potter concerned about the cost of equipment, keep in mind that you can recoup some of those costs by selling your unique handmade pottery pieces. With some dedication and practice, you can create beautiful and functional pieces that people will love to buy. Not only will Selling your Pottery help you financially, but it will also allow you to continue growing your skills and pursuing your hobby. So don't be afraid to put yourself out there and start selling your work!
In Conclusion
Hopefully, this sheds some light on the differences between wheel-thrown ceramics and hand-built ceramics. Even if you only do wheel-thrown pottery, nowadays, you probably started with hand building because beginners find it easier. You can try both techniques to learn which one works best for you. Luckily, hand-building doesn't cost a lot to get started, and you can try wheel throwing later after you have learned the clay and how far to push it. Choosing wheel throwing or hand-building depends on your own reasons for why you picked going into pottery.